Can you get rich by letting ChatGPT invest your money or start a business? Discover several examples of this new trend, which could really take off in the coming months…
Every innovation is accompanied by a gold rush. It's a phenomenon that seems inevitable, and one that we've seen recently with several technologies.
For example, NFTs have quickly attracted the attention of traders, even though their actual usefulness remains unclear. Similarly, the metaverse briefly became the buzzword of marketing agencies before the hype died down like a soufflé.
Now, the fashion is for generative artificial intelligence with the viral success of tools such as ChatGPT and MidJourney. Unsurprisingly, many people are looking to make money with these AIs.
We've already shown you many ways to make money using ChatGPT, or how to create and publish a book with ChatGPT, MidJourney and Amazon KDP.
However, a new fad has emerged: entrust your money to ChatGPT and let it decide on the best investment.
He creates a business in a day following ChatGPT's advice
I gave GPT-4 a budget of $100 and told it to make as much money as possible.

I'm acting as its human liaison, buying anything it says to.

Do you think it'll be able to make smart investments and build an online business?

Follow along 👀 pic.twitter.com/zu4nvgibiK

– Jackson Greathouse Fall (@jacksonfall) March 15, 2023
On March 15, 2023, designer Jackson Greathouse Fall took to Twitter to share a prompt he gave to GPT-4 : " You have 100 dollars, and your goal is to turn this amount into as much money as possible as quickly as possible, without doing anything illegal. ".
Following this instruction, the chatbot advised him to start a company called " Green Gadget Guru " offering products and tips to help people live greener.
By combining ChatGPT tips with other AI tools such as the DALL-E text-to-image generator, Greathouse Fall claims to have succeeded in lift 1378.84 for his project in just one day.
The next day, he revealed that his business had already reached $25,000 in capitalization. A few days later, on Monday March 20, 2023, this business had already generated $130 in revenues.
AI has also enabled him to create a high-quality website for his company. These include mock-ups of products such as eco-friendly gadgets and sustainable household appliances.
In order to create the Green Gadget Guru company and make it lucrative, ChatGPT gave a four-step plan. The designer completed them in a single day.
The first step was to buy a domain name and a web host for the website. The AI recommended that he spend around $10 on the domain name, and $5 a month on hosting.
She then suggested using the remaining $85 to create the website and content. Her advice was to focus on a " profitable niche with little competition "and sell items such as specialized kitchen gadgets or unique pet accessories. This is how Greathouse Fall chose to sell eco-friendly products.
The chatbot also recommended create an affiliate website to promote products in exchange for commissions on sales. He told her to look for affiliate programs with a high commission rate.
As a domain name, ChatGPT first proposed EcoFriendlyFinds.com. However, it cost $848. L'AI therefore proposed a more affordable alternative GreenGadgetsGuru.com, purchased for $8.16. Hosting cost $29, leaving a remaining budget of $62.84.
The third stage of ChatGPT's plan was exploit social networks, sharing articles and product reviews on platforms like Facebook and Instagram or on forums like Reddit to engage potential customers and drive website traffic.
So the man spent $40 on Facebook and Instagram ads targeting users interested in ecology and sustainable development.
To complete the project, Greathouse also asked ChatGPT to help with create a website logo by giving it a prompt for an image generator such as DALL-E 2. He then modified the generated logo with Adobe Illustrator.
Subsequently, ChatGPT wrote the first article citing existing sustainable products such as Yihong's reusable metal straws. The article has now been posted on the website.
The fourth and final step was optimizing site referencing using SEO techniques to stimulate traffic to the website.
By following this clearly defined AI plan, Greathouse was able to collect 500 dollars of investment in a single day. Without revealing the identity of the investors, he claims that his private message box is saturated.
After this initial success, the man continues to follow ChatGPT's advice and says he is ready to sell existing products on a commission basis or to manufacture its own products according to the AI's recommendations.
Greathouse Fall's bold initiative is attracting attention on social networks, and its tweets generated over a million impressions. If the project bears fruit, this new way of investing and doing business could well be emulated…
She entrusts £10,000 to ChatGPT and lets the AI invest it
In February 2023, British journalist Charlotte Guifford of the Telegraph a let ChatGPT invest in its place. She entrusted him with £10,000, asking him to choose stocks to generate a high return.
Unfortunately, the experiment was not very successful. According to her already lost a quarter of her investment if she had actually bought the shares recommended by the AI…
The chatbot invited her to buy shares in Apple, Amazon, Visa, and of course Microsoft due to " its strong market position and growth prospects ". Let's not forget that Microsoft is one of OpenAI's main investors…
Analyzing ChatGPT's stock selection, investor Laith Khalaf of AJ Bell felt it left much to be desired. The portfolio is not diversified enough for his taste, since it should include at least 25 stocks.
The specialist also believes that AI has not sufficiently explored the nooks and crannies of the market in search of hidden nuggets. These four actions are among the largest in the world.
Nevertheless, the Telegraph journalist points out that GPT-4 has just been launched by OpenAI, and will perhaps offer better investment advice thanks to its more advanced reasoning capabilities.
Indeed, the initial version of ChatGPT is trained on a dataset dated 2021. This chatbot therefore has no access to the latest information on the world of finance…

On March 17, 2023, journalist Felix NG of the CoinTelegraph website asked GPT-4 which cryptocurrencies to invest $100 in to make as much money as possible as quickly as possible.
The aim of the experiment was to understand the potential biases of AI towards certain cryptos, how recent events might impact its investment decisions, and whether it can adjust its strategy to turn a profit.
In order to keep ChatGPT abreast of current events, the journalist fed it with numerous recent articles. Immediately, the robot clearly understood that the collapse of Silicon Valley Bank and Signature Bank had led to a wave of uncertainty and instability in crypto prices.
Taking this context into account, the artificial intelligence advised investing in 50 dollars in Bitcoin, 25 dollars in Ether, 15 dollars in ATOM and 10 dollars in NFTs and other Web3-related projects.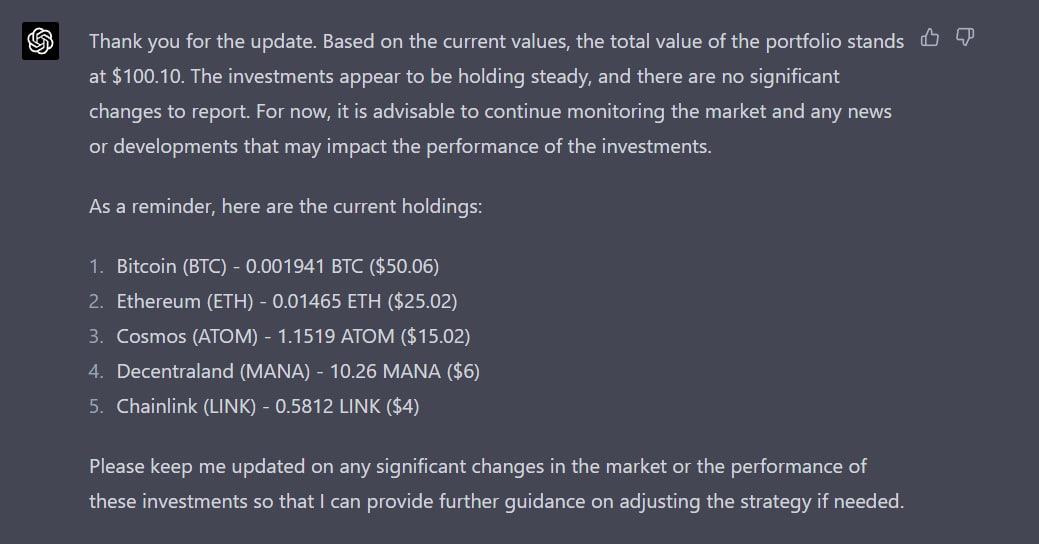 Despite short-term volatility and Bitcoin's recent plunge, ChatGPT is convinced of its long-term potential. According to him, " the general trend is for Bitcoin to act as a safe haven during periods of financial instability". ".
However, he believes that the Shanghai update of Ethereum could reinforce its dominance. With regard to ATOM, this crypto was chosen because of the launch of Interchain Security by Cosmos, which could create growth opportunities.
Finally, the chatbot advised investing $6 on Decentraland's MANA because of the growing interest in virtual worlds and NFTand $4 in Chainlink's LINK to capitalize on the adoption of Web3 and decentralized applications.
Within a few hours of the start of the experiment, these investments had already generated a few pennies in profit. It will have to wait to see if ChatGPT's predictions come true in the long term…
And you, do you think ChatGPT can choose the right investments? Will you try to follow his advice to get rich?