The rise of AI has enabled copywriters to streamline content creation and editing. But can these tools really replace human editors?
Artificial intelligence is the driving force behind most everyday tasks. Yet when it comes to content writing, the value of AI is a little more nuanced. In fact, if you're considering adopting this technology, this article will help you weigh up the pros and cons of AI authoring tools before you invest.
Using AI in content writing
The idea of AI in content writing is not new. Some companies take advantage of them to generate targeted content for their customers, while others use them as a tool to help writers with their work. The idea is that these AI assistants can be exploited by humans and machines alike. They provide a assistance when needed and generate large-scale ideas when needed.
But is it worth using such tools when Google is clearly opposed to AI-generated content? Indeed, this search engine imposes rules on SEO copywriting. You must read more on this cutting-edge technique for generating relevant content.
But since AI helps create frequent content, for a particular audience, it's important to discuss the pros and cons of these tools.
The advantages of AI authoring tools
The main advantage of using AI tools in copywriting concerns the speed at which content is generated. Based on algorithms, they can recreate content in a matter of seconds. In fact, editors were forced to write en masse to attract their audience, which could also sometimes lead to exhaustion.
By increasing this writing efficiency through the quantity of articles to be delivered at any given time, AI improves work scalability.
Generating ideas
Sometimes even the most seasoned writers struggle to come up with a topic for their next blog post. AI tools can help overcome writer's block and find ideas for content development. Some tools simply ask you to provide a link to one of your website's pages to suggest new content ideas.
Save money
Salaries for content writers vary around the world. Nevertheless, it remains more expensive to hire human editors than to pay the monthly subscription fee for an AI product. For companies with modest budgets, artificial intelligence can be an interesting alternative.
The limits of AI writing tools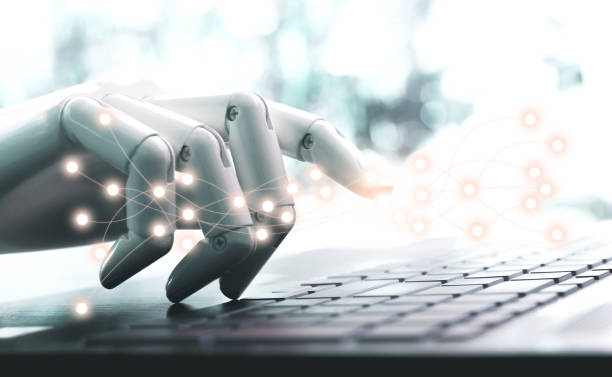 Article style and the misuse of statistics in the content flow are two examples of problems with AI tools. The risk of being flagged by search engines as plagiarism is also a major concern.
Indeed, many AI tools retrieve text extracts from other websites and reformulate them. However, this practice runs counter to Google's guidelines, which prohibit the compilation or combination of content from different web pages without adding sufficient value.
Lack of creativity and originality
AI tools tend to be too simplistic and can't really understand the nuances of human language. For example, most AI tools don't understand sarcasm. They tend to interpret it as a direct contradiction.
What distinguishes human beings is their emotions. But AI cannot emotionally convey words as humans do.
Another problem with AI tools is that they can't create anything beyond what they've been programmed to do. They are incapable of organizing anything new, imaginative or creative. As mentioned earlier, AI cannot establish an emotional bond with readers.
What does the future hold for AI and content writing?
After weighing up all the advantages and disadvantages of AI-generated content, one realizes theopportunity of using these tools to provide writing assistance. Their ability to rapidly develop quality articles is particularly interesting. These AI tools can help you to overcome writer's block and to come up with creative ideas.
However, you shouldn't think of these AI writing technologies as a substitute for human editors. They should be used to find content suggestions, help paraphrase short passages, check grammar and spelling, and support your research.