Jasper AI is an artificial intelligence software tool for generating SEO (search engine optimized) content automatically. It's considered the benchmark on the market, but can it really replace a human copywriter? Find out in this test.
For several months now, the world of SEO is being taken over by artificial intelligence. A new kind of software has emerged, and it's been capable of generating optimized content for search engines.
Among these solutions, one of the most popular is Jasper AI. To find out if this AI has the ability to replace human editorswe have tested it.
In this comprehensive dossier, you'll find everything you need to know about Jasper AI and its features, as well as our conclusions after getting to grips with it.
What is Jasper AI?
Jasper AI is a powerful AI-based authoring software, capable of produce content 5 times faster than the average human writer.
This tool generates content totally original, with no plagiarism. This content is optimized for search engines (SEO), to attract more visitors and potential customers.
The software also offers pre-written templates in various specific categories. It is considered one of the best writing AIs.
Using Jasper AI, you can theoretically take your website to the top of Google search results without having to write a single word yourself.
It's possible to feed Jasper AI with blogsnews articles, advertising campaigns, or any keyword. Based on these templates, the AI instantly produces the desired content in the most appropriate format.
As well as offering an easy-to-use interface, Jasper AI supports more than 25 languages. So is it capable of outperforming French-speaking human editors?
Who is Jasper AI for?
Jasper AI is designed as a virtual writing assistantcapable of working 24 hours a day, seven days a week. It is a reliable and flexible tool, suitable for a wide range of use cases.
This software can be useful not only for community managers and web copywriters, but also for marketers, bloggers and all content producers needing to plagiarism-free SEO texts.
In addition, students can use it as an aid to writing exam papers. Small business owners wishing to generate content without employing a copywriter can exploit it.
Artificial intelligence technology enables anyone to generate content on any themeand in a wide variety of formats. New features are added regularly, extending the range of possible uses.
L'Jasper AI interface is very intuitiveand many useful features are available. Here's how to generate content with this AI.
First, you need to choose from a wide range of templates content templates. These templates provide Jasper AI with a context for writing the desired content. Examples include a creative story, a long-form article or a blog post.
The second step is to provide relevant information for the template. The aim is to feed it with data on which to base the content. This may be texts on the same subject, or on the tone desired for the content to be generated.
Once you've chosen the template and supplied the data, all that's left to do is click on the " " button. Generate content ". It ten seconds or so for Jasper AI to produce the text.
Content templates
Jasper AI brings together a wide variety of content templates. This AI can produce a text summary based on keywordsor transform a list of product features into a list of benefits.
It can generate a conclusion for a blog postextend a sentence, or enhance a text. The tool can write a creative article, or AIDA-compliant text for maximum engagement on blogs and social networks.
In addition, Jasper AI can suggest ticket ideas from blogs with high SEO potential. She can also write a description for a video, or even persuasive bullet points.
He is only a selection of examples among the many content templates available on Jasper AI. These templates can be used to create a wide variety of content.
What is Jasper AI Boss Mode?
Jasper AI Boss Mode write content 5 times faster. Using this mode, it's even possible to write an entire book at lightning speed.
In addition, the grammar-checking software Grammarly is included. A plagiarism detection toolallowing the generated content to pass all Copyscape tests.
Boss Mode also enables use Jasper commands very easily. This makes it possible to write commands directly for Jasper, in particular to perfect AI-generated texts.
To use Boss Mode, simply open the Jasper editor and write the desired command. As soon as a command or keyword is entered, the content is delivered within seconds.
Jasper AI Recipes: what is it?
Like cooking recipes, Jasper AI Recipes serve to instructions for writing commands in Boss Mode. These commands are not based on coding, so there's no need to memorize them. You simply need to understand how they work.
Recipes are a series of pre-designed commands by the creators of Jasper, allowing Boss Mode to be used efficiently. They enable you, for example, to write about a keyword, write a conclusion about a keyword, or write a video description around a keyword.
These recipes save precious time, since you don't need to it is no longer necessary to spend hours directing the AI. It is therefore a particularly useful tool.
Jasper AI's strengths and weaknesses
Jasper AI has several major strengths. This software enables you to produce SEO content capable of ranking at the top of search results, or optimize content to take it to the next level.
This is a tool very easy to useAll you have to do is provide some information about the topic to be covered and the format to be adopted. The AI takes care of the rest.
Boss Mode allows you to produce content 5 times faster, and the80% of content is original. Features such as phrase and word replacement are also invaluable. The price remains relatively affordable.
This AI proves particularly for short textssuch as social networking posts, SEO titles and descriptions, or other content requiring a character limit.
More 50 templates can be used to generate Facebook titles, YouTube video descriptions and product descriptions.
Finally, the support for more than 25 languages thanks to the DeepL translator, there's no need to use Google Translate to translate content into different languages. This software is capable of generating content in French.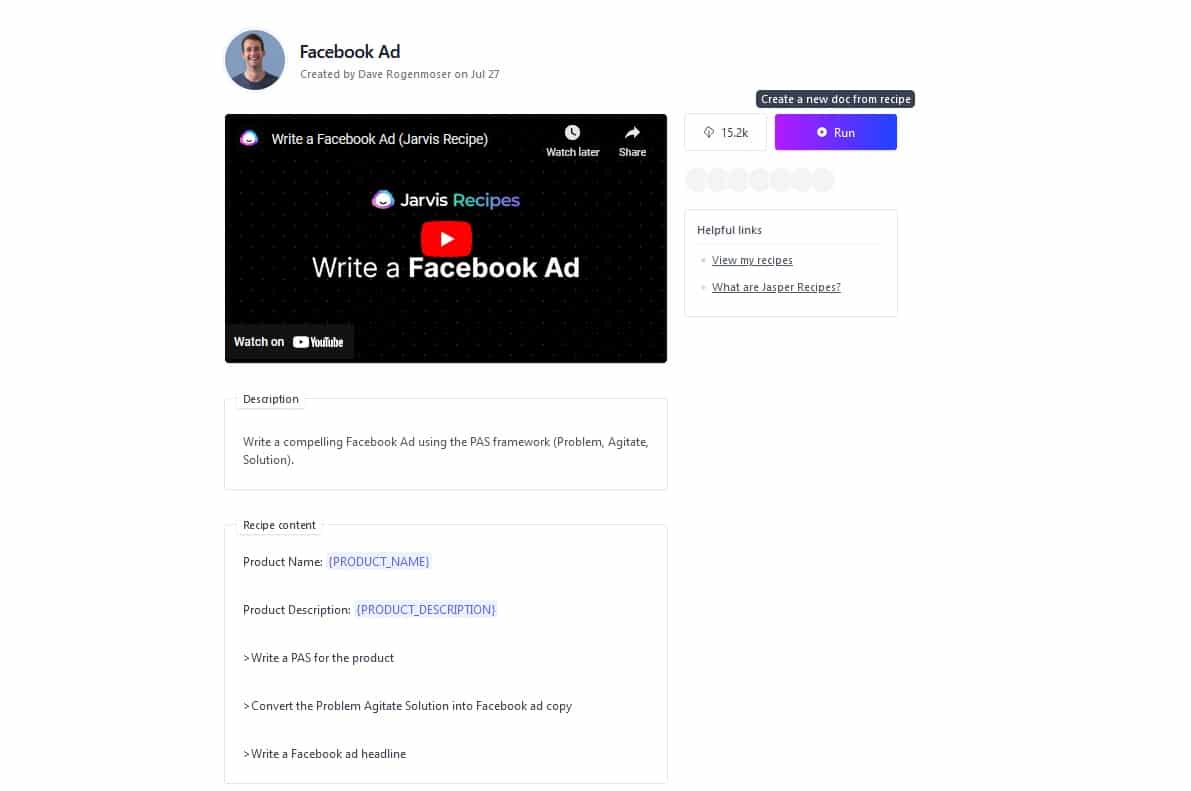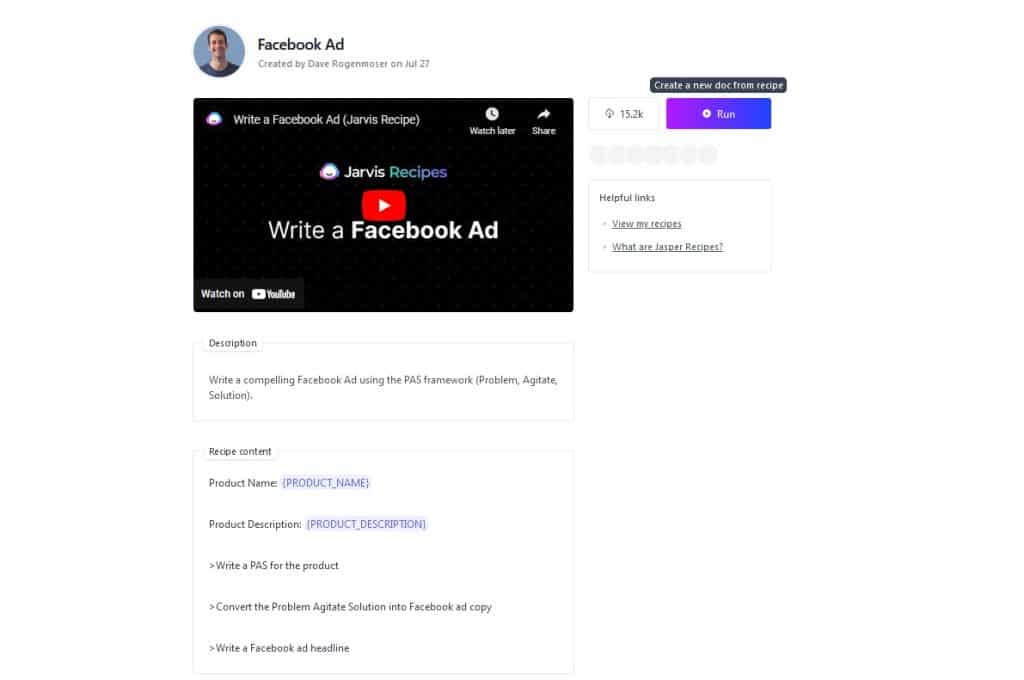 Other features include order recipesfree SEO lessons and user guides complete the picture, as does an intuitive interface accessible to beginners.
Of course, this tool isn't perfect. One of its main weaknesses is a tendency to repeat words. In addition, the content is necessarily "dehumanized compared to a text written by a human editor.
In addition, the software captures information from the Internet without actually checking it. This can lead to the inclusion of incorrect statistics or erroneous content. As the sources are not indicated, it is not possible to consult them yourself. You must therefore check all information manuallywhich can ultimately take longer than writing the text yourself…
Jasper AI + Surfer SEO integration
As of April 2021, Jasper has announced integration with the on-page SEO tool Surfer SEO. This integration makes it possible to create SEO content even faster with Jasper's editor.
Simply activate SEO mode to receive Surfer suggestions for the same subject on the left-hand side of the screen. However, you need to be a Jasper AI and Surfer SEO subscriber to take advantage of this integration…
What is Jasper Art?
In August 2022, Jasper AI launched its new Jasper Art tool. image generator based on artificial intelligence, in the tradition of DALL-E or MidJourney.
From a simple text entered by the user, the AI generates images in a matter of seconds. Jasper AI can now produce both SEO text and images for your content.
Once again, this tool saves you time and helps you get away from image banks. This service is offered for $20 per month per user.
How much does Jasper AI cost?
There are various subscription packages available for Jasper AI, depending on your needs and situation. The Starter package costs $29 per month, and allows you to generate 20,000 words or 50 pieces of content per month. You'll also find the Jasper AI Bootcamp course, automatic backup and support for 25 languages.
Visit Premium package priced at $59 per month adds access to Boss Mode, long-form content production, plagiarism detection and revision history. You can also obtain Jasper AI certifications.
Finally, the Customizable package allows you to increase the number of words at will according to your needs. The subscription price is adapted accordingly. For example, it costs $49 per month for a word count between 25,000 and 30,000.
Visit annual subscriptionthe cost of the Starter subscription drops to $24 per month and the price of the Premim package to $49 per month. The price is therefore more attractive, provided you are sure to use this tool for the whole year. In the event of dissatisfaction, you can request a full refund.
Jasper AI user reviews
User reviews of Jasper AI are generally positive. On G2 and Capterraabout 500 people gave this software 4.9 stars out of 5. The green flag indicates that a majority of users appreciate the tool.
On TrustpilotJasper AI is rated excellent with 5 out of 5 stars for over 1000 reviews. There's every reason to believe that this AI is trustworthy.
What's customer service worth?
Software customer service is an important point, and Jasper AI's is excellent. You can get your e-mails answered by approximately 20 minutes. Just send your messages to hey@jasper.ai.
What's more, a new feature to obtain immediate answers to the most frequently asked questions within the application. So there's no risk of being caught unprepared when using this tool!
Why has Jarvis been renamed Jasper AI?
Originally, Jasper AI was called Jarvis. However, the software changed its name due to a request from Marvel the famous giant of comic books and superhero blockbusters.
Indeed, Jarvis is the name of the AI assistant to the Iron Man character a.k.a. Tony Stark, played in the movies by Robert Downey Jr. However, when the company was founded, its lawyers thought there would be no problem.
However, when the software's popularity exploded, Marvel began to complain. After careful consideration, Jasper's team decided to change the name, rather than waste thousands of euros on a new name. probably hopeless legal battle.
Our opinion on Jasper AI
On most questions, Jasper AI delivers appropriate answers. However, there are a few issues, the AI does not always understand queries and may provide biased opinions, making content confusing or incomprehensible.
L'interface is very intuitivewhich makes Jasper AI pleasant and easy to use. This tool is much more responsive than many of its competitors.
What's more, thanks to regular updatesthis software is unlikely to become obsolete. New templates and features are frequently added.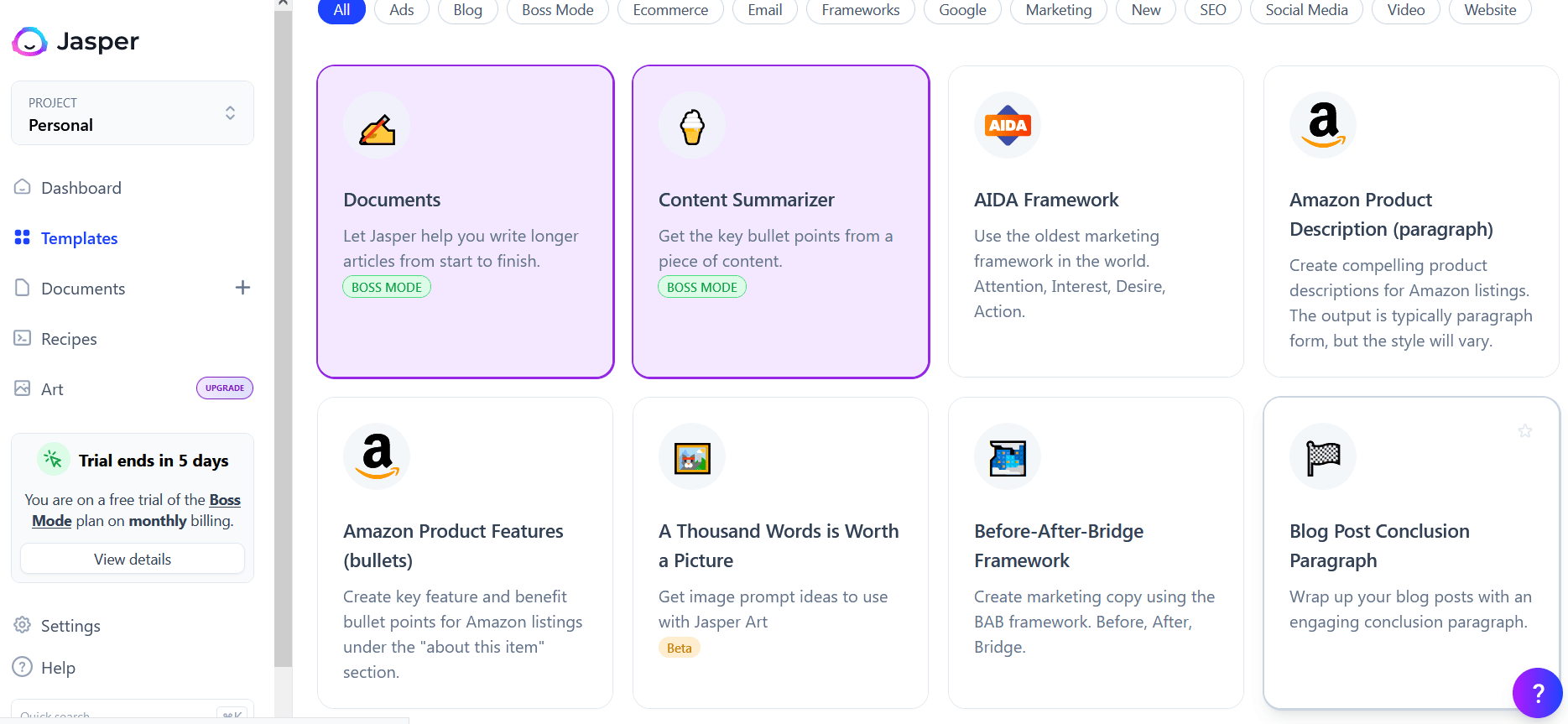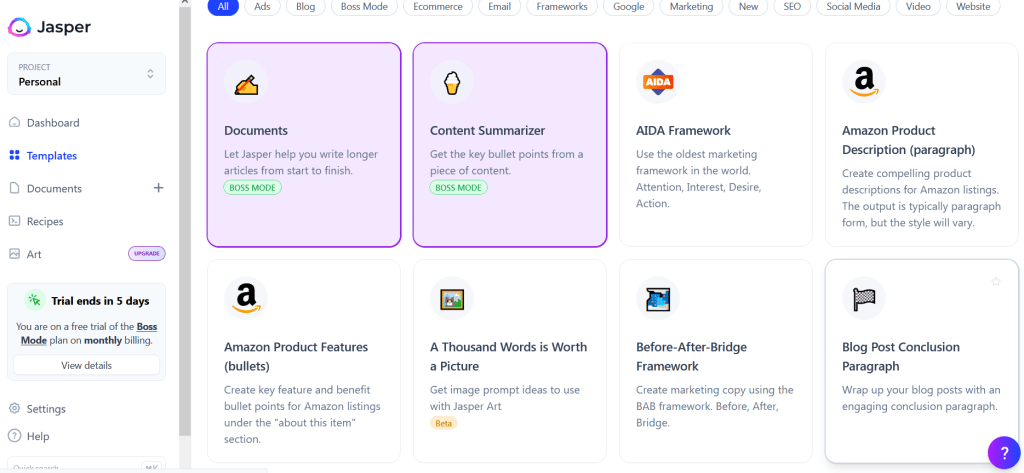 The templates are very usefulbecause they save time. Simply provide the AI with reference information, and the software will produce SEO-optimized content in a matter of seconds.
The promise of 100% original content is not entirely fulfilled. Grammarly software detects about 20% plagiarism in evaluations. It is recommended to use Grammarly as an extension to eliminate this risk. Word replacement functions are also available.
The support of more than 25 languages, including French, thanks to the DeepL translator, is an obvious advantage. Generally speaking, Jasper AI proves comfortable and powerful.
Examples and demonstration
In order to evaluate Jasper AI's performance, we put it to the test by asking it to generate different types of text. See the results for yourself, noting that we have abbreviated the texts manually.
Write a "what is Big Data" paragraph for a website, with the keywords "Big Data, data, database" :
Big data is a term that describes the vast amount of data sets that can be gathered by businesses and organizations, and analyzed to derive valuable information. It has become a particularly important concept recently, as advances in storage capacity, greater data processing performance and the cloud become more popular. Big data often involves very large, very fast and/or very varied information, created from activities such as social media posts, online shopping habits, internet searches and website interactions. The insights gained from Big Data have helped many companies to make more informed decisions about their future investments and operations. With the right technology in place, companies are able to use big data to better understand customers and gain product insight. This is certainly an invaluable asset for any organization striving for long-term success in the digital age.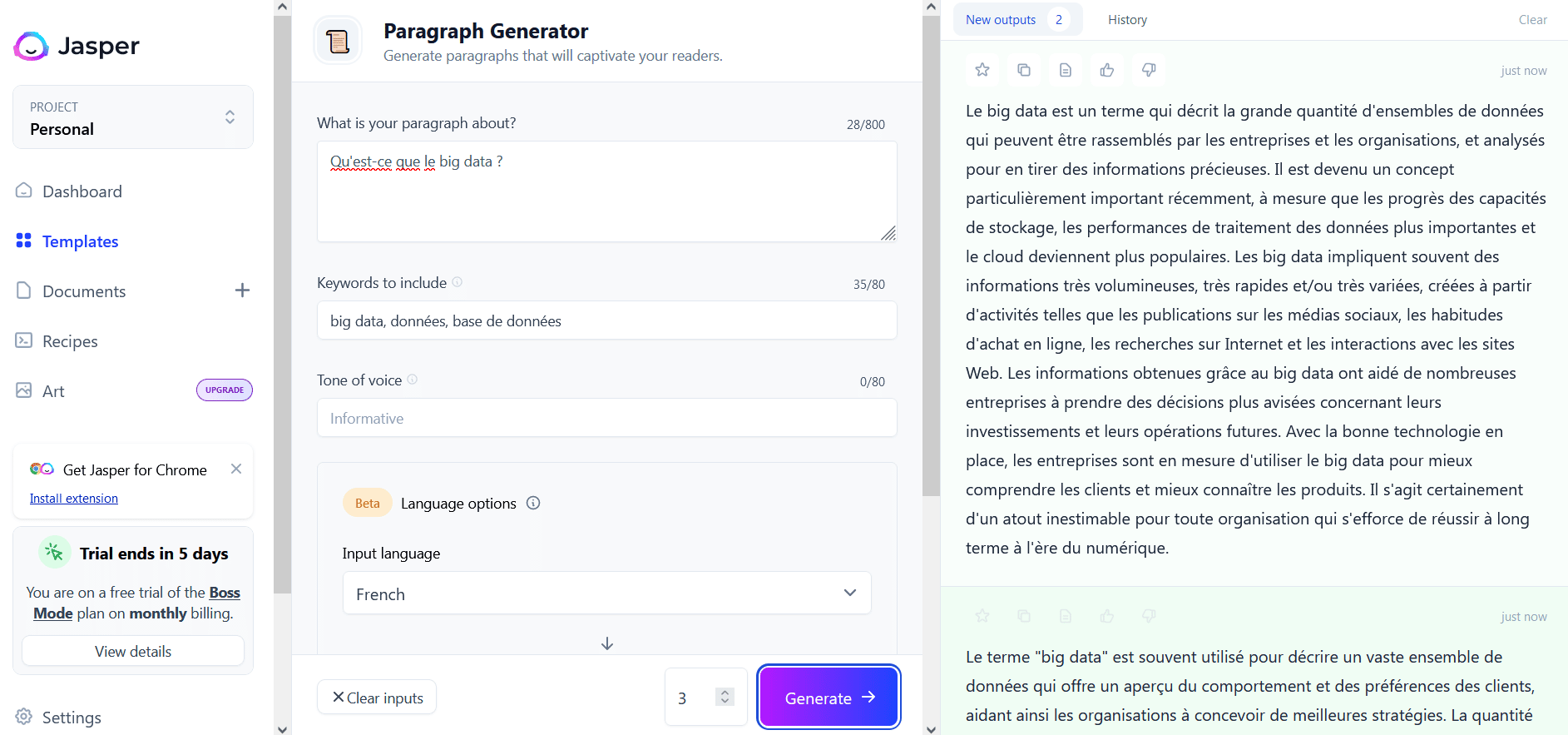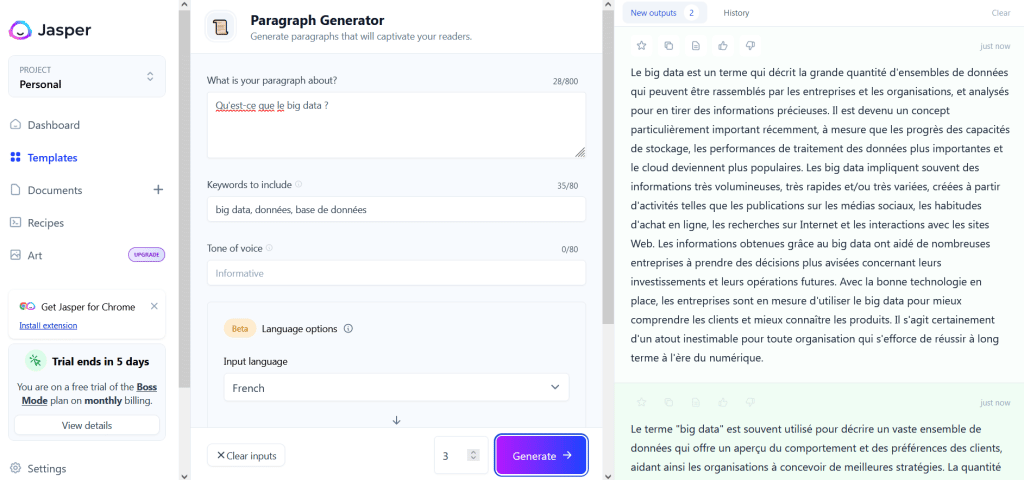 The same text processed by the "Content Summarizer:
-The term "big data" refers to the vast amount of data sets that can be gathered by companies and organizations and analyzed to derive valuable insights.
– Big data has become a particularly important concept of late, as advances in storage capacity, higher data processing performance and cloud computing gain in popularity.
– Big data often involves very large, very fast and/or very varied information created from activities such as social media posts, online shopping habits, Internet searches and website interactions.
– Insights from big data have helped many companies make more informed decisions about future investments and operations.
– With the right technology in place, companies are able to use big data to better understand customers and gain product insights.
Write a tutorial for changing a bicycle wheel in a humorous tone:
Are you ready to embark on the adventure of changing a bicycle wheel? Don't worry, it's not as daunting as it sounds. All you need are a few basic tools, a little time to yourself and your sense of humor! Before we get started, let's take a look at what's involved in changing a wheel.
First of all, you need tools. Here's what you need to have on hand: a wrench or set of Allen keys, a tire iron and, optionally, a spoke wrench or small screwdriver. Once you've got all these items on your work surface, the real fun can begin!
Start by loosening the nuts or bolts holding the wheel in place. This may seem easy, but there are many different spokes and wheels, so be careful to use the right tool for the job. Who knows, if you use the wrong tool today, tomorrow could become "spoke day"!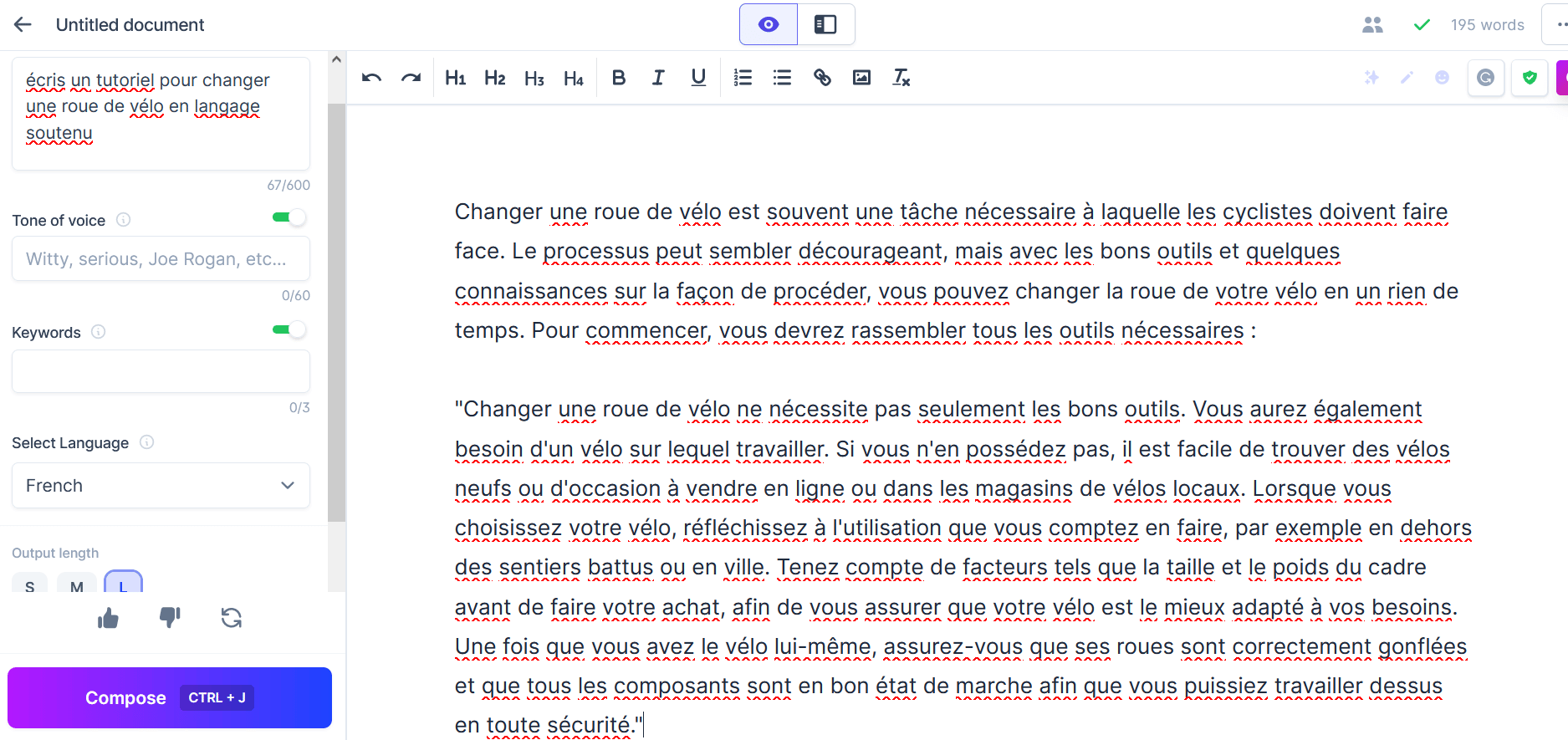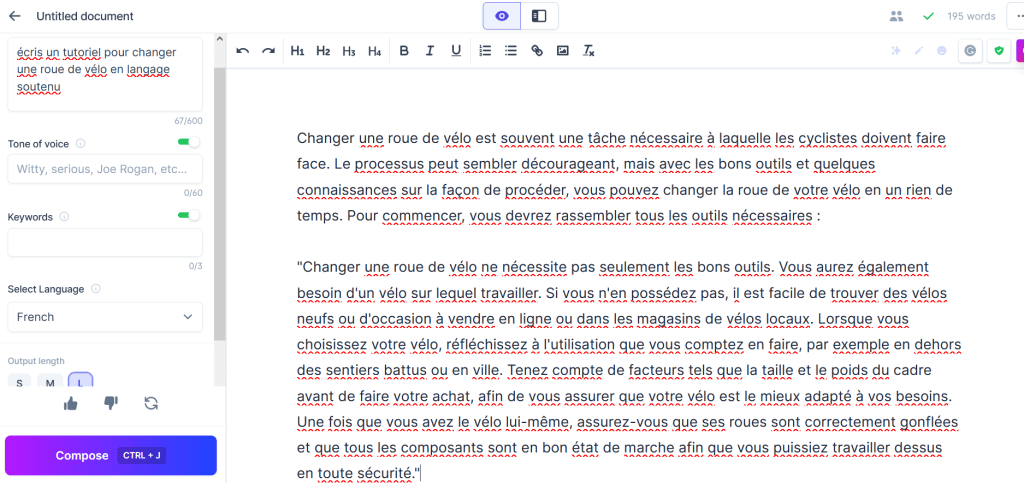 Write me a poem about the World Cup:
The sun shines, the applause rings out,
The stage is set for a soccer song.
The World Cup is here and the world is abuzz,
A month of excitement that no one can resist.
The hopes of nations by the millions,
For their team to take the crown and worships.
Write me a rap about the 49.3 in the style of Booba :
French President Emanuel Macron
He's no wimp, he's a man of action
From En Marche to the presidential election
His rapid rise to the top is no disappointment
People say his ideas are bold and far-fetched
But his commitment to progress is unwavering and unshakeable
His motivation for a better France is truly unparalleled.
Macron's policies prove he's a thinker of the future, not a wretch
Editor's note: this is obviously a Booba who has received subsidies…
Write a product sheet for a blue inflatable bathtub made from recycled materials:
Introducing the eco-friendly blue inflatable bathtub, perfect for those who want to relax in the comfort of their own home while respecting the environment.
This inflatable bathtub promises complete relaxation and luxury. What's more, with its chic, modern blue design, this tub will be the envy of all others.
Write a product launch speech for a connected kitchen:
Hello everyone, and thank you for joining us today to celebrate the launch of our revolutionary new connected kitchen.
Now you can take control of your cooking experience with unprecedented ease and convenience. A connected kitchen is a revolutionary way to make cooking faster, easier and more enjoyable. This kitchen is designed specifically for those who want the very best in technology.
Write a press release for the inauguration of a revolutionary water park:
The world's most revolutionary water park is now open! Come and experience a thrilling splash adventure in the world's first-ever high-tech, interactive water destination.
The revolutionary Water World park is located in sunny San Diego and features state-of-the-art waterslides, wave pools, lazy rivers, rides, surf simulators and much more. With its state-of-the-art technology and creative design elements, every visitor is guaranteed to have a great time!
Water World not only offers visitors exciting attractions, but also a range of educational activities designed to promote sustainability. Through interactive exhibits and multimedia stations, visitors can learn about the importance of protecting our planet's precious water resources.
The park is packed with fun activities such as jet ski tours, snorkeling excursions and fishing trips that allow visitors to explore the surrounding marine life. In addition, the park offers live entertainment every day and many delicious restaurants offering mouth-watering snacks and meals for all to enjoy.
If you're looking for an unforgettable day of fun in the sun, come and visit the revolutionary Water World Park today! Our friendly staff will be delighted to help you create unforgettable memories that will last a lifetime!
Conclusion
Clearly, Jasper AI helps simplify the SEO copywriting process and lighten the workload for copywriters. Just a few clicks produce optimized, plagiarism-free content, with an intuitive interface and impressive performance.
However, this AI is still incapable of fully replacing a human editor. It is still necessary to go back behind it to improve or correct textsHe has a tendency to repeat words.
In conclusion, this is an excellent tool for assisting SEO copywriting and automating part of the process. However, there are a few drawbacks, the copywriter must check the content and perfect it by hand if they hope to conquer the top positions in search engine results…