Artifact is a new social network from the creators of Instagram. Like a TikTok dedicated to news articles, the platform relies on AI to recommend content while allowing you to debate with your contacts. Find out all you need to know about this promising platform.
In 2018, the co-founders of Instagram Kevin Systrom and Mike Krieger left the company following its takeover by Facebook. Now, the pair are back with a new social network: Artifact.
What is Artifact?
Announced by Krieger via an Instagram post, this new platform is billed as " a personalized news feed guided by the latest generation of artificial intelligence ". The name Artifact represents the fusion of articles, facts and artificial intelligence.
For his part, Systrom describes a " AI-based newsfeed operating according to your own rules ". No doubt referring to recent tools such as ChatGPT and DALL-E, he adds that " machine learning has done a lot of great things recently, and we're excited to bring it to you in this new form ".
It's been a minute, but @mikeyk and I are back at it with Artifact – a personalized news feed using the latest ai tech. Visit to sign up and join the community.

– Kevin Systrom (@kevin) January 31, 2023
How does Artifact work?
Artifact can be described as as a TikTok for text. On opening the application, the user discovers a list of popular articles from major newspapers such as The New York Times or smaller media such as specialized blogs.
They can then click on the one that interests them, and receive suggestions for similar content in the future. It's also possible to discover articles published by users you follow, along with their comments.
You'll also find direct messaging functionality. This will allow friends to chat about news articles.
It's been super fun to see the brand come to life between @omgadamho and our very own @gunnargray

– Mike Krieger (@mikeyk) February 1, 2023
A serious competitor for TikTok, Twitter and Google Discover?
This new AI-based social network could therefore compete not only with TikTok and its content recommendation algorithm, but also with Twitter and Google Discover. Twitter as an information source and communication platform.
While many users are disappointed by the direction Twitter has taken since its acquisition by Elon Musk, the launch ofArtifact could be just the thing. So far, the only successful alternative is Mastodon.
It can also be considered as a rebirth of the Google Reader service. This approach has also been adopted by Google Discover, which suggests news articles when you open the Chrome browser on your smartphone.
While the major social networks have spent the last few years focusing on the short video format, Artifact can appear to be an "old-fashioned" platform.
However, its creators are not just anybody. Thanks to the experience gained from the success of Instagram and the exploitation of the latest artificial intelligence technologies, they hope to conquer a large audience.
Previously, in 2020, the duo created the site Rt.live to track the spread of Covid in real time. To venture back into the world of social networking, however, they were waiting for a new wave of consumer technology to surf on, and a way to apply it to this field. Now, the stars seem to be aligned for a successful comeback…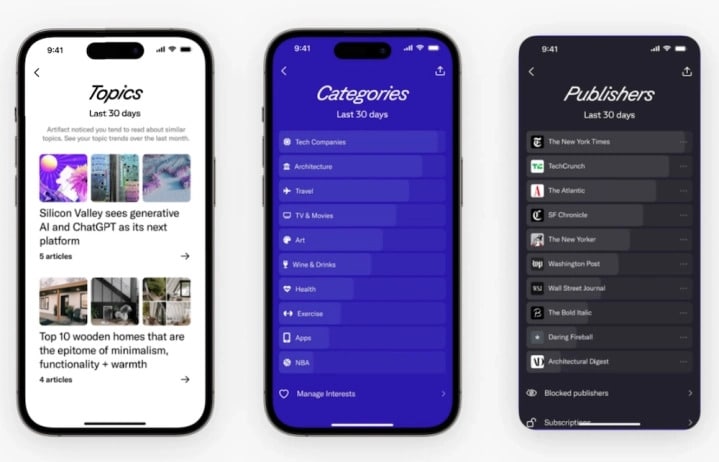 A social network in the tradition of ChatGPT
This social network comes at a time when AI is already in the spotlight. Since the launch of ChatGPT at the end of 2022, the world has become aware of the possibilities offered by this technology.
Many consider this chatbot to have the potential to replace Google and search engines web search engines. Now, Artifact could mark the application of this innovation to the field of social networking.
L'idea for Artifact was born around two years ago. Initially, Systrom was skeptical about the ability of machine learning systems to improve recommendations. However, his experience with Instagram convinced him. He realized that this technology could greatly improve the user experience.
It all began in 2017, with the invention of the Transformer by Google. This innovation enables systems to understand natural language with much less data than before.
This is what has enabled machine learning systems to progress so much faster, leading to the appearance of ChatGPT and other popular AIs.
At discovering the use of a prediction algorithm by TikTokthe two creators of Instagram wondered why Facebook and Twitter continued to suggest content based on who the user followed. The aim of Artifact is to apply this system to textual content.
Other similar platforms already exist, such as Zite and Pulse in 2014 or the Japan-based SmartNews site. However, these services have never met with the expected success. The fame of Instagram's creators could make all the difference.
However, it will be necessary to find a viable business model. For the moment, advertising seems the most obvious choice, but Systrom is also considering offering revenue-sharing contracts to content publishers.
Emphasis will also be placed on the quality of the proposed content. The media will be carefully selected, although all political orientations will be accepted a priori. False information will also be vigorously combated.
A focus on confidentiality
Artifact allows you to receive recommendations frompopular articles within your network of contacts. This feature is similar to Twitter's "Top Articles", with a greater emphasis on privacy.
You won't know who exactly is reading and how many of your contacts have read it. The aim is not to read the same thing as your friends, but to find out what everyone else is reading.
Who are the creators of Artifact?
At present, Systrom and Krieger are the sole financiers of Artifact. They sold Instagram to Facebook for $715 millionand thus enjoy a certain financial comfort…
The cost of developing this application is estimated at less than $10 million. A team of seven people are working on the project, including Robby Stein who was one of Instagram's top executives from 2016 to 2021. The company is based in San Francisco, but some team members work remotely.
How do I register and use Artifact?
Initially, a waiting list was opened on February 1, 2023. From February 22, 2023the application is now available in early access on the Play Store and the App Store for all Android and iOS device users.
Until this launch, a US phone number was required to register. This is no longer the case, and you can now can use Artifact from France.
In addition customization features of the interface and newsfeed have been added. Users will also be able to view statistics showing the articles they have read and the corresponding categories. Users can click on any topic to discover more related content.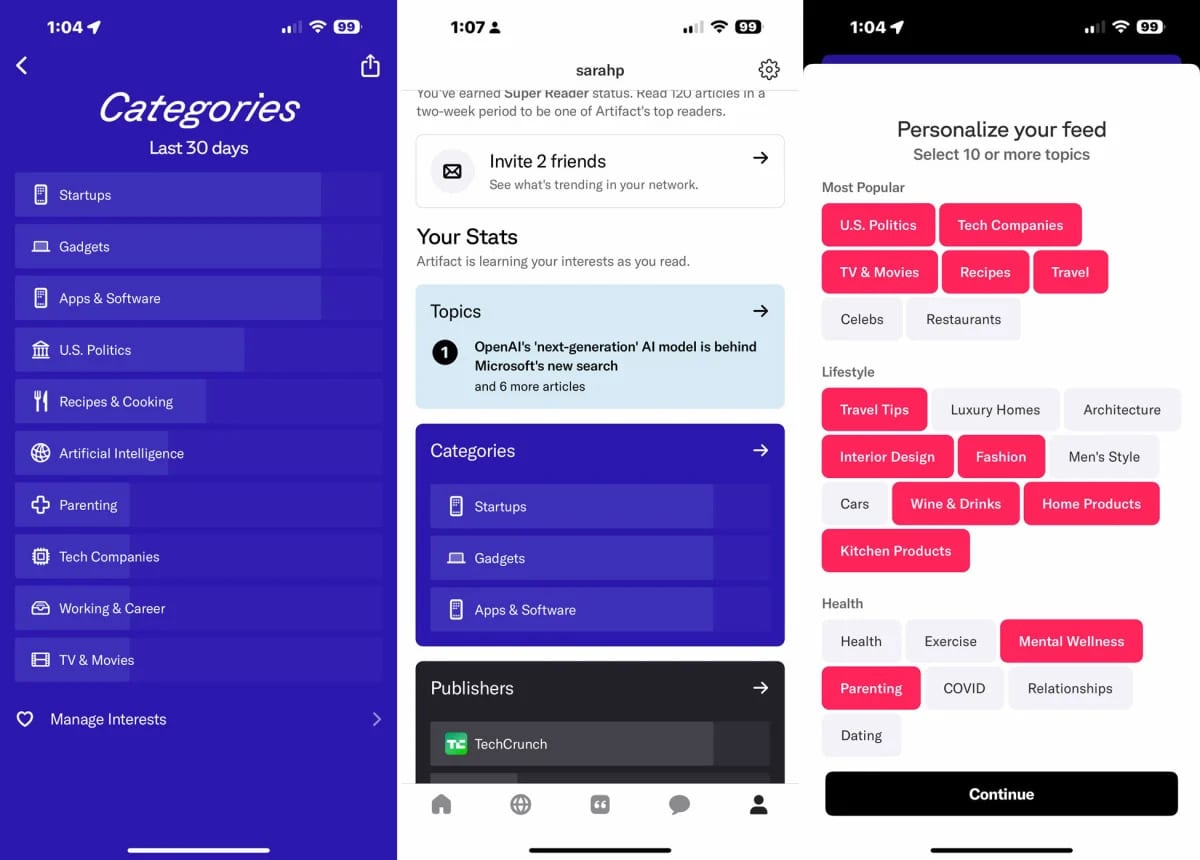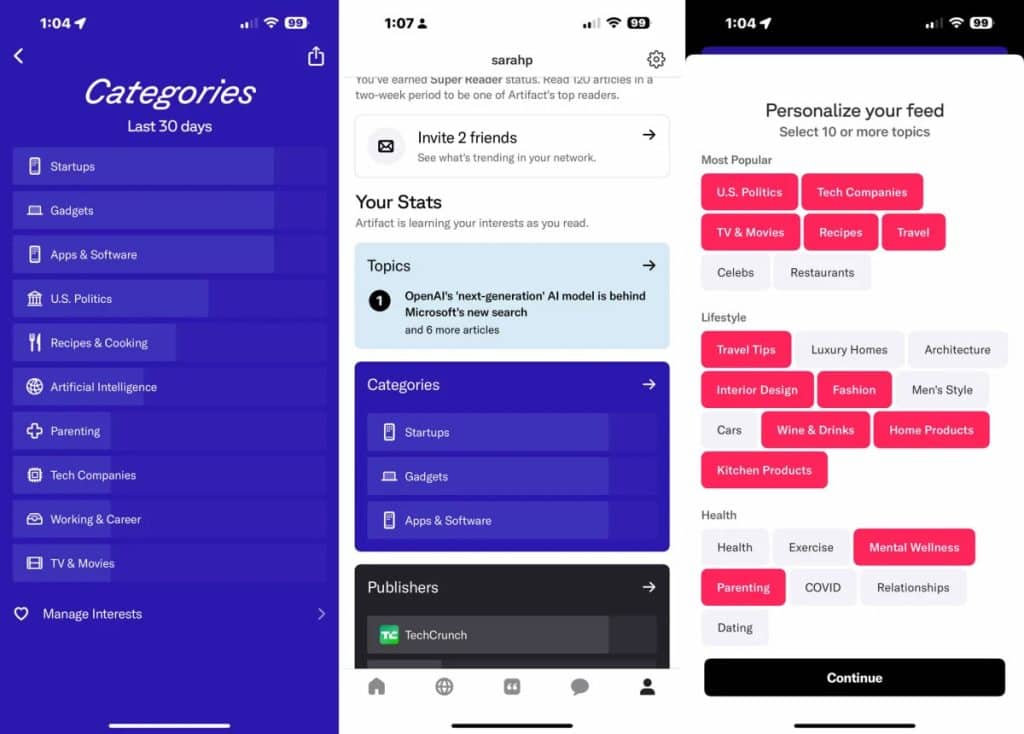 On first use, you must select a minimum of 10 subjects in which you are interested. Topics include health, technology, science, finance, art, culture and sports. You can then add any subscriptions you may have to well-known media to receive their publications as a priority.
The application is based on machine learning, article recommendations will be refined over time. Allow at least 25 items for the platform to get to know your tastes and adapt to them. You can easily indicate if you don't like a recommendation by pressing the "thumbs down" button.
Now you know all about Artifact. Are you interested in this social network, or do you think it brings nothing new to the market? What do you expect from a social network in 2023? Have your say in the comments!