The best job in the world? Find out what a Data Scientist's salary really is, based on many factors such as industry, geographic location, experience or skill level.
Over the past few years, the world has turned to Big Data. In all sectors, all industries, the data is used by companies.
As a direct result, the data science sector has grown considerably. Demand for Data Scientists skyrocketed, and salaries followed.
Currently, the job of data scientist is very well paid. In 2020, it will be 16th highest paid job according to Glassdoor.
A high salary linked to skill level required in mathematics, statistics and programming to practice as a Data Scientist. In addition, this expert is very valuable to companies.
However, the salary varies greatly depending on experience, location or even industry. Through this file, find out how much a Data Scientist really earns.
What is the salary of a Data Scientist in France?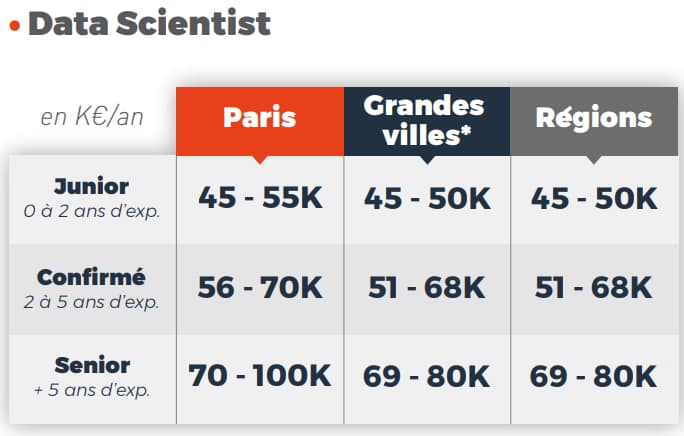 In France, according to Glassdoor, a Data Scientist earns on average €45,435 per year. Among the French companies offering the highest salaries are AXA, BNP Paribas, Criteo, Deezer, Renault and Carrefour.
According to PayScale, the average salary is 44,996 euros.. It ranges from 35,000 euros to 68,000 euros. With 5 to 9 years of experience, the average salary rises rapidly to 61,000 euros. With 10 to 19 years of experience, it can reach 77,000 euros.
Several skills can raise that salary. This is the case with Machine Learning and Big Data statistical analysis methods. Profiles that master only the Python language and data analysis are generally paid less than the average.
Not surprisingly, according to LinkedIn the French city where the highest paid Data Scientists are is Paris. The salary there is 6% higher than the average. Then there's Nice, Nantes, Toulouse and Lyon.
In July 2020, DataScientest conducted its own survey on Data Science salaries among some 50 Chief Data Officers and managers from CAC 40 organizations. According to this study, a Data Scientist earns between 35,000 and 55,000 euros per year. With experience, it is possible to reach a salary of between 45,000 and 60,000 euros per year, and even much higher for top experts.
How much does a Data Scientist earn in the United States
In the United States, in 2020, according to Indeed, a Data Scientist wins on average $122,582 per year. This is more than double the French salary, and that is why many talents trained in France decide to move across the Atlantic.
Many professionals will benefit from multiple advantagesThe program may also provide financial assistance, such as assistance with public transportation, stock options, or meals provided. The luckiest will benefit from telecommuting and flexible hours.
The salary of a Data Scientist in American cities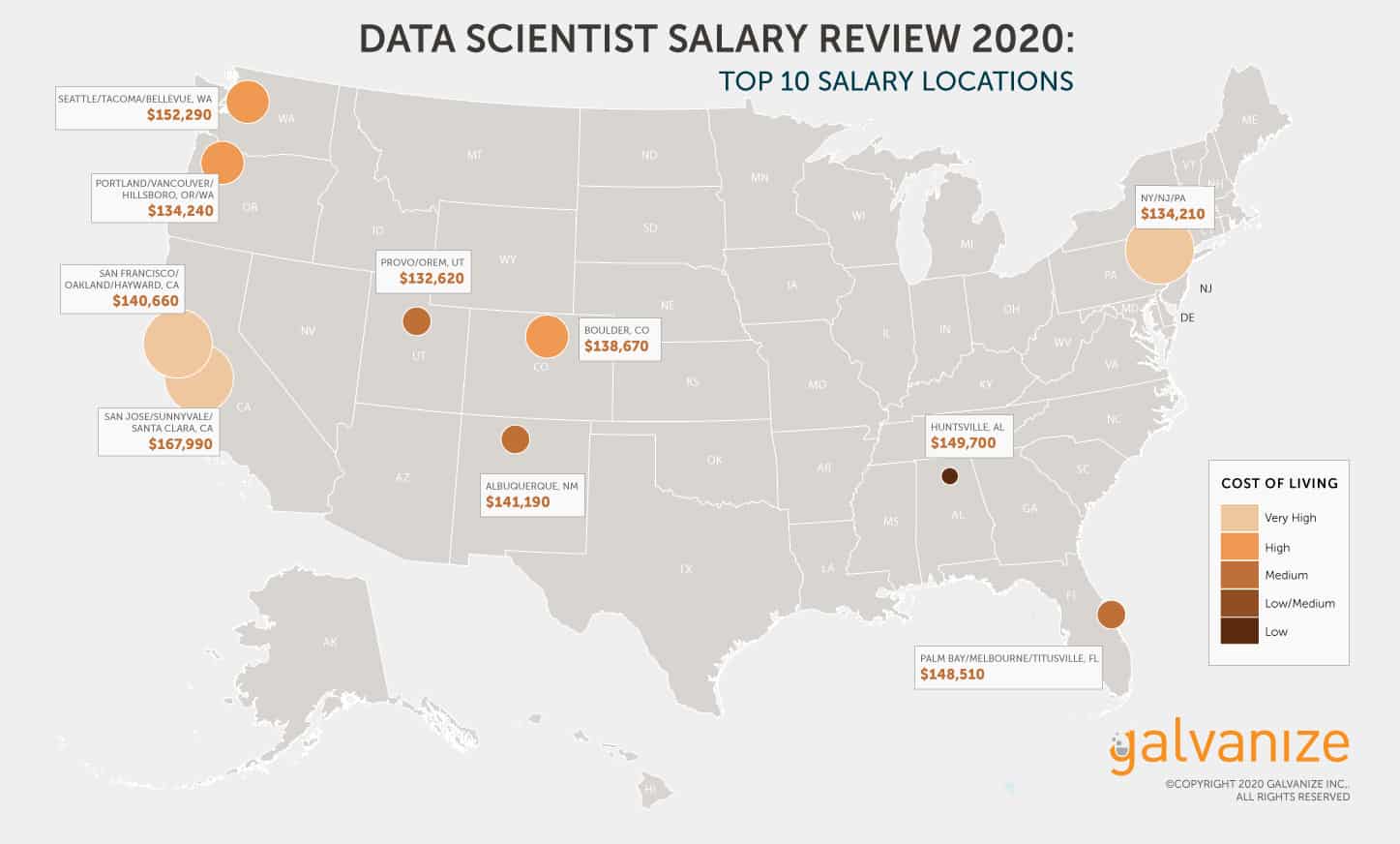 The average salary of a Data Scientist is higher on the east and west coasts of the United States. According to the Bureau of Labor Statistics, it is $130,000, or $15,000 more than in the rest of the country.
In the lowest wage regions, it is averages $69,230 per year. On the other hand, at the top of the ranking of cities with higher salaries, it exceeds $180,000 per year. It can therefore be advantageous to work remotely for a company that pays its employees very well, and to live in an area where the cost of living is lower.
The city with the highest average salary is San Francisco, with an average of $158,553…. Next comes New York City with an average of 139,813. The top 10 is completed by San Diego, Houston, McLean, Chicago, Los Angeles and Austin.
In general, Data Scientists working in the states of California ($136,310), New York and Washington ($143,080) are the highest paid. This is not surprising, as these states are considered technology "hubs". California is home to Silicon Valley, New York has its Silicon Alley, and Seattle is considered the stronghold of Amazon.
Among the American companies that best remunerate their Data Scientists are the following IDC Technologies, Selby Jennings or eBay. Facebook ranks third, with an average salary of $175,126 per year.
The salary of a Data Scientist according to his experience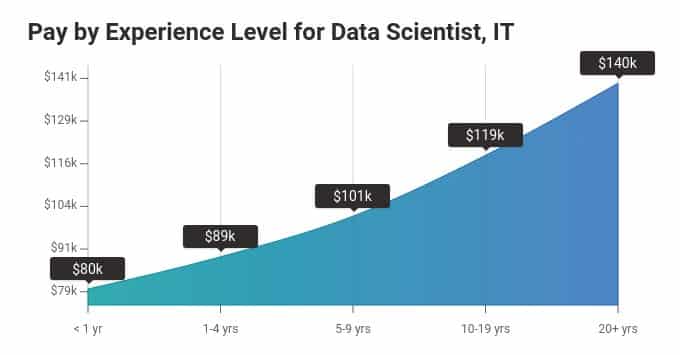 Of course, as in most professions, a Data Scientist's salary depends on his or her experience. Indeed, according to Indeed, in 2020, the salary of a Data Scientist The total value of the United States entry fee is $103,667..
With a little experience, between three and five yearsThe average salary can quickly reach an average of $141,254 per year. According to a report published by Burtchworks in 2018, an expert with more than eight years of experience is considered senior and his average salary reaches $165,000 per year.
A manager of a small team of Data Scientists can earn $146,133 a year. For an average team, the salary is $185,000 per year. The manager of a large team can earn $250,000 a year.
A more recent study, conducted by Dice in May 2020 from its own database, reveals more details about Data Science salaries. A junior profile would earn an average of $91,000. A Data Scientist would make $108,000.
A IA or Machine Learning EngineerHe, on the other hand, could expect to make $127,000 a year. The average architect or data science manager makes $140,000. A senior profile or chief data scientist can earn as much as $146,000. Finally, a data science manager would earn an average of $169,000.
The salary of a Data Scientist in different industries
Data Scientists are useful and sought after in all industries. However, according to a study conducted by Burtchworks, the sector that recruits the most is the technology sector. Specifically, many data scientists are finding work in the field of cloud services and social networks.
All in all, the "tech" industry employs 44%. from the Data Scientists. The second largest sector is financial services, with 14% of jobs in finance companies or banks.
According to the study, Data Scientists working in the tech industry perceive that higher wages than in other sectors. The starting salary is $94,345, with an average of $152,194. A senior manager can earn $254,636 a year. In other sectors, the base salary is similar, but the average salary for managers is lower.
This difference is generally related to higher skill requirements in the tech sector. However, it is possible to earn a higher salary by having skills adapted to other industries.
Data Scientist: a job that still pays well in 2020?
For several years now, the Data Scientist's job has been considered to be the best job in the United States and just about anywhere in the world… in terms of salary, demand and satisfaction. However, clouds are beginning to form in this azure sky.
According to a study by Glassdoor Economic Research, wages have fallen at the beginning of 2019 compared to the beginning of 2018. In fact, wage growth for this occupation has been well below the average for other occupations since 2018.
The wages are starting to level offand are now closer to those of generalist software developers. For good reason, there are now more candidates than positions to be filled.
The job of a Data Scientist is quite simply victim of its own success. Many people have been trained, or apply without actually submitting expected skills. The explosion in the number of Data Scientists is driving down salaries.
It's always difficult for a company to find experts with the most advanced skills, but Data Scientists certified by Coursera or Fast.ai are now legion.. So there is still a skills shortage, but not a shortage of candidates.
Salaries for Data Scientists remain very attractive despite this tiny decline, but newcomers should be aware of the situation. The competition is tough and will continue to intensify.. It is therefore very important to follow the best training courses to get the best out of the game.
We recommend DataScientest, French market leader in online training in data science. You will be able to take advantage of certified courses, in partnership with the Sorbonne, validated and recognized in the industry.