Would you like to know how much a Data Analyst really earns? Find out how much data analysts in France and abroad earn, depending on many factors.
Within a company, the Data Analyst is responsible for compiling data and analyzing it in order to extract information that can be used by managers. The results of these analyses can, for example, be used to make data-driven decisions, solve problems and develop new products that meet consumer expectations.
Faced with the explosion in the volume of data generated by humanity on a global scale, this profession has become one of the most in demand. In Data Analysts are in high demand in all sectors.. They are particularly coveted in the fields of finance, consulting, manufacturing, pharmaceuticals, education or the public sector.
The trend is not about to be reversed. According to Burning Glass volume of job offers should increase by 14.3%. over the next 10 years. So now is the perfect time to embark on a career as a Data Analyst. Find out what salary you can expect…
The salary of a Data Analyst in France
In France, the average annual salary of a Data Analyst is 38 000€ according to LinkedIn and 40 258€ according to Payscale. According to a study conducted in July 2020 by DataScientest among 30 CAC40 companies, Data Analyst earns between 35,000 and 60,000 euros per year.
Of the Data Analysts using Linkedin, 36% say they receive an annual premium of around €2250. Again according to this source, the sectors that pay the best are health (€40,200), IT software and services, finance and IT (€39,000), and business services (€37,800). The most lucrative fields of study are marketing and finance.
The French cities where Data Analysts are best paid are Paris (€40,000), Lyon (€38,000), Lille (€35,000), Bordeaux (€34,000) and Toulouse (€32,600). Small companies with less than 1000 employees seem to pay slightly better than large companies.
The salary of a Data Analyst in the EU and the UK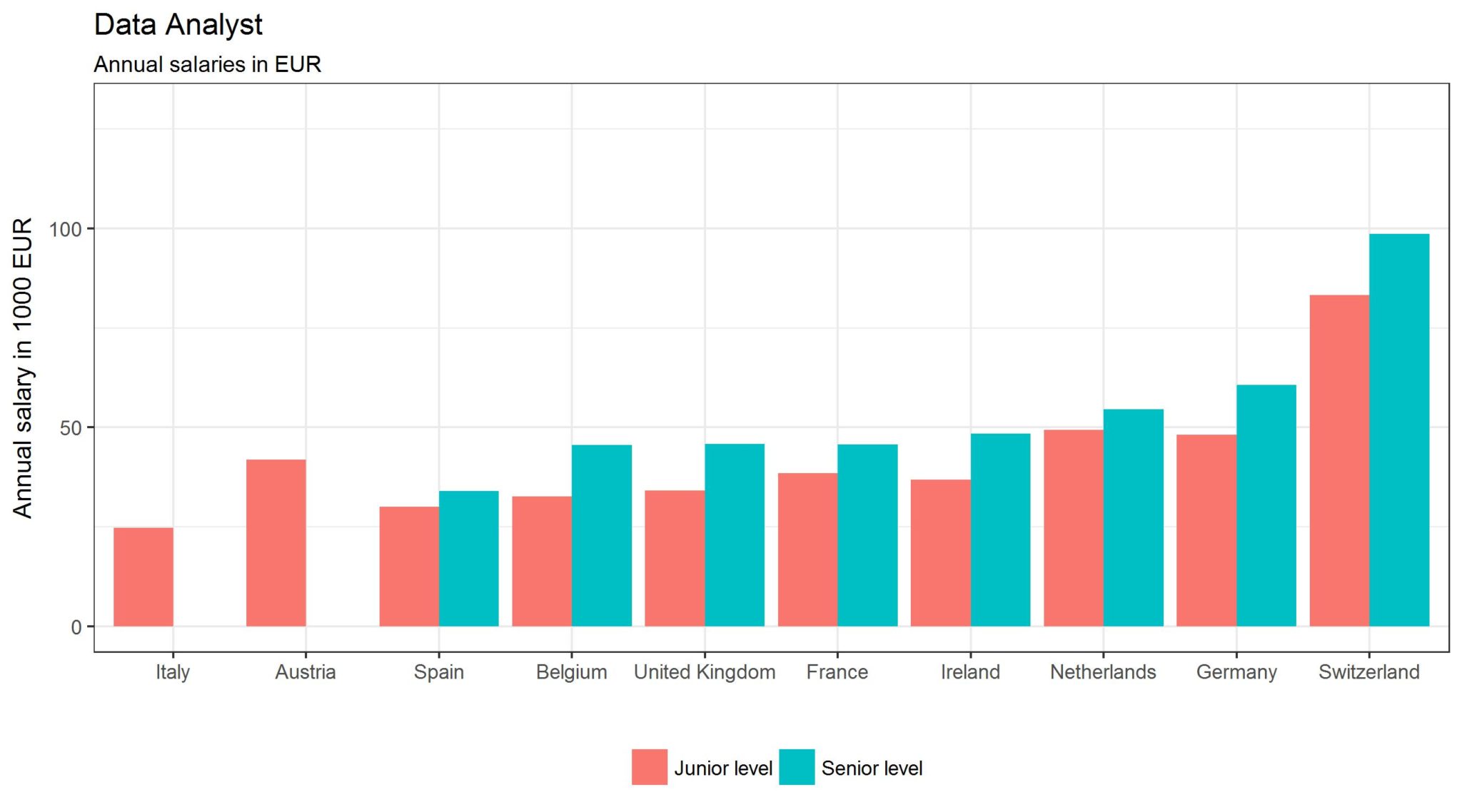 À Europe-wideAccording to Glassdoor data, the average salary for a junior Data Analyst is 35,000 euros. Switzerland is the European country that pays Data Analysts up to 83,000 euros per year. Senior profiles can earn up to 100,000 euros per year.
With an average annual salary of around 50,000 euros, Germany, the Netherlands and Switzerland are the leading trio in Europe. On the other hand, in Italy, the analyst receives "only" €24,700 per year on average.
In Spain, he can expect to earn an average of €30,000 a year. However, it should be kept in mind that the cost of living in Switzerland is 70% higher than in Spain…
At United Kingdom, according to the Prospects websiteThe basic salary for a Data Analyst is approximately £25,000. In larger companies, it can start at £30,000. With a few years of experience, this salary can increase to between £30,000 and £35,000. The most experienced and competent profiles can expect a salary of more than £60,000.
The salary of a Data Analyst in the United States
In the United States, the average salary of a Data Analyst is 75,253 per year according to Indeed. It ranges from $71,323 for beginners to $89,000 for seniors. With 3 to 5 years of experience, in mid-career, the salary is $79,698.
According to this source, American cities where the highest paid analysts are Charlotte and Phoenix with an average salary of over $96,000 a year. Next come Washington DC at $86,988, then New York, Chicago, St Louis, Atlanta and Austin where the average salary is around $70,000.
However, the Hired site rather believes that the podium is occupied by Seattle, San Francisco and Los Angeles where the annual salary would exceed $135,000. The palm would be held by Seattle at over $150,000.
The company that pays the most for Data Analysts in the United States is Facebook, with an average annual salary of $131,846. Salaries are also attractive at TARGET, Microsoft, EY or USAA.
According to Burning Glass, three economic sectors employ 59% of Data Analysts finance/insurance, professional services and IT. In these three sectors, the average salary is $83,000, $75,000 and $73,000. Professional services companies alone employ 34% of the workforce.
Several skills and certifications allow for an increase in the average wage. GCFA certification is generally associated with a 77% increase. Mastery of Informatica results in a 29.33% increase over the average. Finally, a degree in statistics leads to a 16% increase in earnings.
There are opportunities for development. According to Burning Glass, a Data Analyst manager on average, receives 50% more than a simple Data Analyst and often much more.
The salary of a Data Analyst in India
For adventurers who want to go abroad or bet on a country with a future, in India, a junior Data Analyst earns about 396,128 rupees or about 4600€.. With 5 to 9 years of experience, he can expect to earn up to 603,120 rupees or about 7000€ in the best companies.
The more experienced can touch 900,000 rupees or nearly 10,400€.. The average salary is 424,414 rupees or nearly 5,000€.
The industries where Data Analyst salaries are highest are telecom, retail, manufacturing and energy. The best city to work in is by far Bangalore, with a 19% higher salary than the average.
Then come Pune and Gurgaon. On the other hand, wages are 5% lower than average in Mumbai and Hyderabad. The highest paying companies in India are HSBC, Accenture and Tata.
In which country is Data Analyst's salary higher?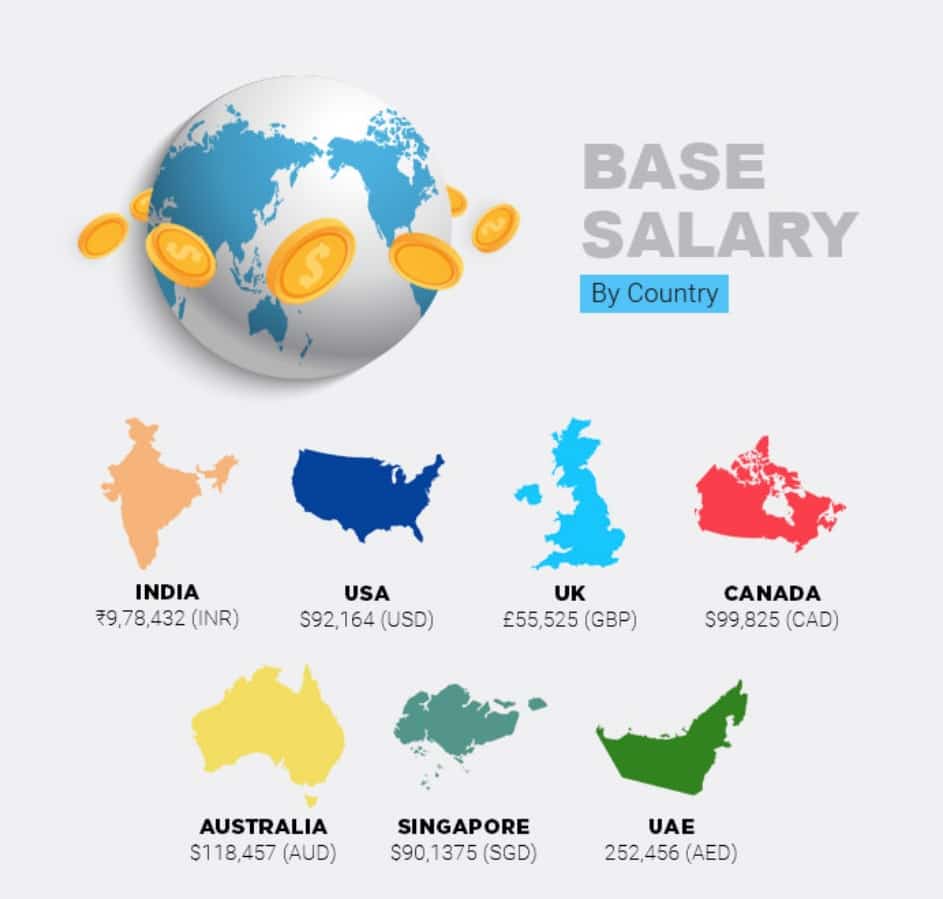 According to DataScienceCentral.com, countries where Data Analysts are the highest paid are the United States, Switzerland, Canada, Australia, the Netherlands, Germany, Sweden, Denmark, Singapore and the United Kingdom.
According to the SalaryExpert siteThe basic salary for an analyst is 978,432 rupees in India, $92,164 in the United States, £55,525 in the United Kingdom, $99,825 in Canada, $118,457 in Australia, SGD 90,1375 in Singapore and 245,426 dirhams in the United Arab Emirates.
You now know what the average salary of a Data Analyst is in the different countries of the world. Keep in mind, however, that these salaries will continue to evolve over timeThe number of employees will be increased, depending on demand and the evolution of the business.
In addition, the averages shown here are from sources based on their own data. They are therefore not than a rough estimate…even if it does help you get your head around it.
If you want to become a Data Analyst, several options are available to you. It is possible to follow a university course, or to turn to online distance learning. We recommend DataScientest, the French leader in Data Science training.