Dataviz, or data visualization, is a practice we encounter in our daily lives without even realizing it, even when we open a newspaper or watch television. The simplest example is surveying. In the digital age, it has become a powerful communication tool.
Dataviz: an easy to understand definition
It's normal to ask the question " what is dataviz? ». Without even looking for it while it is in front of us simply by consulting all types of websites, newspapers or various documentation. It is part of our daily life whether we like it or not. Dataviz is the shortened version of data visualisation. As its name suggests, it is a tool for formatting a set of raw data in a readable way.
In a society increasingly attracted by the graphic aspect, data visualization takes precedence over raw data. It helps to illuminate information that appears complex or embedded in a large number of parameters. The term dataviz therefore refers to all visual representations of these raw data. The primary goal? Clarify one or more phenomena by giving it a more ergonomic aspect than a spreadsheet filled with numbers.
Thus, by means of graphs, tables or coloured maps, information is transmitted without hindrance. In addition to being accessible to everyone, it retains only the essence of the message. Every aspect of communication is therefore made faster and more efficient. In the end, this allows for informed decision-making based on precise trends. Moreover, you don't need to be a technical expert to handle this tool, which is within everyone's reach.
An example of Dataviz
This is called the Storytelling. The English term refers to the way a story is told. This system is perfectly compatible with data visualization, since it is very relevant, you have to tell a story to your audience, make sense of the information you're dealing with. One of the simplest forms remains the diagram, but graphic designers now use other media, such as animation and video, as in the France Télévisions show, #Data Mouth.
a practice with multiple applications
If journalism has taken hold of this practice, many fields of activity are impacted by dataviz. Within a company, it is a valuable element of communication towards investors or the public. It is possible to present an illustrated annual report, make a marketing analysis to determine the target customers, but also to highlight its brand. It's not just a matter of "looking good", but of ensuring a better understanding of the industry for all those involved.. Some companies have assimilated it very well, like Google with its page How search works ? : from algorithms to answers. Here, the Mountain View firm explains, to its English-speaking interlocutors, how it operates its search engine, its missions and its constraints in order to obtain the adequate answer to the search for an Internet user. As the presentation unfolds, the steps are clearly explained. The refined graphic charter and the use of keywords allow access to a large audience.
In theory, dataviz requires assembling a team of professionals. Two jobs are essential: the data scientist and the graphic designer. The first collects information and analyses it, then the second makes the expert's insights visible through graphic representation. In practice, this team can easily be dispensed with in a small-scale project.
Dataviz, tools accessible to all?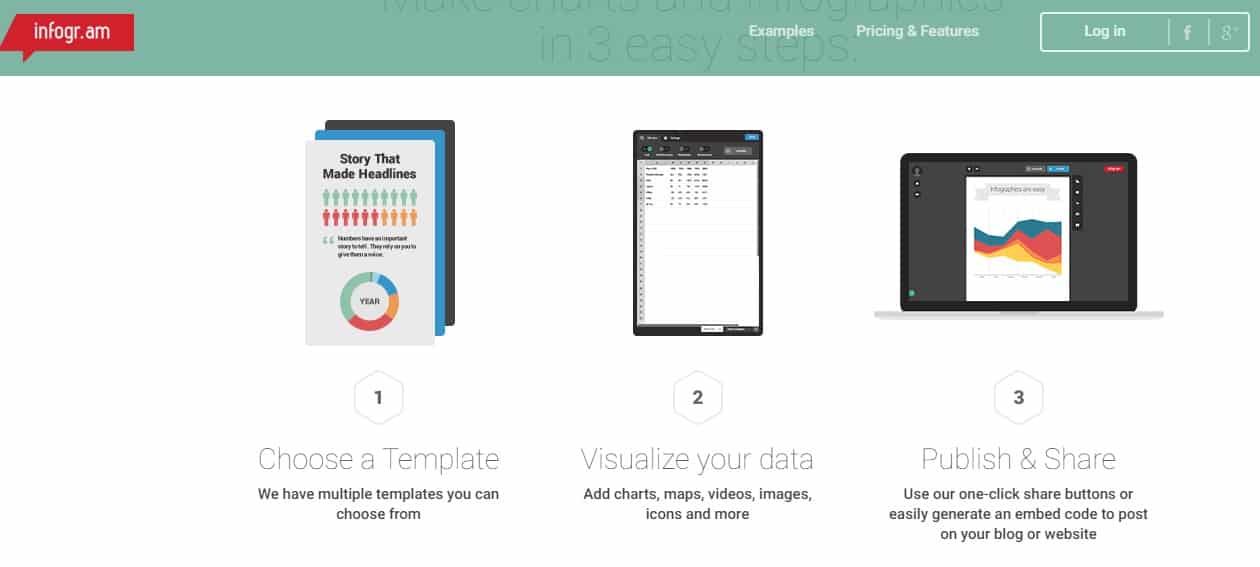 For that, free and easy-to-use tools are available to companies. If a company has mastered the compilation of data in an Excel spreadsheet, it will be a matter of finding the best visual representation to underline its point. You don't have to be an artist to get a satisfactory result. Infogr.am is a site that allows you to export your Excel or Open office files to its platform.. The flexibility of this service allows you to choose a pre-designed model and customize it to fit your project.
Another handy tool is Piktochart. It also works from templates, but does not use the spreadsheet. On the other hand, it is very useful when it comes to making a presentation based on figures and keywords.. Most users will be able to use dataviz to complement their working methods after a maximum of two hours of training. The operations to obtain a satisfactory result do not therefore require a large number of skills. Once tried, it will become obvious.
More sophisticated Dataviz tools exist to make the work of professionals, especially journalists, easier. DataWrapper is an open source tool to easily create infographics from a database to be inserted into it. D3.js is another example of an open source Dataviz tool. The latter, coded in JavaScript, allows you to manipulate a large amount of data and make it visible using HTML, CSS and SVG codes. Dygraph works in a similar way, but is mainly used to represent relevant information in the form of curves.
For those who simply don't have the time to find an original visualization, a Dataviz catalogue can be an adequate solution. The web platform "The Data Visualisation Catalogue" is a perfect example. Users choose the type of representation they want (pie chart, diagram, radar, tree, timeline, etc.) and benefit from a demonstration and a list of tools to make it easy to do so.. As far as paid solutions are concerned, one of the references is none other than the Data Visualization Service offered by Oracle. This DataViz solution is aimed more at business intelligence professionals who wish to format data stored in the Cloud.