updated on 22/09/2020
pCloud is a Cloud storage service based in Switzerland, which distinguishes itself in particular by its "lifetime" offer for a single payment. Through this test, discover the different functionalities offered, the strengths and weaknesses as well as the different price offers of this service.
Founded in Switzerland in 2003, the pCloud company offers a public cloud storage solution with an emphasis on ease of use and security. The service distinguishes itself from its competitors by its "lifetime" offer, allowing users to take advantage of a premium lifetime subscription for a single payment. A very interesting and unique offer on the market. Through our test, find out everything you need to know about this service.
Enjoy 2TB for life on the pCloud
pCloud: what are the different functionalities of the Cloud service?
Like most Cloud storage services, pCloud allows its users toe store their various files on remote servers accessible via any web-connected device. However, this service is distinguished by several features.
As a first example, the pCloud Drive synchronization functionality allows you to synchronize a local folder on your computer or smartphone with a Drive folder. All documents (texts, images, music, videos…) in this specific folder will be accessible via any web-connected device compatible with the service.
During file transfers from local storage to the pCloud, note that files are encrypted in TLS/SSL for maximum security. The stored files are encrypted in 256-bit AES. In addition, to ensure that the files are not destroyed in the event of an incident, they are copied 5 times to several different servers.
Enjoy 2TB for life on pCloud
In addition, there is a feature to share documents stored in a specific folder with other users. Very useful for collaboration. Once the person invited by entering their username or email address, they will be able to access the shared folder and the documents it contains.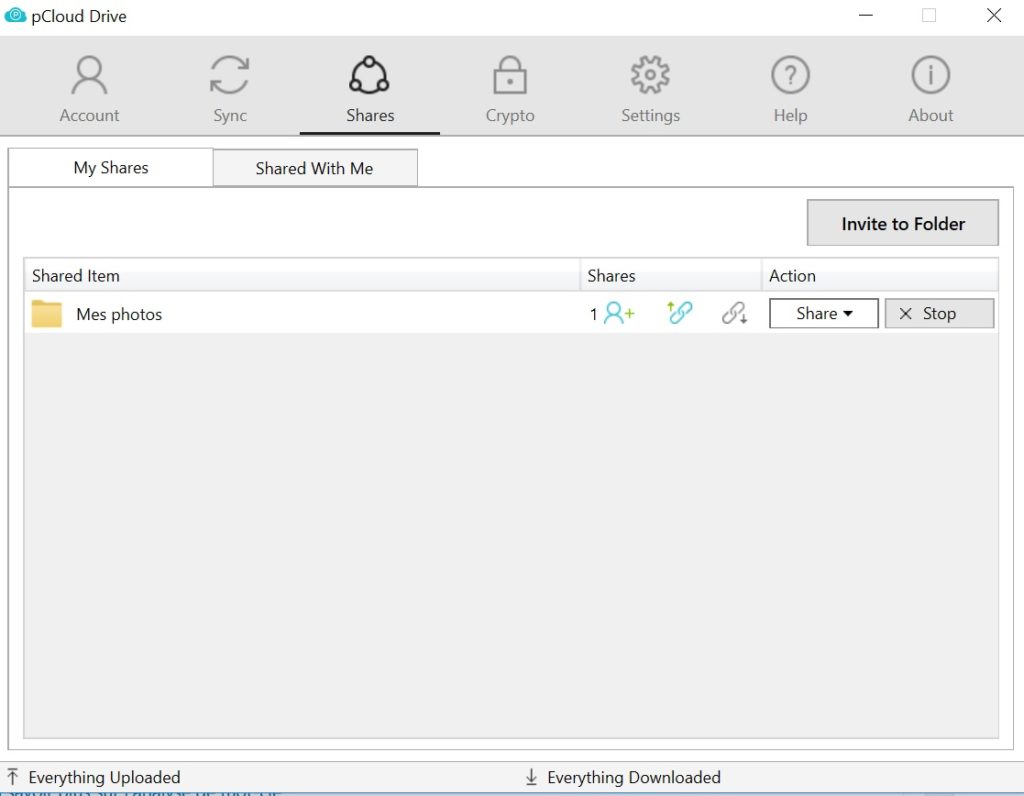 It is also possible to generate links to allow other users to download documents stored in a shared folder, or upload their own files to it. For security, it is possible to protect the links with a password and set an expiration date to make them disappear after a period of time.
Also note the Transfer feature, accessible via the address https://transfer.pcloud.com, which allows you to send files up to 2GB in size for free from the web without having to create a pCloud account. If you have an account, the maximum size increases to 10GB. You must either install pCloud Drive or the mobile application to benefit from it. In addition, each invited friend benefits from 1GB of storage.
On the my.pcloud.com website, it is also possible to make backups of your accounts on the social networks Facebook and Instagram, and on the Cloud Google Drive, OneDrive and Dropbox services. This allows you to make a backup of the files you store on these platforms, so that you can retrieve them in case of a problem.
In addition to mobile and PC applications, the pCloud Save extension for web browsers Chrome, Firefox and Opera allows you to save files (images, videos, documents, texts) to your account directly from a web page.
Finally, let us mention the pCloud plugin for the Adobe Lightroom application to export edited images directly to the cloud. Likewise, the pCloud extension for Thunderbird allows you to attach files of unlimited size to your emails via download links.
Enjoy 2TB for life on pCloud
pCloud Crypto: an encryption service for your most confidential files
The Swiss company takes the security of its users' files very seriously. Crypto is a service offered separately by pCloud. It allows users to create an ultra-secure encrypted folder to protect their most confidential files. Stored on the provider's servers, this folder is accessible from a PC, a smartphone or the provider's web client.
Thanks to the client-side encryptionOnly the user is able to access the data hidden in the Crypto folder with his Crypto Pass key. No one else, not even the supplier or the authorities can access the folder.
In order to demonstrate the level of security of its Crypto servicepCloud has challenged hackers around the world to do the same. to bypass his encryption system. Out of 2,860 participants, no one managed to pocket the $100,000 reward even after six months of trying.
Users' private keys are encrypted with the industry standard 4096-bit RSAand the "per-file" and "per-folder" keys are 256-bit AES encrypted. In addition, the authentication process is based on the use of the Merkle tree method, similar to the one used by the central part of the Bitcoin protocol.
The subscription to the Crypto service is offered for 4.99 euros per month, 47.88 euros per year, or 125 euros for life. A 14-day trial offer is available. Please note that this service is not included in the Premium version of pCloud.
Enjoy 2TB for life on pCloud
pCloud: advantages and disadvantages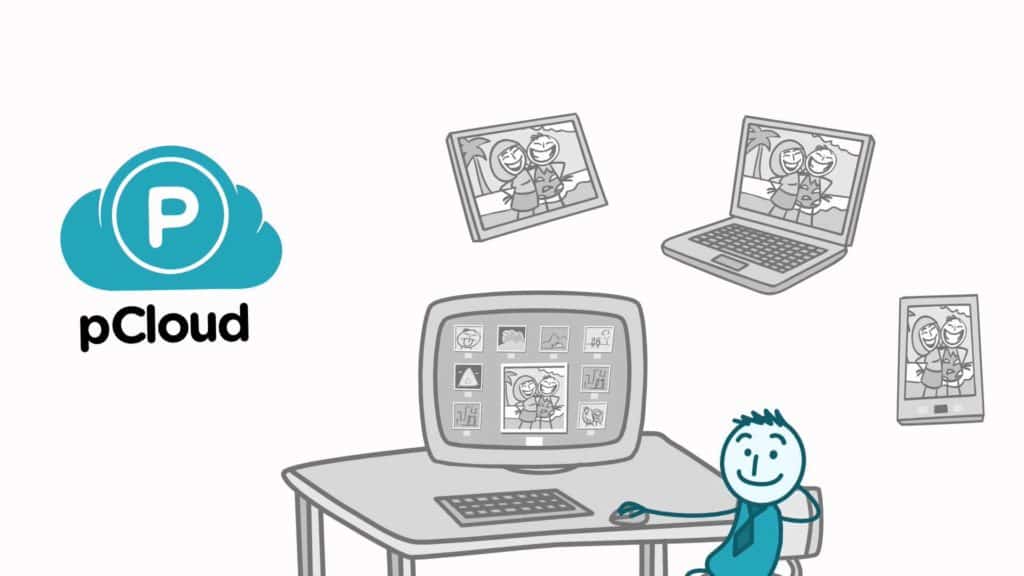 During our test, we were won over by pCloud thanks to its many strengths. First of all, it is an affordable service, thanks in particular to its unique lifetime offer on the market. File synchronization is fast.
With two-factor authentication and file encryption during transfers, security is assured. This is even more true with the Crypto service which guarantees zero-knowledge client-side encryption. There's no way around it. It is nevertheless regretted that this optional service is not included in the premium offer.
We also appreciate the opportunity to consult the multimedia files (audio, video) stored on the Cloud in streaming modedirectly from the web. Another strong point: the compatibility of this service with all the different PC and mobile operating systems, and the intuitiveness of the interface on the different media.
In addition, following the closure of OVH's French Hubic Cloud, pCloud presents itself as a strong European alternative to the American giants of the Cloud such as Google and Amazon. For users who wish to remain independent of the GAFA and benefit from a GSPD-compliant service, this Swiss solution is highly recommended.
Finally, apart from the impossibility of editing documents directly from the Cloud, we haven't really found a flaw in pCloud.
Enjoy 2TB for life on pCloud
pCloud: prices and availability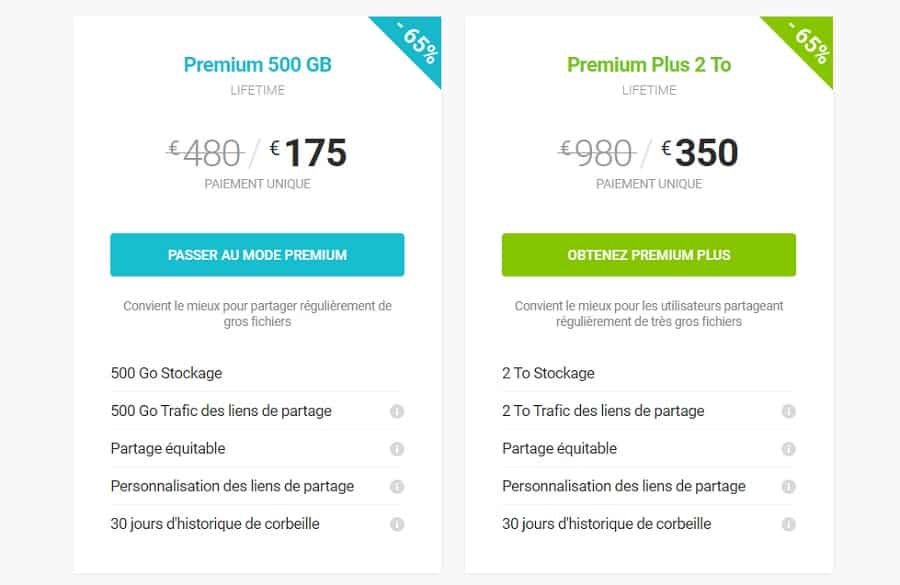 The pCloud Drive software is available for download for Windows, MacOS and Linux. The mobile pCloud application is available on Android, iOS and Windows Mobile. The web browser extension is compatible with Firefox, Chrome and Opera.
In terms of price, three different plans are offered. The free offer allows you to take advantage of 10GB of storage space and 50GB of download link traffic per month.
The offer Premium delivers 500GB of storage and 500GB of link traffic of downloading. Remote upload traffic is unlimited, and the content of the recycle bin is kept for 30 days. This offer is billed 4.99 euros per month and 47.88 euros per year.
The offer Premium Plus allows you to upgrade to 2TB of storage space and 2TB of link traffic. of downloading. It is proposed to 9.99 euros per month or 95.88 euros per year.
Enjoy 2TB for life on pCloud
However, where pCloud is doing very well in terms of pricing, it is through its unique "lifetime" offer on the market. Thus, for 175 eurosit is possible to Subscribe to the Premium plan for life. Similarly, for 350 eurosthe plan Premium Plus is available for life. It is therefore a particularly attractive offer.
Special offers
Thanks to its special offers, pCloud is not only for professionals. There are an online storage solution for the whole family. Indeed, the provider offers 2 TB of space to be shared between five people. Each member of the family then hasa storage quantity selected for its needs.
Furthermore, in order to respect the privacy of users, each space is personal. This family offer benefits from the same advantages as the Premium Plus 2Tb offer. In particular in terms of security, which is an essential factor for pCloud. This ensures that the data is safe from attacks and malicious persons.
Offered at a rate of 500 euros for a family account that can be used for lifewe haven't found an equivalent for such a price anywhere else. Moreover, this offer is often the subject of even more interesting promotions.
Article proposed by pCloud