Flexera has published a study on enterprise adoption of the cloud in 2019. As a result, companies are increasingly using this type of service, but are not optimising costs sufficiently.
As every year, the IT park manager Flexera carries out a study on the state of the art of the Cloud. It has just published its Rightscale 2019 report. As a result, 94% of the 786 IT professionals surveyed said that their company uses the Cloud.. Companies have more readily adopted the Public Cloud (91%), while nearly three-quarters (72%) of them are going through the private mode.
In fact, 84% of companies adopt a multi-cloud strategy. The hybrid strategy is becoming more and more attractive. Indeed, the growth rate of this phenomenon was 51% in 2018. It will be 58% in 2019. The adoption of multiple public clouds or multiple private instances is slightly declining.
AWS, Cloud leader closely followed by Azure, according to Flexera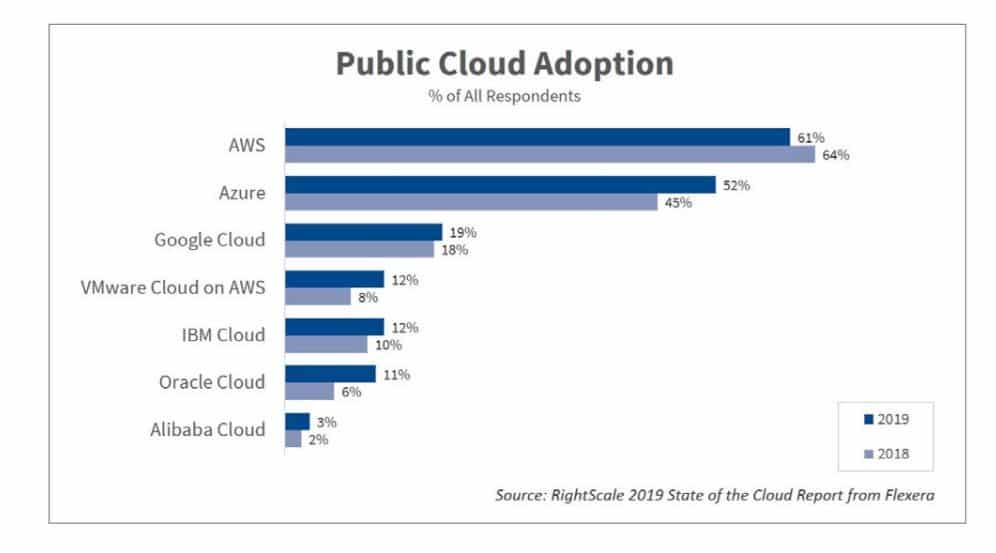 In terms of public cloud adoption, AWS remains the preferred provider for enterprises. Nearly 61% of them are customers of the Amazon subsidiary, 3% less than in 2018. Just over half of those surveyed (52%) are customers of Microsoft Azure, compared to 45% in 2018. Approximately 19% of respondents have adopted Google CP, an increase of 1% over last year. VmWare, IBM, Oracle, and Alibaba are also experiencing growth of between 1% and 4%.
On the Private Cloud side, VMware maintains its leadership position. Half of the companies using VMware Sphere technology. 27% of them prefer VMware vCloud Director to build their private cloud.. OpenStack attracted 28% of respondents and Microsoft System Center, 25%.
The report shows that half of the companies surveyed turn to the public cloud and invest more than $1 million a year in it. Moreover, large corporations plan to spend nearly 24% more in the public cloud in 2019 than in 2018.
A problem of cost optimization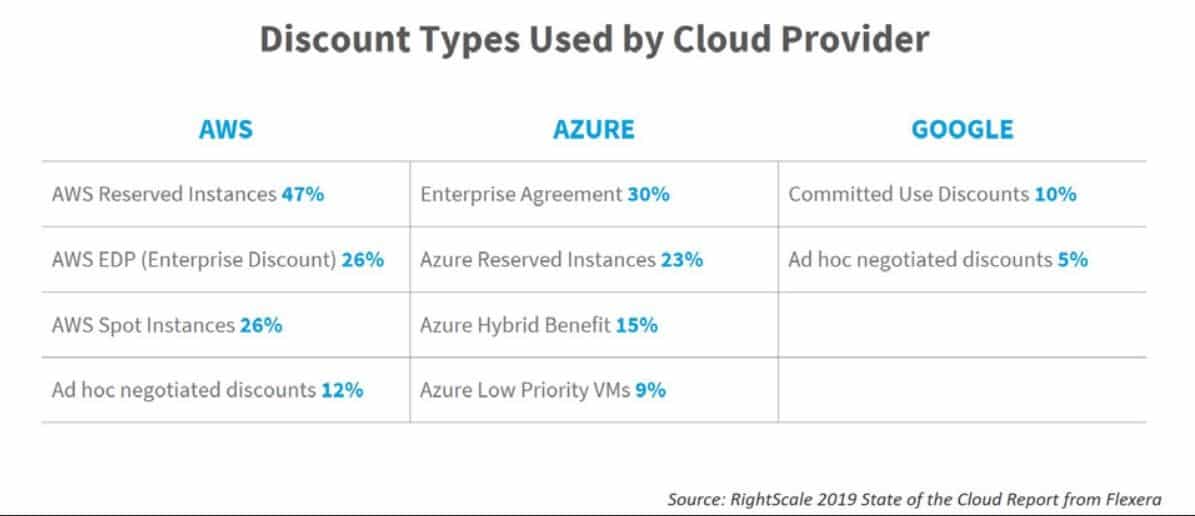 However, most companies do not take advantage of the best prices. For example, less than half of AWS customers use AWS Reserved Instances. Yet this service offers significant discounts to users who reserve their storage capacity over a period of one to three years. At Microsoft, the same functionality is used by only 23% of customers. Finally, only 10% of Google's customers take advantage of these discounts.
Yet cost reduction is one of the priorities of respondents. According to DataCenter Knowledge, this is the third year in a row that the majority (64%) of companies say their number one priority is to optimize spending. Approximately 66% of companies have set up a central team for the management of Cloud Computing services.
According to Flexera, companies are underestimating wasted spending in the cloud. Companies estimate that 27% of their budgets are wasted on this technology, while the report's authors measured 35% waste by 2019.
After cost optimization, the majority of companies want to migrate workloads to the cloud (58%), then increase the use of containers (39%) on a par with the implementation of a Cloud First strategy. The fifth most popular initiative in 2019 is the automation of Cloud Governance(35%), followed by the implementation of better financial reporting on Cloud spending.