Spotify is the world's most popular music streaming service. Find out everything you need to know about this platform, and its use of the cloud, AI and Big Data…
Enjoy 2TB lifetime of online storage with pCloud

In the few years of its existence, Spotify has revolutionised the music industry. This music streaming service provides access to more than 50 million songs, podcasts and videos from artists around the world.
More like than buying CDs, or downloading MP3 files…If you want to use the service, you just have to connect to the service via the internet. The user can connect using an email address, or a Facebook account. He then has access to a vast catalogue of content via the internet thanks to the magic of streaming.
In addition, the platform uses algorithms for recommending music to users based on the songs they've loved before. So you can discover new artists by letting yourself be guided.
In order to diversify its offer, in addition to music, Spotify has invested heavily in podcasts. This included the purchase of the Gimlet Media and Parcast networks, and spending over $100 million on a partnership with Joe Rogan.
Enjoy 2TB lifetime of online storage with pCloud

How does Spotify work? Thanks to Cloud Computing
Spotify allows you to legally listen to streaming music or podcasts. The company is based in Sweden, buys licenses from labels from all over the world to expand its music catalogue. It pays artists and intellectual owners according to the number of times their content is played.
But how Spotify and streaming really work ? How does the music reach your ears? Maybe that's the question you're asking yourself, and you've come to the right place to get the answer.
The music files are stored on servers. As soon as you select a song in the application, a request is sent to the company's servers to download the song.
To save time, it can also be downloaded from other users' computers nearby. It is a "P2P" approach.
When you listen to a song for the first time, it is then downloaded and temporarily saved in the "cache". from your computer or smartphone. This way, it won't need to be downloaded again next time. It can also be downloaded from your cache by other users nearby.
When Spotify started in 2006, it hosted its servers in its own data centres in four regions. In 2015, in order to cope with explosive growth, it then turned to the Google Cloud.
The Cloud allows the firm Sweden to expand its capabilities as it grows, save money, innovate and gain efficiency through data transfer via the tools offered by the Google Cloud Platform .
How Spotify uses AI, Learning Machine and Big Data
In addition to streaming music, one of Spotify's strengths is that it allows you to listen to music in streaming mode. introduce users to new artists. Its recommendation features, such as "Discoveries of the Week", are based on AI and Big Data.
Thanks to its tens of millions of users, the company collects a large volume of data in everyday life: which are the most popular songs, which style of music appeals to which user profile?
Every day, users generate more than 600 gigabytes of data. In addition, the firm is constantly exploring the web in search of music-related texts to find out what web users think about artists or songs.
Spotify is a data-driven company that uses this data to drive recommendation algorithms. The Discovery of the Week" system for example, allows each user to enjoy a personalized weekly playlist.
This playlist is made up of songs listened to by users who listen to and enjoy the same musical style and artists. Thanks to artificial intelligence, the service learns to know the tastes of each user over time…
On which devices is Spotify available?
Spotify is available on a web browser, or as an application for iOS, Android, Windows 10, MacOS, or on Xbox and PlayStation game consoles.
The service is also available on Samsung Smart TVs, Android, Amazon Fire, or on Sonos, Amazon Alexa, Google Home, Denon and Bose speakers. It can also be used on Google Chromecast and natively in some car models.
Spotify on Google Home and Amazon Alexa
If you have a Google Home or Amazon Echo connected speakerphoneYou can listen to your favourite songs on Spotify with ease. Just open your speaker's mobile app on your smartphone and connect your Spotify account to the device.
Afterwards, you can use your voice to play the music of your choice. For example, you just have to order " Hey Google, put some disco on Spotify. " to launch a popular disco playlist on your Google Home via the streaming service.
If you have several loudspeakers distributed between the rooms of your home, you can also play music on each of them. To do so, you simply need to create a group of devices from within the application.
How do I download music from Spotify?
Technically, he's not not possible to download music from Spotify. At least not in the traditional sense. Under no circumstances will you be able to extract a song as a file and store it on your hard drive or burn it to a blank CD.
However, Spotify Premium does allow you to make the music of your choice available in "offline" mode. You will then be able to access your favourite songs without being connected to the internet.
This makes it possible to continue to listen to music when you don't have internet access…even in the remotest places on the planet. Plus, even though mobile data plans are now unlimited, you'll help the environment by taking the load off your servers…
At most, you can record 10,000 songs in offline mode for your Spotify account and listen to them on up to five different devices. Simply activate the 'download tracks' button in the Playlist or album of your choice.
Spotify: hackers steal data but accidentally expose it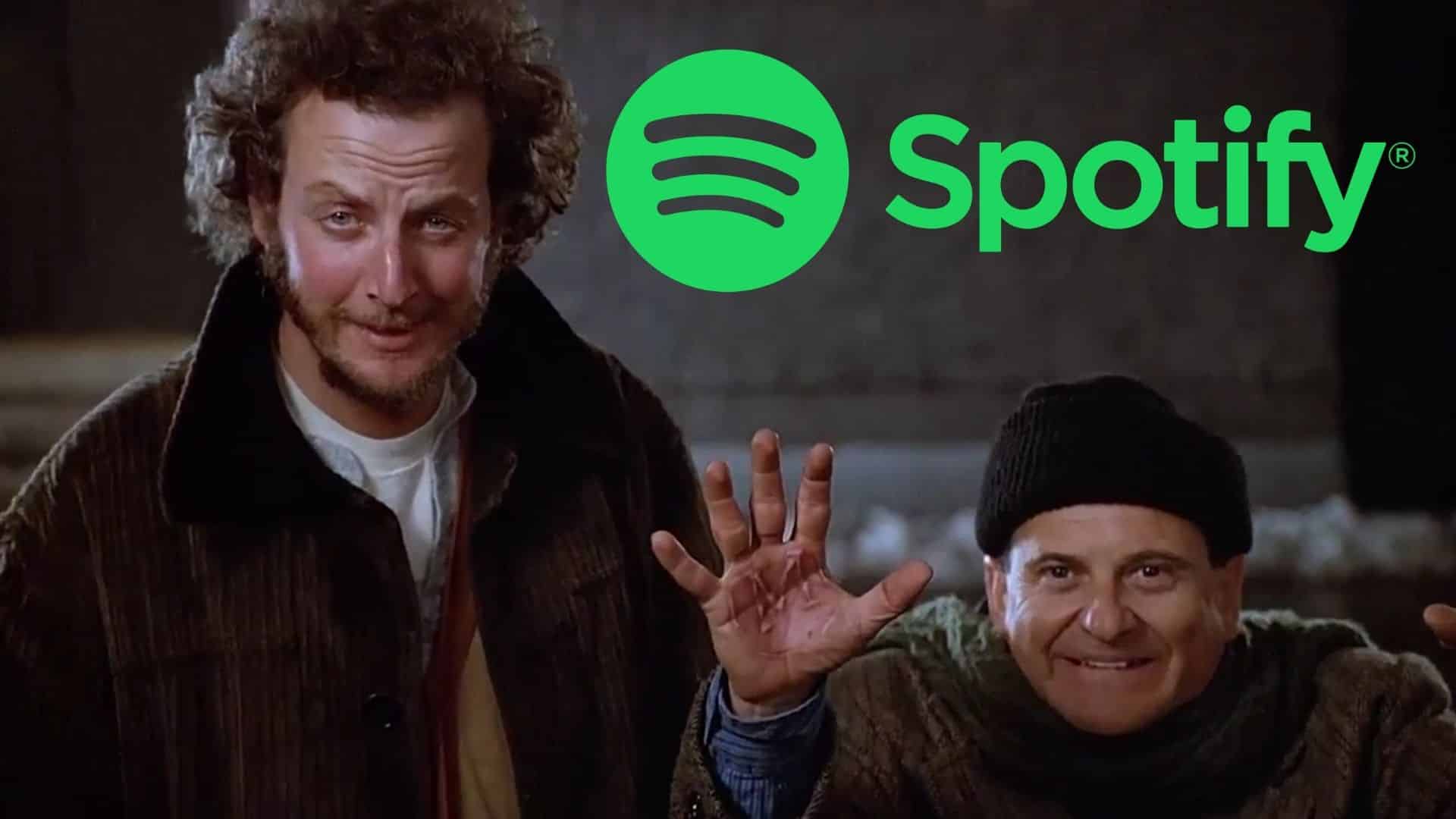 Contrary to the image conveyed in the movies, hackers are not always geniuses. The proof is in a group of cybercriminals caught in their own trap…
In order to access the personal data of Spotify users, the hackers did not need to bypass the security system of the music streaming service. They simply to try many passwords exposed in previous data leaks.
Many Internet users make the mistake of using the same passwords on all websites and applications, and this is what has allowed thugs to access to 350,000 Spotify accounts. All they had to do was try these combinations of identifiers to connect to the service. This is called "credential stuffing".
The malicious operation was a priori successful, and the hackers could have celebrated their victory. However, they in turn made a serious cyber security mistake by storing the stolen recordings on an unsecured cloud database .
Anyone could access this database and consult the data without even needing a password. This is this error that allowed the security researchers Ran Locar and Noam Rotem to discover the pot of roses by scanning the web for insecure data.
Rather than warn the hackers, the researchers published their discovery on the vpnMentor website. However, they don't know if the hackers were able to exploit the stolen I.D.s before being caught red-handed.
A pirated Spotify account can be rented at a discounted price on the Dark Web, or sold to 'click factories' that artists use to fake their streaming numbers. It is also possible that other criminals may have had access to this database before the researchers…
Anyway, following this revelation, Spotify has contacted the relevant users to invite them to change their password immediately. The Swedish company, like the researchers, invites companies to never "recycle" their passwords and to use a new one for each service .
To avoid having to memorize a password for each application you use, we recommend that you use a password manager. Also consider enabling security options such as two-factor authentication !
Apple Music, YouTube, Deezer… what's the best alternative to Spotify?
A pioneer in the field of music streaming, Spotify is also the market leader with more than 140 million subscribers to the paid-for formula. However, there are several quality alternatives.
Apple Music
The main rival of the Swedish giant is Apple Music, Apple's streaming service launched in 2015. The free version is more limited than Spotify's, but the paid versions are neck and neck.
The Apple's catalogue contains over 50 million songs, and you can add your own collection to it through iCloud integration. Prices for Apple Music subscriptions are the same as Spotify's, but the Apple One program allows you to enjoy Apple Music, Apple TV Plus, iCloud and Apple Arcade for €14.95 per month.
YouTube Music
Another Spotify rival is YouTube Music, Google's streaming service. This platform replaces Google Play Music.
Again, this is a free version financed by advertising. The paid version costs €9.99 per month, just like Spotify's. The subscription is also included with YouTube Premium for 11,99€ per monthand this offer also allows you to enjoy YouTube videos without advertising.
The advantage of YouTube Music is that you can find a lot of unknown music and hard to find. It is the only platform where you can find remixes and alternative versions of songs.
L'Google recommendation algorithm is also one of the most successful, which is not surprising since the Californian firm is a leader in the field of AI and Machine Learning.
Tidal
In the music streaming market, the Scandinavians are at war with each other. While Spotify is a Swedish company, one of its main rivals is the Norwegian firm Tidal.
Its eponymous streaming service is for real audiophiles. It offers to listen to music in FLAC format.
To enjoy this uncompromising quality, you can will however have to pay 19,99€ per month.. The standard subscription costs €9.99 per month, just like Spotify.
Another strong point of Tidal is the video content. More than 250,000 videos are available on the platformincluding music videos, concerts, or exclusive documentaries.
Deezer
Deezer is a French music streaming service. In terms of music content, the platform has little to envy Spotify. However, it can't compete with Spotify when it comes to podcasts.
Deezer's 'Flow' recommendation system outperforms Spotify's in some areas. The Frenchman also doubles the Swedish in terms of audio quality, with a FLAC format at 1411kbps.
You can also take advantage of the new 360 Reality Audio format from Sony via the 360 by Deezer application. However, on the free version, audio quality is limited to 128Kbps for Deezer versus 160Kbps for Spotify.
The price of the Deezer Premium subscription is €9.99 per month, just like Spotify. However, you can choose to the annual subscription at 99,99€. to save €19.98 per year.
How much does Spotify cost? Price and pricing model
The free version of Spotify allows you to try the service without spending a euro. However, features are limited. In addition, music broadcasting is regularly interrupted by commercials aimed at financing the service.
You can only play tracks from an album or playlist in shuffle mode, and you can only play tracks from an album or playlist in shuffle mode, and you can only play tracks from an album or playlist in shuffle mode. play a song only six times an hour to the max. You can access Daily Mix playlists, but not Spotify Radio.
In addition, the audio quality will be restricted. In the settings, users of the free version can only choose low quality (24kbps), normal quality (96kbps) and high quality (160kbps). They can't opt for the very high quality at 320kpbs.
By opting for a monthly subscription, it is possible to benefit from Spotify Premium features. You will be able to listen to the songs you want, without advertising, in maximum quality. Several different subscriptions are available.
L'subscription " Personnel " is proposed for 9,99€ per monthbut can only be used for one person. The "Duo Premium" subscription costs €12.99 and can be used by a couple. The "Mix Duo" is a playlist shared between the two users.
I mean, come on, the "Family" subscription is €14.99 per month. It can be shared by a maximum of six members of the same household, with a "Family Mix" playlist shared by all users.