Sponsored
This article provides all the information you need to get started with a free digital creation software. Very simple to use, it is DesignCap infographic maker.
Anyone who works in digital marketing knows that, computer graphics play a major role. The use of this technique of digital creation gives an undeniable power of attraction to the content and thus makes it possible toincrease website traffic. The right choice of shapes and colours, respecting the editorial line and the brand's imprint, is one of the most effective ways to convey a message. This is all the more true with innovative and attractive ideas.
Yet, while we often hear about computer graphics and digital creation, do we really know what it is all about? Above all, it is easy to confuse with other forms of illustration or data presentations. However, computer graphics integrates a whole process of reflection and a very precise mission that are his own.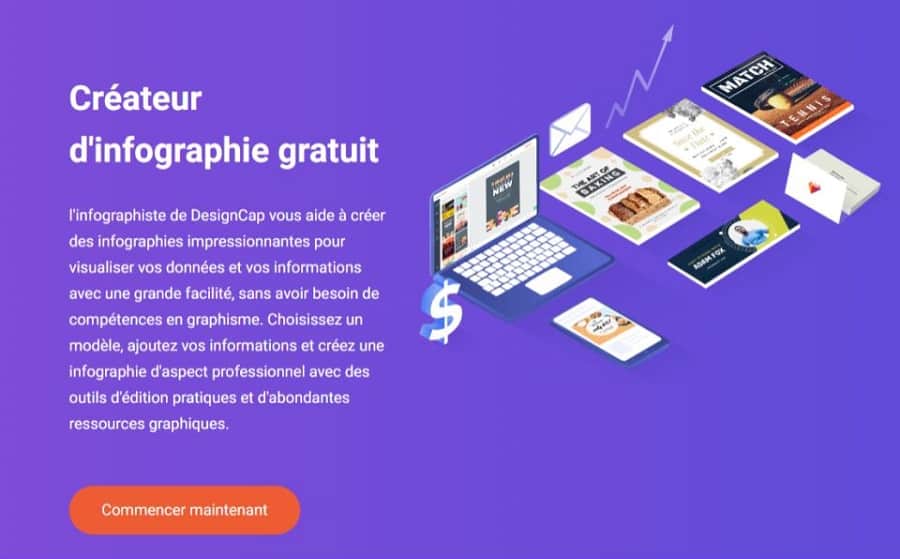 What is DesignCap?
DesignCap is a web software simple to use and very complete. It allows you to create all the different elements of a digital communication campaign or not. It can be used to create all the different elements of a digital or non-digital communication campaign, from the business card to the visual accompaniment of a conference or the decoration of a YouTube channel. The possibilities are numerous. In addition, DesignCap integrates a large catalogue of photos, icons, fonts and other features. And for those who do not fully visualize their concept, this tool offers a selection of ready-to-use templates. Enough to get a project started even for those lacking inspiration.
The free version of DesignCap includes a graphic design tool. It gives access to numerous design elements, templates and fonts. It therefore provides everything you need to start working with ease.. DesignCap also provides an arsenal of even more advanced features. They are however reserved for premium accounts.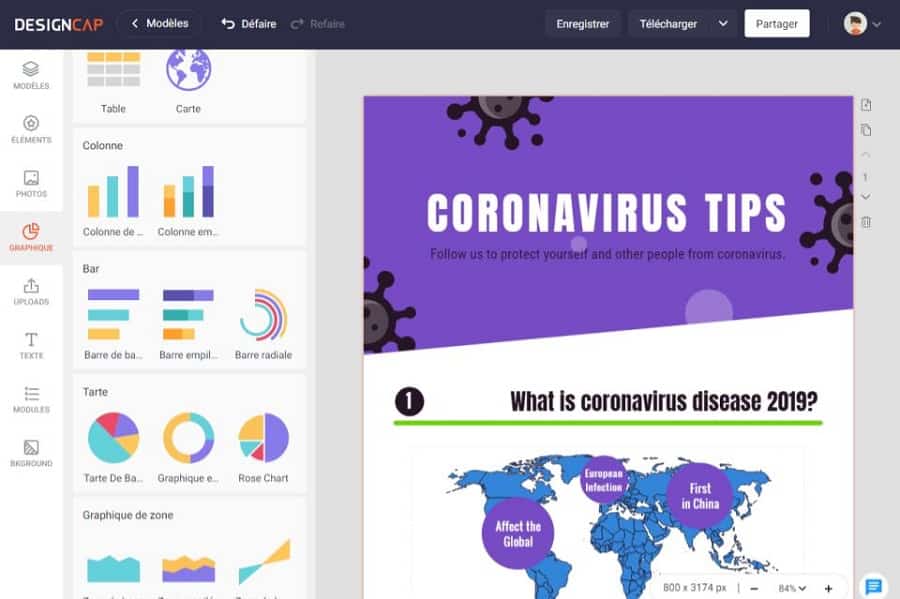 How to use DesignCap?
After choosing a template (or starting from scratch), it is immediately possible to create the design that you want.. In addition to a choice of photos among the millions offered by the image bank, you can import those from your library, stored on your computer or in the cloud.
From there, the creation itself can begin. It is then time to make use of the many features available to users. They allow you to modify all the elements at your convenience, for example to apply a filter to an image, change its size, add text in any font and style. In addition, different types of graphs, figures and other tables can be used to complete the set. However, the advantage of DesignCap is that it is designed to be accessible to as many people as possible. It does not require any particular skills in the field of creation or production of digital content. All the professionalism required for a project is included in each element that makes up this tool.
When creation is complete, the share button sends the work done directly to social networks or to the email address book. Alternatively, it is possible to publish it immediately on the net. Namely thatit can then be modified at any timeonce it is registered as a project on the account. DesignCap finally offers a function to print these creations.
In conclusion
DesignCap is the perfect choice for the creation of digital computer graphics without having in-depth knowledge of the field. Even those who use it for the first time have no difficulty in achieving what they want. No need to spend long sessions understanding how a tool works.
To find out more about DesignCap, take a look at its dedicated page Learn center.