451 Research explains that the costs of the Cloud are falling, but that savings can still be made by most Cloud services customers.
The general price of the Cloud is falling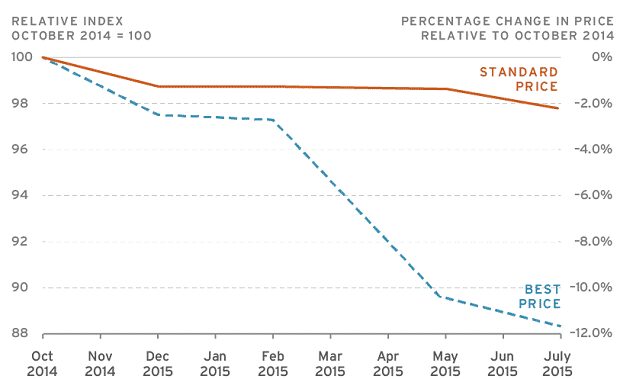 451 Research published theCloud Price Index and found that the price of Cloud services has fallen by 2.25% since October (the price has dropped from $1.72 per hour in October 2014 to $1.68). However, the price index shows that companies can save up to 12% through negotiation… and a long-term commitment.
The Cloud Price Index by 451 Research was created to understand the true cost of the Cloud over time, the system is similar to a consumer price index. In order to obtain information, 451 collected quotes from major vendors such as AWS, Google, Verizon and Microsoft. The price is based on actual end-user usage. Prices can be analysed, both on the basis of quoted prices and on the basis of negotiated prices.
Possible savings through negotiation
L'Cloud Price Index has shown that through negotiation, subscriptions, reserved forums, long-term commitments, and reductions, customers can save up to 44% off the base price, to reach the best price of $0.95 per hour. The index also points out that overall pricing has fallen by 4% and bandwidth has decreased by 3%, but service providers have further increased their revenues through associated services such as management and PaaS. According to 451, price cuts orchestrated by Google or Amazon AWS are ploys to gain new customers. As Owen Rogers, analyst at 451 Research, states: "The Cloud has no minimum price. Even if the infrastructure is eventually given away for free, as long as the provider sells other services to make up for this loss, the business can still be profitable. »
Source