The artificial intelligence of the Qotmii application places Éric Zemmour neck and neck with Emmanuel Macron in the first round of the 2022 presidential election, and predicts the presence of the Reconquest! candidate in the second round. Can we trust this AI? Find out everything you need to know.
Kantar, Ipsos, OpinionWay, IFOP… all polling institutes announce a crushing defeat of Eric Zemmour in the first round of the presidential election, with a score around 10%. However, the artificial intelligence is not of this opinion.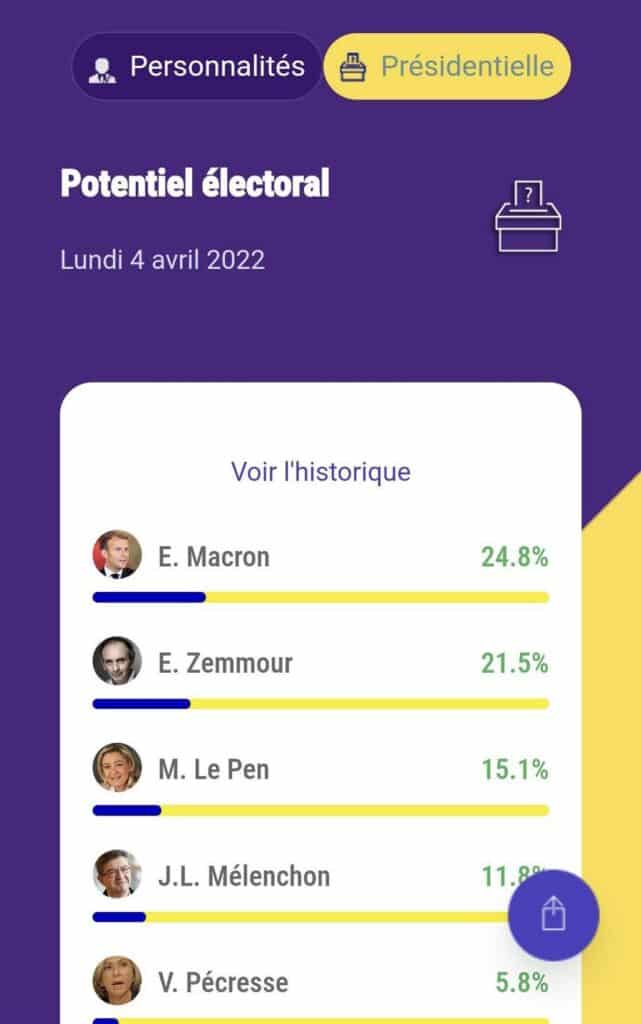 At least, the AI of the mobile application Qotmii available on iOS and Android announces a sparkling victory for the Reconquest! candidate in the first round. According to its latest predictions, as of April 4, 2022, Zemmour would get 21.5% of the votes. He would come in second, just behind Emmanuel Macron with 24.8% of the vote and far ahead of Marine Le Pen in third place at 15.1%.
Widely criticized by the opponents of Z, acclaimed by its supporters, this AI offers a prognosis against the tide. Then, how much credibility can we give it?
How does Qotmii work? What is its methodology?
The company Qotmii is based in Quebec. It was founded in 2019. Previously, its parent company Filteris founded by Jerome Coutard already offered predictions for elections.
On its official website, Qotmii explains that its ranking reflects the "electoral potential" of each candidate. It is generated by an artificial intelligence.
The firm presents its tool as " a search engine "and a " trend simplifier at the frontier of neuroscience, marketing and social psychology ".
🧞♂️Did you know?#QOTMII automatically harvests and analyzes all digital sources that deal in ➕ and ➖ with politicians and candidates / #Presidential2022

Int. press, nat. press, region.
Social media
Forums
Blogs
Comments

150 million calculations / day 😅

– QOTMII (@QotMii) January 20, 2022
Sound algorithm scans the entire weband scans press articles and social networks to analyze opinion. This methodology is therefore based on principles commonly used by digital marketing agencies.
According to Jérôme Coutard, creator of Qotmii, sciences such as linguistic analysis and psychology can be combined with artificial intelligence to " capture and analyze in near real time the sensitivities, perceptions ". The application thus collects vast volumes of data, and performs 150 million calculations every day.
All information about politicians and candidates is collected. It is an influence diagnostic tool. Only the most visible information such as highly shared publications on the networks or articles from the big media are taken into account, because this is what type of content that can influence individuals and groups. Thus, Qotmii believes that the press and social media are " both mirrors and guides of public opinions ".
However, Qotmii does not present his ranking as an illustration of voting intentions. Rather, the goal is to determine the weight of each candidate in the digital space. Thus, this hierarchy could reflect Zemmour's omnipresence on social networks without presaging a victory at the ballot box.
In addition to the ranking of electoral potential, the application proposes other lists. We find two popularity rankingswhose methodology is not presented. On these two rankings, Éric Zemmour comes in fourth place behind Marine Le Pen, Jean-Luc Mélenchon and Prime Minister Jean Castex.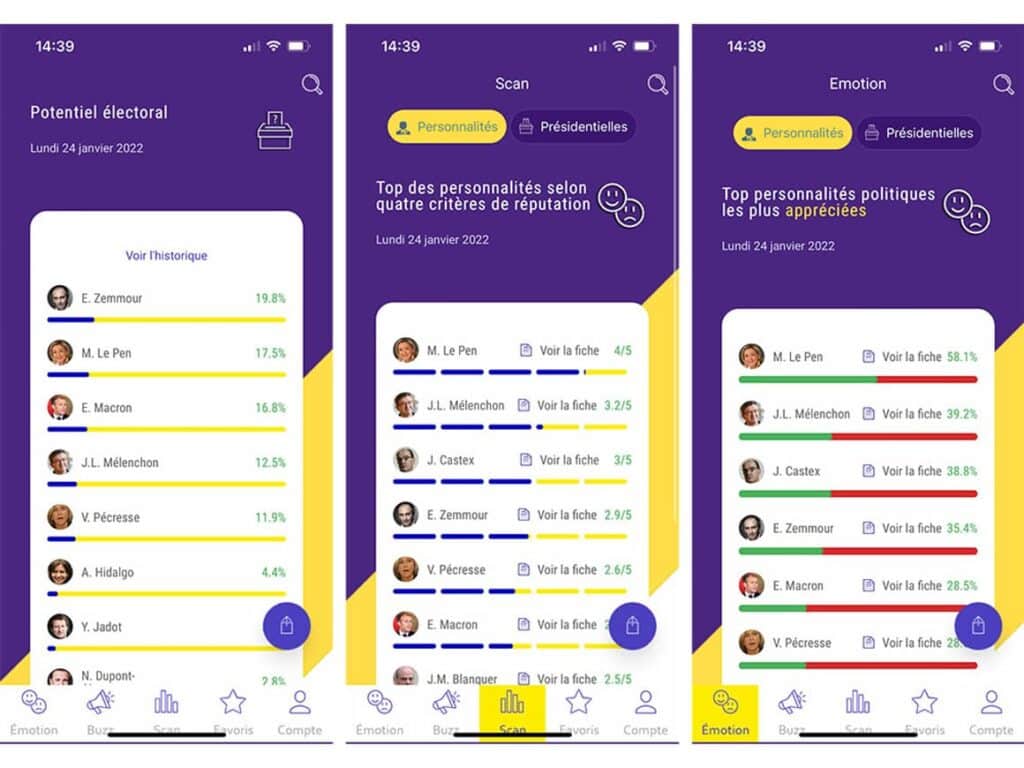 To convert the feelings and emotions analyzed via social networks into voting intentions, Qotmii relies on " values and counter-values that are at the heart of perceptions or sensibilities of groups and individuals ". As Jérôme Coutard explains, these values are the " criteria of the desirable and the hateful specific to a given society at a given time " and carry both meaning and emotion.
According to him, the debate and the contents collected by the AI are mainly structured around two values: loyalty and treachery. These two fundamental values are " bearers of support or rejection that will influence voting intentions, or even the vote itself ". By capturing the values that prevail in the eyes of the voters, and therefore their emotions, Qotmii believes that he is able to identify their convictions and cognitive dissonances on which the whole suspense of the election rests…
What are the advantages of Qotmii compared to traditional polls?
The technology allows Qotmii to analyze opinions, without the need to ask voters questions like in traditional polls. According to Jérome Coutard, traditional pollsters also use this approach to overcome the problem of non-respondents. This statement is in line with Eric Zemmour's opinion, according to whom there is a "hidden vote" in his favor.
In addition, the pollsters work with a quota system aimed at representing all of France. Qotmii, on the other hand, seeks to capture sources that are as diverse as possible in order to represent the entire spectrum of French political opinions, from the extreme left to the extreme right.
Another strong point: Qotmii collects data continuously, and uses this data to calculate the ratings. This tool identifies perceptions, feelings, values and emotions continuously. Emotions (and therefore voting intentions) can change according to events. A simple assassination sentence or a court case can upset opinions, and traditional polls cannot be sufficiently reactive.
What were Qotmii's predictions for the 2017 presidential election?
From Qotmii's official description, one could deduce that his ranking in no way reflects the probability of a victory for Éric Zemmour. However, we must recognize that this AI provided prognoses close to the final result in previous elections. And often more accurate than traditional polls.
Before Qotmii was created in 2019, its parent company Filteris was already offering predictions for the results of the presidential elections. This company is specialized in online reputation management.
Qotmii polls with 1 week to go/ Estimate vs. reality
➡️ 2012 #Hollande 28.5% vs 28.6%#Sarkozy 27.8% vs 27.2%
➡️ 2017#Macron 20% vs 23.9%#LePen 22.7% vs 21.4%#Fillon 21.6% vs 19.9%#LFI 21.3% vs 19.6%
➡️ 2022#Macron 24.8%#Zemmour 21.5%#RN 15.1%#JeVoteZemmour

– Silver Surfer Ⓩ (@surfeur_argent) April 5, 2022
In 2017, the firm had placed itself in alternative to traditional surveys. It was already highlighting its system based on Big Data analysis and artificial intelligence.
In early March, Filteris announced the qualification of François Fillon for the second round. The LR candidate had finally reached only the third position, probably because of the "Fillon affair".
A week before the April 23 election, Filteris estimated that Emmanuel Macron would come in fourth place and would be surpassed by Jean-Luc Mélenchon. In the end, the En Marche candidate came out on top in the first round while the France Insoumise candidate finished in fourth place.
In addition, Filteris also wrong during the open primary of the right and center in 2017. She had predicted a duel between François Fillon and Nicolas Sarkozy in the second round, but Alain Juppé had managed to steal the show from the ex-president.
Similarly, Filteris' AI predicted the victory of Manuel Valls over Arnaud Montebourg in the the Socialist Party's citizen primary. The PS candidate chosen by the voters was finally Benoît Hamon.
Nevertheless, despite these erroneous predictions, Filteris managed to propose estimates relatively close to reality one week before the previous elections.
In 2012, she announced a score of 28.5% for François Hollande and 27.8% for Nicolas Sarkozy. The two candidates had finally obtained respectively 28,6% and 27,2% of the votes.
In 2017, she predicted the scores of 20% for Macron, 22.7% for LePen, 21.6% for Fillon and 21.3% for LFI. The actual results were 23.9% for Macron, 21.4% for LePen, 19.9% for Fillon and 19.6% for LFI.
On Qotmii (ex Filteris which was wrong by only 1 point on average in 2017) Zemmour is largely in the second round. 😊🗳 pic.twitter.com/DhQwee4L6F

– Damien Rieu (@DamienRieu) April 5, 2022
In total, on all Filteris estimates for the 11 candidates in the first round of the 2017 presidential election, the average difference is only 1.07%. between predictions and actual results. This means that Qotmii's AI was not that far from reality.
However, water has flowed under the bridge since 2017. The firm has improved its algorithmsand corrected its weaknesses to reduce the margin of error. Thus, the result of the first round of the 2022 election could well create the surprise…
Qotmii's prediction for the 2022 presidential election
In January 2022, Qotmii perceived a trend opposite to the one captured by pollsters. Its AI predicted Eric Zemmour between 19% and 21% in first or second place. The Reconquest! candidate was then ahead of Emmanuel Macron who only reached 16% to 19%, even though the pollsters saw him between 22% and 26%.
For her part, Marine Le Pen oscillated between second and third place with a score similar to that predicted by the pollsters: between 16% and 18%. Among the candidates of the left, only Jean-Luc Mélenchon managed to get out of the game with a rating between 12% and 14.5%.
On April 4, 2022, less than a week before the first round, Qotmii gives a rating of 21.5% to Eric Zemmour behind Emmanuel Macron at 24.8. Then would come Marine LePen at 15%, Jean-Luc Mélenchon at 11.8%, and Valérie Pécresse at 5.8%. See you on April 10, 2022 to know if the predictions were correct …

Facebook



Twitter



LinkedIn