Listening and talking. Due to the epidemic and teleworking, the use of voice assistants, listening to the radio and podcasts has increased significantly, changing routines and habits. As the economy recovers, what habits will remain and be transformed into new uses?
[Ceci est la première partie d'un article rédigé par Oxana Gouliaéva. Consultante en innovation, elle a co-écrit plusieurs ouvrages sur les objets connectés et l'intelligence artificielle des assistants vocaux.]
Sixty-six days. Two months. That's how long it takes, on average, to… establish a new habitaccording to a behavioural study published in 2009 by the respectable European Journal of Social Psychology. This is about the time that strict confinement has lasted in France and other countries that have taken similar measures. The period was even longer if we take into account the progressive nature of deconfinement. As a result of the epidemic and teleworking, in just a few days a very large part of the world's population changed their daily routines, opting massively for digital solutions. As deconfinement continues on a global scale, what habits will remain and be transformed into new uses? What lessons can companies and brands learn from this?
New post-COVID 19 habits: audio, online and contactless channel
The pandemic turned out a major catalyst for the adoption of contactless interfacesincluding the voice interface. There is every indication that globally, even after the end of deconfinement, a form of social distancing will remain and will continue to reshape consumer preferences and habits. Conversationality and voice are gradually taking hold to profoundly transform the online and offline customer experience.. We offer you a quick overview of these new habits and a look at their prospects in a post-pandemic world.
Podcasts and radio are gaining popularity
Radio listening increased significantly during the pandemic. According to Nielsen, while 55% of Americans listened to the radio as much as usual, 28% increased their listening time, while maintaining the use of other media, especially television. 10% used connected speakers and 19% used mobile devices. With radio, podcasts and audiobooks also followed an upward curve. In France, the trend is the same: the study carried out at the end of March by Audion and Happydemics indicates that since the beginning of the containment almost half of the French (46%) have increased their consumption of audio content and many of them want to keep these new habits.
100% audio social network: coffee machine discussions
The spring of 2020 saw the birth of Clubhouse, a new 100% audio social network currently reserved for Silicon Valley insiders. Its special feature is the creation of "chat rooms" where several participants can discuss a chosen subject orally, without video or text. By bringing spontaneityThe concept, which was probably the most missed by many people confined to meetings scheduled on Zoom, Skype and other Teams, would be more akin to a discussion that could arise between colleagues gathered at the coffee machine or in an evening, at random meetings and topics. Unlike podcasts, conversations are not recorded : ephemeral, they are only accessible in real time, giving rise to very long cessions. Would audio finally do the trick when compared to images to create a bond and commitment?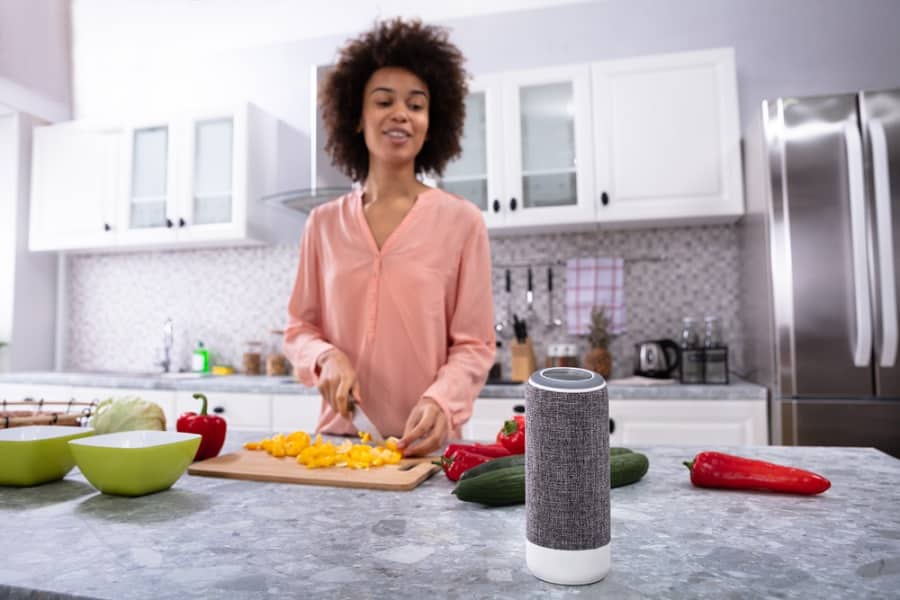 Voice Assistants: more entertainment, information and transactions
Voice assistants have proven their value and usefulness in assisting their owners with many tasks. In the first weeks of the pandemic, the number of people using voice commands at least once a day increased from 46% to 52% and sales of smart speakers, especially with integrated displays, increased by 4%. More than half of those surveyed even reported owning more than one connected speaker, with 30 percent reporting owning three or more. The vast majority of respondents said that Vocal assistants make their lives easier and 41% said they no longer want to live without them.. Above all, people have turned to smart speakers to follow the news and search for information several times a day (71% of users, according to the study by the agency Rain). The number of questions related to the coronavirus jumped by 250%.
Let's recall that it is by answering users' questions for free that Google developed its main competitive advantage: a search habit, which then allowed it to build a $162 billion business. Today the ease of use of the assistants, their accessibility, speed and the possibility of not being interrupted in other activities (multitasking) build new search habits and then extend the use to other needs.
Children and entertainment. According to The Smart Audio Report by NPR and Edison Research, 71% of respondents indicated their intention to purchase additional smart speakers to equip other rooms in the home, including for children's games and activities. The playful aspect of the assistants is confirmed in other countries: in Korea, the most popular requests (+193%) addressed to GiGA Genie, the assistant of the TK supplier, were for songs for children and help with maths, a natural consequence of the closure of all schools during the period.
Voice control of the house. The pandemic has prompted people to intensify the use of voice commands for connected equipment in the home, such as remote controls, switches, thermostats, roller shutters, door handles, etc. The use of voice commands has also increased the need to use the Internet to communicate with people. This awareness will undoubtedly encourage the adoption of such equipment. If in 2019 the ABI firm estimates that Global sales of voice-activated equipment for the home to more than $141 million.The figure could increase by almost 30% in 2020, despite the general economic slowdown.
Purchasing. The pandemic has brought the advent of "voice commerce" even closer. Unsurprisingly, it is the food that has drifted the most the use of the voice on connected speakers: Rain attributes 50% of the increase in voiceapps usage to food shopping orders and meal deliveries. Requests for cooking recipes increased by 41%. Many people were discovering these services for the first time. Estimates of the volume of purchases made through voiceapps ($40 billion by 2022 in the US alone, according to OC&C in 2018) are already being adjusted upwards.
Don't miss the second part of this article. It is dedicated to the use of voice in retail and e-commerce, to be read on lebigdata.fr.