NordVPN is a VPN type service, allowing you to surf the web while preserving your anonymity or falsifying your geographical position. Reputed as one of the most popular VPNs, this software has however seen its reputation tarnished in 2018 by a security flaw. So what is NordVPN worth in 2020? Answer through our test.
These days, almost all the websites you browse on collects your personal data and monitors your every move on the internet. It has therefore become essential to use a VPN to preserve your confidentiality.
Stay safe with the World VPN Leader!

However, in an increasingly saturated market, it is difficult to choose the service that is right for you. It can be tempting to choose a free VPN, but paid software such as NordVPN will bring you important benefits. Discover the qualities and shortcomings of this service in terms of performance, functionality and security.
Ease of use
NordVPN's interface is streamlined and easy to use. The design is similar on the desktop version and mobile applications.
Just click on the quick connect button to let the software choose the optimal VPN server. This is usually the closest one.
You can however change server manually by clicking on the location of your choice on the map or using the search bar. The load of each server is indicated in real time.
Stay safe with the World VPN Leader!

Performance
Like all VPNs, NordVPN will reduce the performance and speed of your connection once activated. According to our tests, download and upload speed will be reduced by approximately 60% and Latency can increase up to 70%..
The impact on the fluidity of your web browsing will certainly be considerable, but less than with other software. This VPN therefore counts among the best on the market in terms of performance.
Protocol
NordVPN is compatible with two VPN connection protocols. The first is the open source OpenVPN protocol. Due to the open nature of this protocol, possible problems are detected very quickly.
The second supported protocol is IKEv2/IPSecThe "Benchmark" is also considered to be a reference. It is offered on all the different versions of the software.
Stay safe with the World VPN Leader!

Recently, NordVPN has also turned to the WireGuard protocolThis is still in development and very promising. It is also compatible with NordVPN's iPhone application.
Servers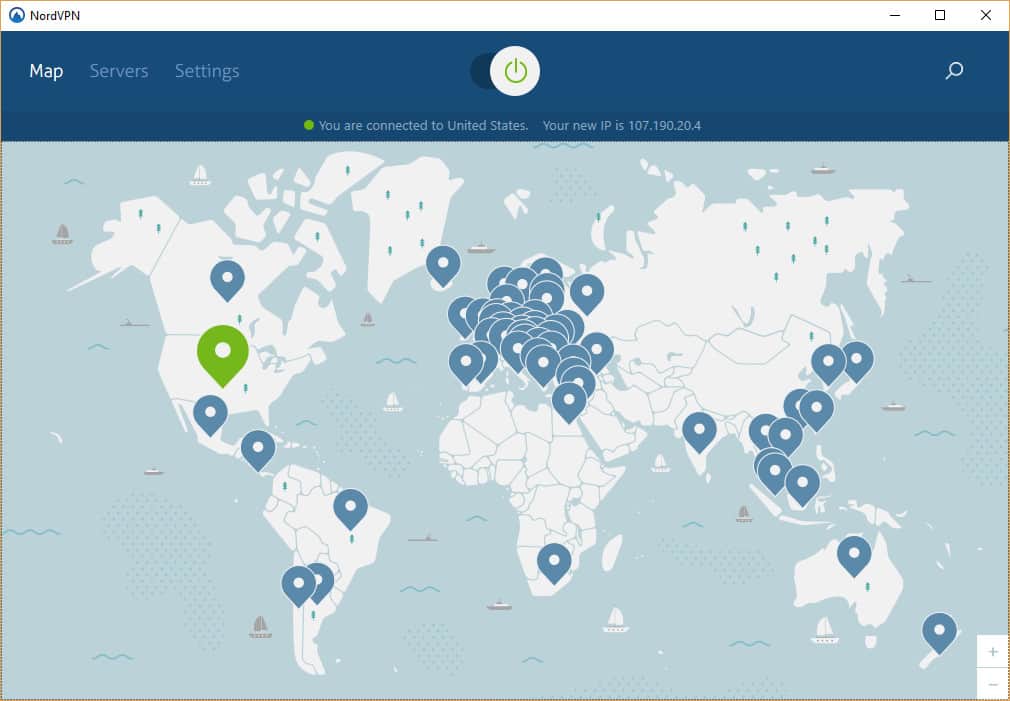 NordVPN offers servers in 59 countries. The vast majority are located in the United States and the United Kingdom, but the firm also covers Europe, Asia, South America, India and the Middle East. A server is also available in South Africa.
There are other VPNs covering more countries, but NordVPN already enables you to pass your connection through a wide variety of regions. Moreover, if you are in France, you can easily connect via a server located nearby and thus have solid performance.
In terms of the number of servers, NordVPN is rising second in the market with 5300 servers available. The first place is occupied by CyberGhost with 5900 servers. You will thus have the assurance that the servers will not be overworked by too many users.
Stay safe with the World VPN Leader!

It should be noted that all NordVPN's servers are dedicated. These are not virtual servers, which means that each server is physically located at the specified location. This is a real advantage over other services like HMA VPN which claims to have servers in 190 countries, but actually has physical hardware in only 56 countries.
Security and confidentiality
The issue of security and confidentiality is obviously essential when choosing a VPN. In 2018, NordVPN's reputation was tarnished by a security breach on one of its servers based in Finland..
A remote access feature has been exploited by a cybercriminal to gain access to the server. It is possible that this hacker could have been monitoring the traffic passing through this machine, and used the TLS keys to launch a man-in-the-middle attack. However, there is no evidence of this.
Subsequently, several measures were taken to improve the security of the NPV. A bug hunting program was initiated, and the infrastructure was strengthened by separating from the least reliable data center operators. It is nevertheless regrettable that NordVPN took more than a year to reveal this incident…
When it comes to confidentiality, NordVPN is theoretically trustworthy. The firm is under the jurisdiction of Panamawhere there is no legal obligation to retain data. Furthermore, it states that it will only agree to provide data on a user if requested by the Panamanian judiciary.
Stay safe with the World VPN Leader!

The company promises does not keep any information on the activity of its users: neither session information nor the bandwidth used, IP addresses or traffic logs are kept. NordVPN keeps only the number of users and the duration of the last session for 15 minutes after disconnection.
Unlike other VPN companies, NordVPN also ensures that it does not sell user data to advertisers.. Its only revenues come from subscriptions from its customers.
In the event of a data leak, it is the firm's policy to disclose the incident immediately after the vulnerability has been fixed. Nevertheless, keep in mind that several VPN providers have lied to their customers for years until scandals broke out…
Additional features
In addition to its main VPN features, NordVPN is distinguished by several additional tools specifically designed for confidentiality.
Through this software, you'll be able to directly access the Tor network to surf the web anonymously. The only other VPN to offer this service is ProtonVPN.
In addition, this software offers a feature called "Dual VPN". . These are in fact "multihop" connections, which ensure the security of your connection even if one is compromised.
Stay safe with the World VPN Leader!

We also find the "CyberSec" tool offering protection against malicious websites. If you wish, you can also opt for the NordLocker encrypted safe and the NordPass password manager.
It is these complementary and optional tools that make up NordVPN's real asset on the market compared to most of its competitors. Combined, these different functionalities guarantee secure and confidential browsing.
Awards
To subscribe to NordVPN for one month, you will have to pay 10.64 euros. However, you will be able to take advantage of a reduced price if you choose a long-term subscription.
A a one-year subscription will cost you 6.22 euros per month…a savings of 41%. The rate increases to 3.11 euros for a three-year subscription, a saving of 70%.
Stay safe with the World VPN Leader!

These rates are significantly higher than the average VPN services…but you will benefit from the qualities of this service. It is possible to try the software for 30 days, and ask for a refund if you are not satisfied.
Verdict
NordVPN is a very good VPN, easy to use, with many servers worldwide and a wide range of security features. Its main weakness remains a higher than average price.
It is also important to note the security breach that occurred in 2018, and the long delay before this incident was revealed by the company. You now have all the information you need to make your decision and choose if this VPN is right for you.