Moskitos is the editor of Crosscut, a data integration and governance platform. This iPaaS is used to rapidly migrate applications and data from mobile connected objects into the Cloud and connect them to corporate IT systems.
Founded in 2012, Moskitos is an iPaaS pioneer. It is positioned between the first and second wave of data ingest platform providers. Based in Levallois-Perret, it publishes CrossCut. This platform enables the interconnection of "in-place" (or legacy) IT systems such as CRM and ERP to the Cloud, connected applications and objects.
Moskitos offers a full iPaaS
It provides the tools to develop inter-application flows such as connectors and workflows. For this, they are based on an engine managing content, containers and protocols. Another one manages the flows, the ETL part, BPM, ESB, the managed data transfer that allows to connect to ERP and legacy IT systems.
Moskitos thus provides a library of connectors that integrators can use to manage these flows.. "These technical artifacts are shared with all integrators in an open approach."says Bertrand Masson, CEO and co-founder of the company.
Compatibility with AWS, Microsoft Azure and Alibaba Cloud
Crosscut wants to be a generalist. It manages the migration from Dynamics on premise platforms to Dynamics 365, the connection of IoT objects in the Cloud or the transfer of information from ERP to ERP. It is not only about transferring data, APIs and applications, but also about governing them. RPA services can also be connected to automate tasks.
Moskitos thus takes care of the platform's operation, while partners such as the consulting firm Talan, Vnext, Accenture, Viseo or Deloitte offer it to their customers. In France, Bertrand Masson considers TechData as a prescriber in France and attributes this role to Alibaba in China. Indeed, Crosscut is compatible with Microsoft Azure, AWS and the Chinese Giant's Cloud. Moskitos intervenes only with integrators and customers as a trainer and expert of its product.
Moskitos: a success with key accounts
https://www.youtube.com/watch?v=FI30PvNfpMQ
In total, the young company claims 5,000 customers worldwide. It works mainly with major French accounts such as L'Oréal, Valeo, PSA and GRT Gaz. In Asia, from Singapore, it collaborates with service providers in connection with Alibaba Cloud. "Despite our small size, we have been able to convince major accounts of the quality of our services.
What seduced the different partners of Moskitos was the time it took to set up the data flows. It takes an average of 3 to 4 weeks, 6 weeks maximum. Previously, it could take almost 6 months. "We're talking about the best of both worlds"says the company's CEO.
"We create a product where development is done without constraints. You can connect various applications and databases, but the integration experience is always the same."he says.
In this vein, CrossCut's latest updates allow non-IT specialists to manage data flows. To do this, the service relies on a more user-friendly UX interface facilitating the categorization and orchestration of workloads. This new feature is accompanied by more comprehensive tutorials that will be available in the coming weeks.
Crosscut: a reassuring fixed cost for customers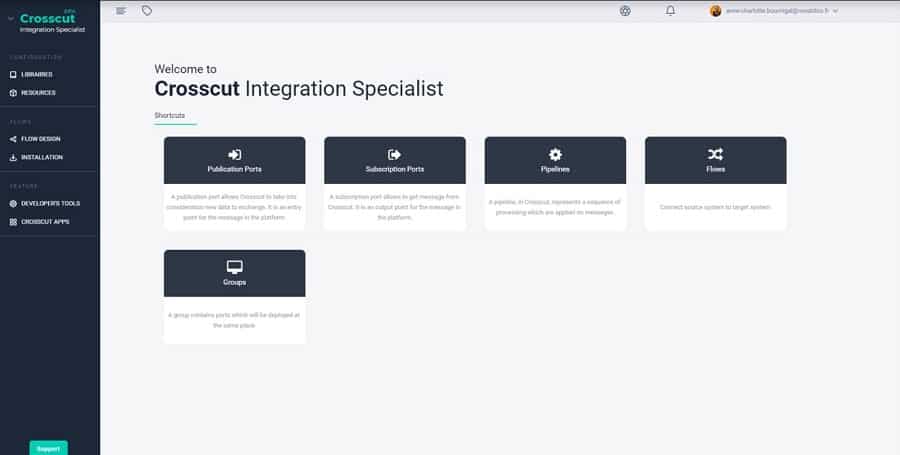 Moskitos offers fixed cost offers. For its medium-sized customers, the company delivers Crosscut at 6500 euros per month for a data center. For two centers, therefore for large accounts, the rate is 15,000 euros per month. OEM partners benefit from a discounted price of 15,000 euros per yearplus a percentage of the associated contract. It lasts from to 3 years on average. "This policy allows CIOs to know exactly what our platform will cost them in one, two or three years," says Bertrand Masson. A freemium version is available free of charge for a limited time on the Microsoft Azure marketplace.
A fundraiser planned for this summer
So far, Moskitos has raised €3.5 million, including €2.5 million from CapHorn Invest in June 2018. It is finalizing a multi-million euro fundraising campaign. The only European player in Gartner's Magic Quadrant since 2016, the company needs liquidity to grow, according to analysts. The CEO of Moskitos does not believe in excessive financial operations: "Money is one thing, human beings are another. A company doesn't change overnight when it collects several tens of millions of euros. Humans have to adapt". The manager hopes to generate 8 to 9 million recurring revenues per year by 2020.
The young French company has just switched its platform to multitenant mode, an architecture that allows it to be deployed in several organizations from a single installation. This facilitates interactions with SMEs and some startups that need to interconnect their applications. For integrators, Moskitos is introducing a certification system that validates the expertise of its developers with customers.