Microsoft Teams is a communication medium, a platform that allows users to access shared files, but also to easily exchange with each other via voice, video or text chat. The service is available to most subscribers to the Microsoft 365 suite, on the cloud. Designed to simplify group work, it supports nearly 93 languages and dialects. Microsoft Teams is enabled by default for most organizations already using Microsoft 365.
In addition, Microsoft Teams was created to compete with other platforms, such as Slack and Zoom. Today, despite good workflows and revenue, Slack's stock continues to lose value, particularly due to the rise of Microsoft Teams. According to analysts, nearly 13 million users are turning to Teams. It now has almost 75 million daily active users.
Microsoft Teams Features
The platform allows multiple chat rooms or channels to be opened within a team. Thus, it promotes and facilitates the monitoring of discussions, organized according to specific threads. The latter can be chained from top to bottom, while informing users of their updates. The application's interface allows you to switch directly from a voice or video conversation with the other participants of the channel, with a simple click. In total, a grouped conversation and put on video can gather 250 users.
To that end, Microsoft is integrating the Kaizala messaging service, making large group communication easier. In addition, a new user license, "Advanced Communications," supports events with up to 20,000 attendees, as well as active meetings with 1,000 participants. The add-on module to this license also provides branded backgrounds, including the new telephony feature, "Teams Calling".
Furthermore, being integrated with Microsoft 365, Teams also links to other services in the Office package, including Word and Excel. Thus, it has cloud storage and sharing services such as SharePoint, PowerPoint and OneNote. All its features are now available in Teams. Any shared documents, spreadsheets or presentations can be synced, with a copy stored in the OneDrive cloud. Here, every member can access the latest version if they have sharing rights. Moreover, collaborative editing allows shared content, with changes made by each user reflected in real time in the Office software. Thus, a user will always have a summary of a meeting or call, or a recording.
Microsoft Teams feature management and updates
Access to files, internal sites and dashboards is automatically controlled via Microsoft 365 Groups. On the one hand, users can create a new group or attach the team to an existing group. In addition, the application has a reporting option, to notify of an important update to any option.
On the other hand, new features, such as Teams for healthcare organizations, are added all the time. Especially since the Covid pandemic, Teams has been receiving a constant stream of updates. One example is the new "Together" mode, which places users in a shared virtual space, helping to create a sense of togetherness among home-based workers.
Microsoft Teams channels can also communicate with external services. Through connectors, companies can link their own internal applications directly to Teams channels. These include updates to GitHub, Evernote, Zendesk, etc. To this end, nearly 100 connectors and 85 bots answer simple questions about using Microsoft Teams.
Finally, regarding standards security and data protectionMicrosoft Teams complies with the Tier C service. This is a two-factor authentication that includes encryption of data in transit and at rest, and single sign-on via Active Directory. In addition, Microsoft also adds control commands that help protect sensitive information from potential leaks. Information barriers help limit which team members can communicate in small groups. So do private channels that allow you to see which team member can access conversations, depending on the content and channel in Teams.
Using the Microsoft Teams application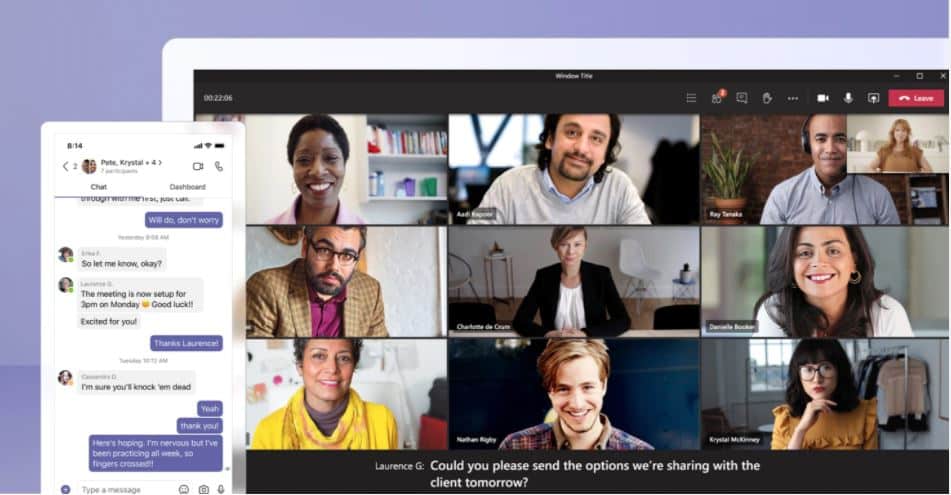 At its core, Microsoft Teams implements an approach that involves communicating through group emails and file sharing. However, the platform faces a risk of lost files and messages. Indeed, the main advantage of Teams is its tight integration with Office services and groups. It allows users to move seamlessly and securely to document editing, dashboards, and planners. From group chat to video and voice callsIt is much easier to access all these shared services. Finally, Microsoft Teams integrates a instant messaging which allows messages to be sent to any address as if in a conversation.
In addition, Microsoft Teams also supports call history, as well as call hold and call resume. The platform has all the features that allow for call forwarding, caller ID masking, extension dialing, and multiple call handling. As Teams gains new features, Microsoft encourages users of other platforms to migrate to theirs. To that end, support for Skype for Business ends, and new customers are moved to Microsoft Teams by default. This feature helps businesses during the transition and allows users to chat with users of other communication media.
More and more new features
A new calling experience offers a simplified view of contacts. The interface also has a visible voicemail and call history built into Team throughout the year. Since its launch, Microsoft has continued to integrate new applications and services into its support. For example, GitHub integration allows users to view details of projects under discussion. It is also possible to collaborate directly on ongoing issues and make pull requests, or to close a channel directly.
In most cases, users can include information directly from these applications without having to include screenshots or links. The Microsoft Graph API application allows users to search for people in their organization by name or by topic. Features now include recording meetings in the cloud and providing automatic transcriptions and translations of messages, chat and captions.
Regarding Microsoft's equipment, Teams incorporates an augmented reality headset, which acts more as a remote assistance feature. In addition, it allows a field worker to share a video of what they are looking at with an expert level Microsoft Teams user.
Finally, the platform will soon announce a new edition of Teams for the general public. On the menu, personal accounts with a different look and feel and different core functionality than the professional version.
The main competitors of Microsoft Teams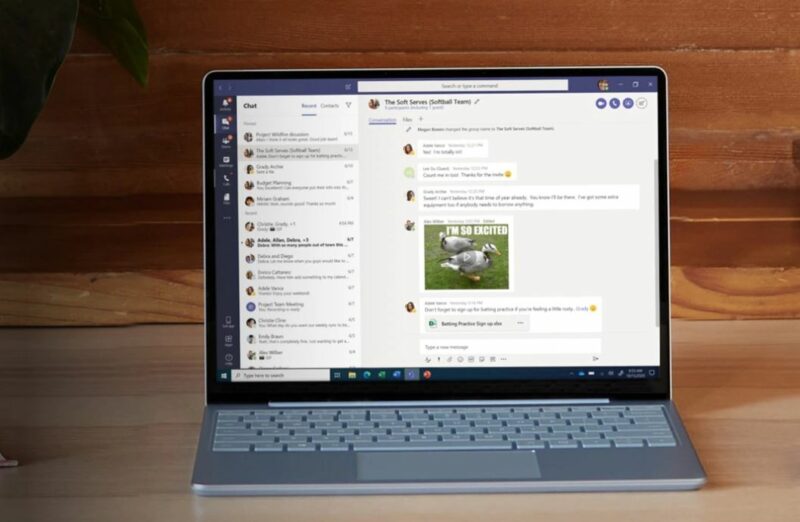 Previously cited, Microsoft Teams has several competitors, including Slack, Zoom, Google Meet and GoToMeeting. While these are not as robust and comprehensive as Teams, they manage to capture some of the market.
Indeed, Slack, launched before Teams, is used with Google Apps for Work. This mix offers a relatively easy way to collaborate and communicate with colleagues. In fact, the platform has nearly 500,000 users. In addition, the support is available as a Freemium product, which means that its price has a custom pricing. It can therefore be adapted to the different needs of each of its users.
Unlike Teams, which only offers a full subscription for the professional version. However, the free version from Microsoft allows access to all the main functions of the platform.
Availability and compatibility
Microsoft is reserving itself in several versions, and is offering "partial" availability for its customers. It also grants a series of features designed to help teachers and students, concerning the management of timetable. Indeed, with the integration of OneNote, the extraction of information from the school is simplified, acting as a class notebook.
Finally, Microsoft Teams is cross-platform, meaning that it is compatible for Windows, Mac, Linux, Android and iOS as well.