In June 2014, in order to set up a Big Data Observatory in France, the International Data Corporation conducted a survey of 200 companies with more than 500 employees from all business sectors. The data and statistics collected made it possible to produce a clear and detailed computer graphic on the dynamics of Big Data in France, in partnership with Hewlett-Packard.
For some years now, Big Data has been presented as a future issue, but also as the challenge of the decade for companies around the world. All major American companies are now working to collect as much usable data as possible, analyse it in depth and increase their revenues. But what about France?
According to the study conducted by IDC, in 2014, The French Big Data market was worth 285 million euros.. On the horizon 2018, the analysis firm forecasts a 129% increase for a total value of 652 million euros. According to another survey conducted by IDC, the market in Western Europe as a whole is expected to grow from 2.3 billion in 2013 to 6.9 billion in 2018, an increase of 24.6% per year. Worldwide, the analyst firm estimated the value of Big Data to be $125 billion in 2015. At the time, this market was divided between software at 24%, services at 33%, and infrastructure at 43%..
Of the 200 companies surveyed, 56% did not yet have a Big Data project. 20% were in the process of evaluating the usefulness of a Big Data project and strategy. 24% had already deployed their Big Data solution or were in the process of doing so.
Adoption rate by business segment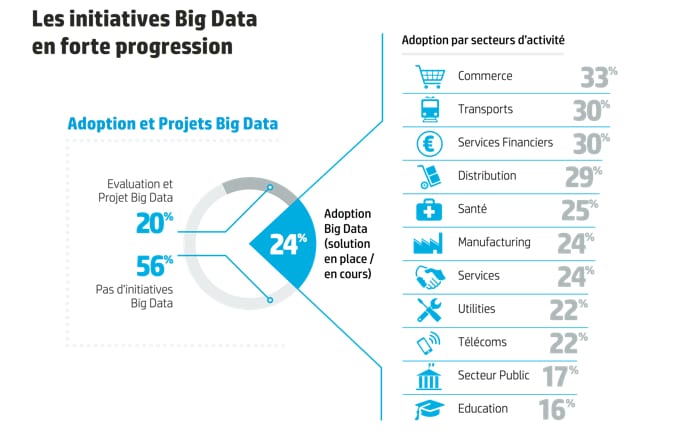 However, the rate of adoption varied by industry. In commerce, which is the Big Data area of choice, the adoption rate was 33%. In transport and financial services, it was 30%. Distribution reached 30% adoption.
Health was at 25%, followed by factories and services at 24%. Utilities and telecoms had adopted Big Data at 22%, while utilities remained reluctant at 17%. Finally, education came last with a 16% adoption rate.
The solutions deployed
Among the solutions deployed, the main initiative was the investment in the latest generation storage technologies, which are essential to contain the ever-increasing volume of data. 32% of companies had already invested in these solutions.while 44% planned to do so in the next 12 months.
In addition, 24% of the companies surveyed had opened up user access to a Big Data solution in production, which 40% planned to do within the year. The figures are virtually the same for the use of a Big Data solution in the cloud. Similarly, 24% were already using a database appliance like Oracle's, and 47% were seriously considering it.
22% wanted to use Big Data to integrate social information, and 44% planned to do so. 19% were already using the Hadoop processing tool, while 38% were in the process of doing so. Finally, 17% were already building Hadoop pilots, and 37% were preparing to do so.
The challenges of Big Data for French companies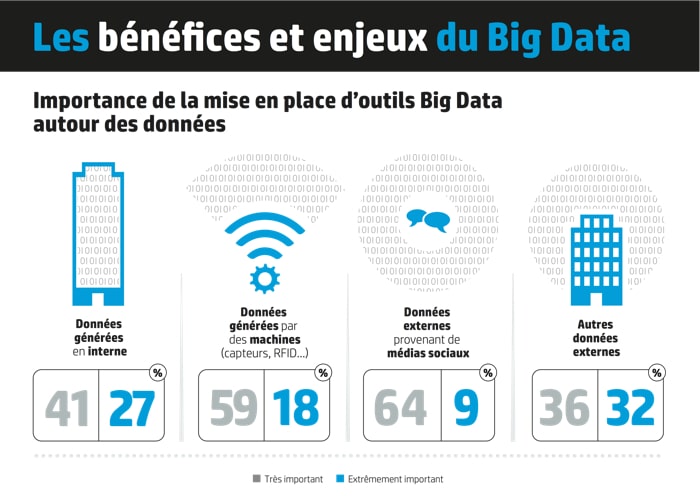 In order to highlight the challenges of Big Data in France, IDC points out the importance of data processing in the eyes of the companies surveyed. For 41%, internally generated data is very important, and for 27% it is extremely important. Data from sensors or RFID chips are very important for 59% and extremely important for 18%. Regarding data from social media, only 9% consider it to be extremely important, but 64% agree that it is very important. Finally, the other data remains very important for 36% and extremely important for 32%.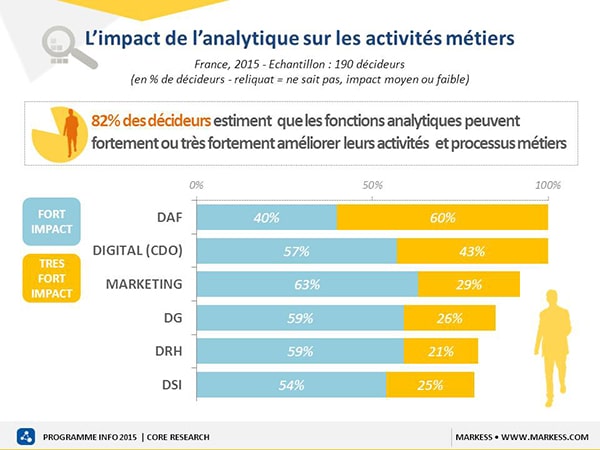 Another study, conducted by the Markess firm in early 2015 with 190 French companies, entitled "The French Business Environment in the 21st Century", was conducted by the Markess firm. "Big Data and Analytics" reveals that 57% of French business leaders perceive Big Data as one of their top three challenges in terms of information management. 82% consider that data analysis can improve their business processes, and 41% plan to use their companies' data before 2017.
Likewise, 61% see Big Data as a growth driver in their own right, in the same way as their products or services. 43% have restructured to exploit their business data. 36% had to call on external assistance to analyse these data.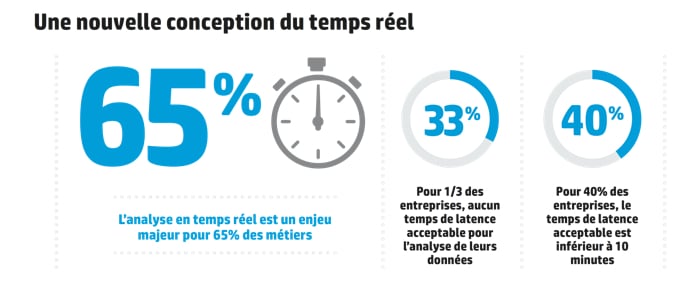 Moreover, real-time analysis of this data seems to be a major challenge for 65% of companies in all sectors. 33% of companies no longer tolerate any delay for this analysisand 40% can't accept a latency of more than 10 minutes. Data and data processing are therefore a real challenge for the future for French companies.
The benefits of Big Data internationally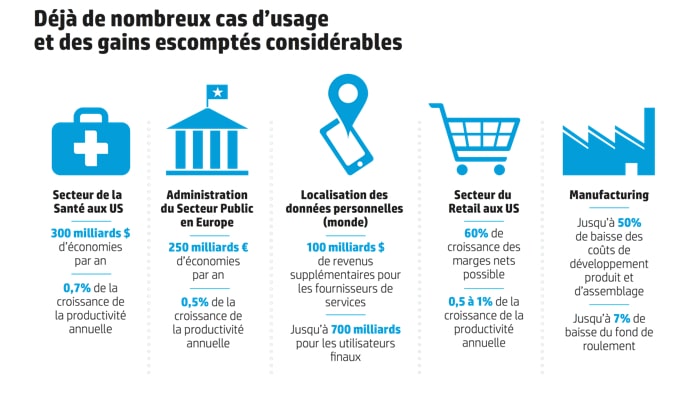 IDC relies on global statistics for the benefits that these data can bring. At In the United States, in the health sector, $300 billion is saved each year and 0.7% of annual productivity growth is a direct result of these new technologies. In the retail industry, Big Data increases possible net margins by 60% and accounts for between 0.5% and 1% of annual productivity growth.
In the manufacturing industry, development and assembly costs are reduced by 50%. Working capital is reduced by up to 7%. In Europe, the public sector manages to achieve savings of 250 billion euros per year, while productivity grows by 0.5%. Finally, worldwide, providers of personal data location services generate $100 billion in additional revenue, and end users reap up to $700 billion.
Another study, conducted by Gartner, predicts that the creation of 137,000 new jobs linked to Big Data in France by 2020. In 2015, 80% of French business leaders were still bemoaning the lack of competent data processing staff.
The brakes on the rise of Big Data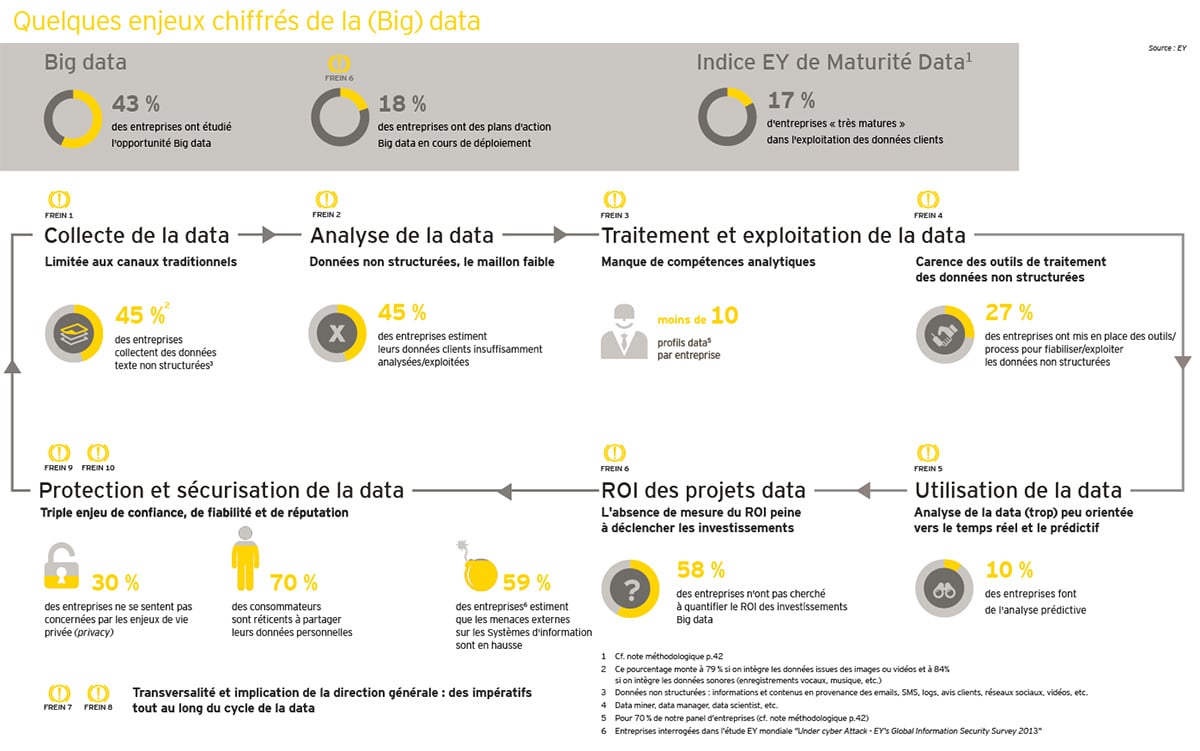 According to the figures collected by EY from more than 150 French companies, on average there are less than 10 data profiles per company. The same study reveals that only 17% of them are mature in terms of the use of customer data. 45% of them collect unstructured data, and only 27% have invested in tools to exploit this data. Only 10% of companies use predictive analytics. 58% did not think to quantify the return on investment of Big Data. In addition, companies are also faced with the reluctance of 70% of customers to share their data.
In conclusion, Big Data in France is still in its infancy. The stakes are high, and many companies see data exploitation as a key growth driver. However, many obstacles, such as a lack of knowledge or qualified personnel, are slowing down the growth of this promising market in France.