In order to highlight the benefits of Big Data Analytics for a company's supply chain, the Management Consulting firm Accenture conducted a major study. As a result of this research, Accenture delivers a comprehensive graphic on the issues and benefits of Big Data for the Supply Chain.
The international company Accenture specializes in management consulting and technology services. With approximately 289,000 employees, it advises clients in more than 120 countries. In order to conduct a detailed study on the value of Big Data Analytics for the supply chain, the company conducted research with 1014 Senior Executives of Asian, American and European companies from all sectors with revenues of $1 to $10 billion or more.
This study focuses on three main points: the growth of an emerging market, supply chain risk management, and Big Data Analytics. These three axes are the priorities established by the executives interviewed. The study seeks to shed light on the strategies and tactics employed by business leaders in these three areas, and to assess the effectiveness of these methods.
Accenture begins with a paradoxical observation. Currently, 97% of executives believe that Big Data analysis can have a positive impact on the supply chain of their businesses. However, only 17% have already implemented analytical tools in one or more functions of their supply chain. On the other hand, this is a fast-growing fashion phenomenon, since 1 third of the managers surveyed are already engaged in the process of implementing these tools..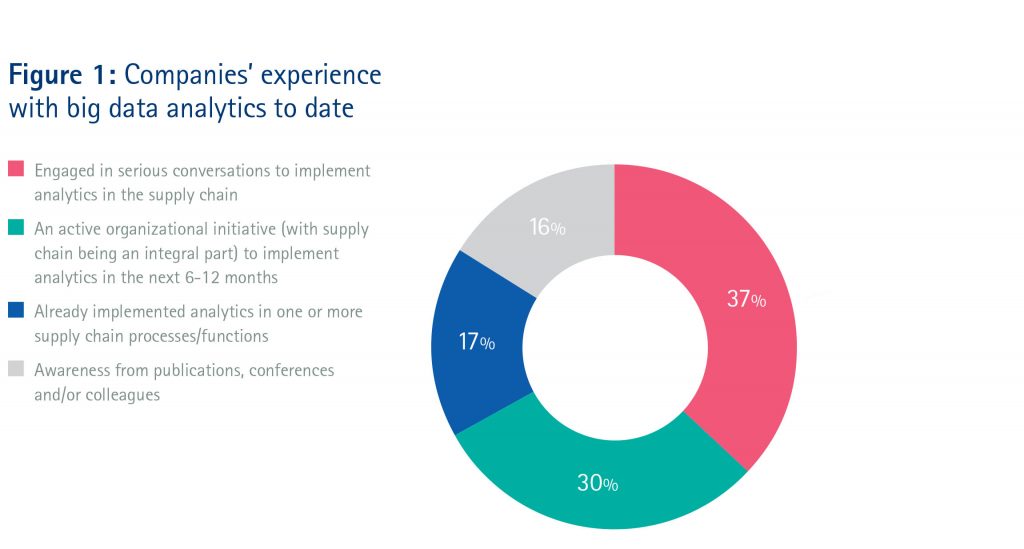 The expectations of these executives regarding the operation of Big Data are numerous. 48% of them want to use it to be able to react more quickly to changes.. 45% want to be able to predict these changes. 43% hope to be able to get an overview of the supply chain in order to optimize their company's overall performance.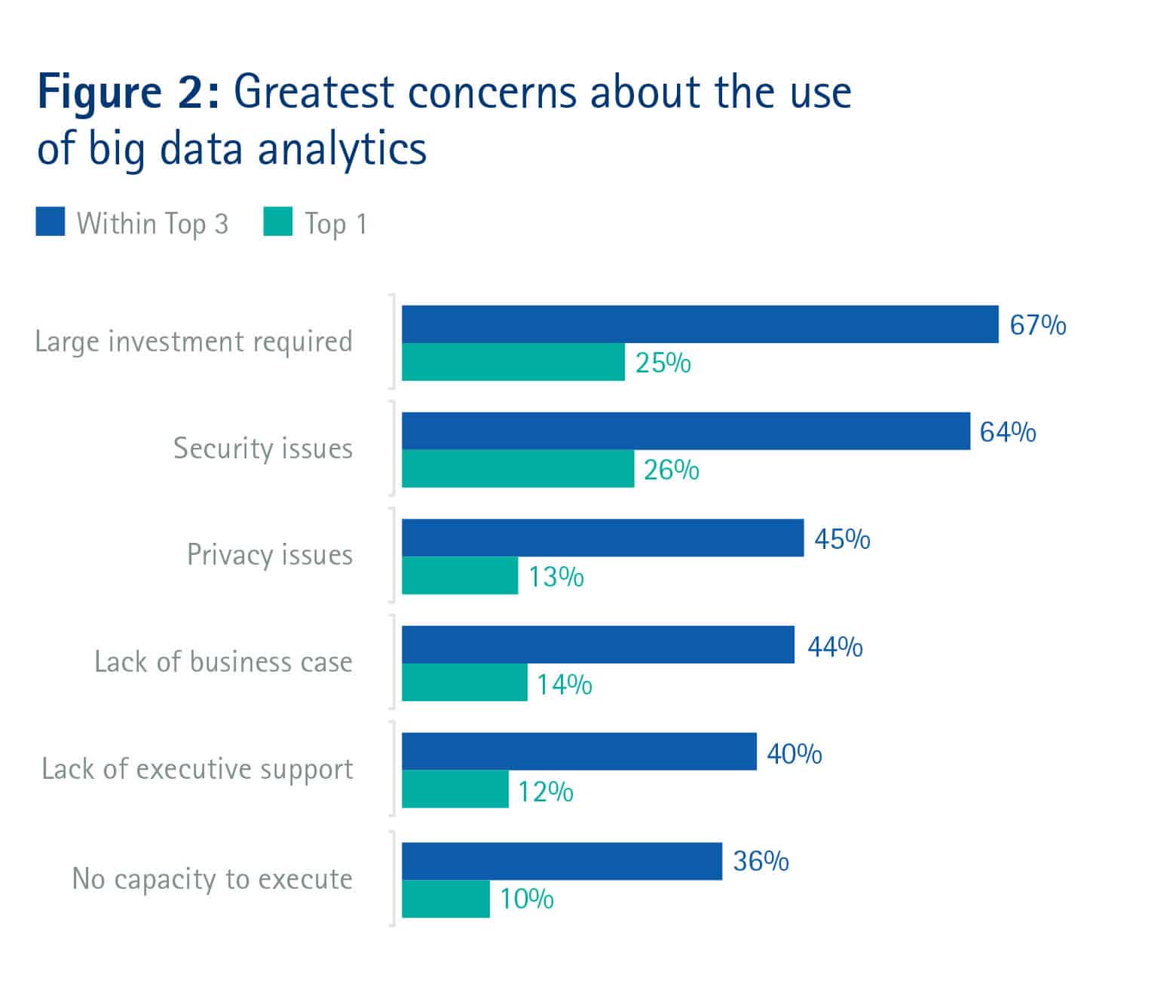 Alas, despite all the interest in Big Data, the adoption of analytical tools faces several obstacles. 67% are concerned about the investment represented. 64% have questions about security. Other obstacles cited are confidentiality, lack of support from business leaders, and lack of qualified internal staff to handle this deployment.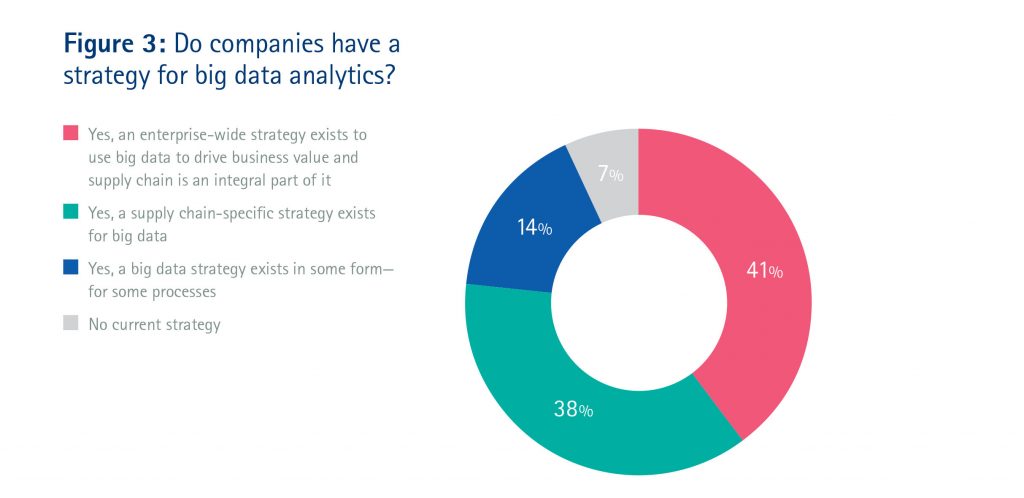 For the time being, only 34% of the companies surveyed have a team of qualified Data Scientists Focused on Big Data analysis for supply chain or business improvement. This lack of skilled personnel may be the result of an inability to attract the most talented profiles due to a lack of resources, or simply negligence on the part of employers.
Once deployed, the large data analytics strategy can bring many benefits. According to the companies surveyed, the main benefits are improved customer service, faster response to potential supply chain issues, and supply chain efficiency and integration. These benefits, however, require a well-developed analytical strategy.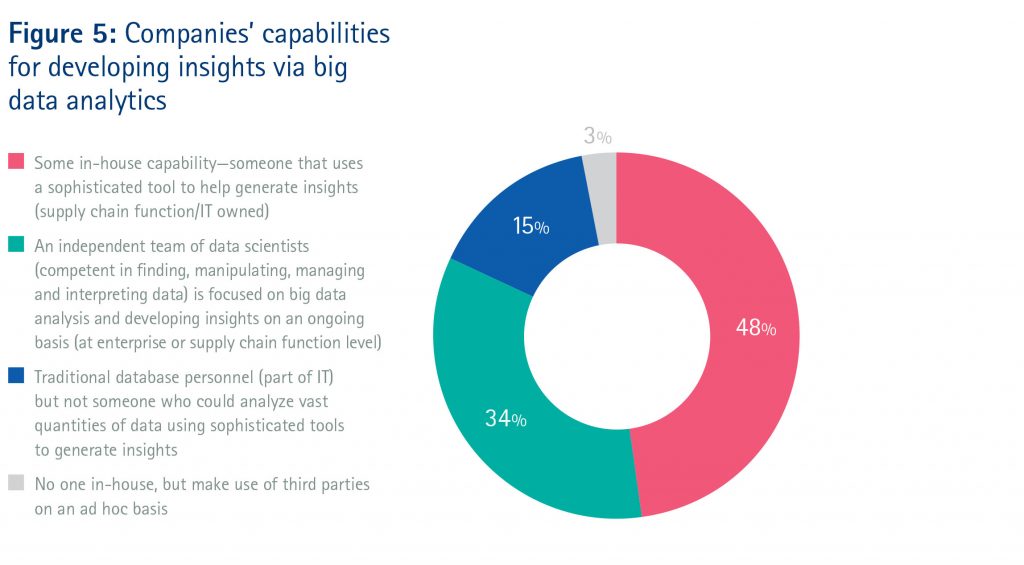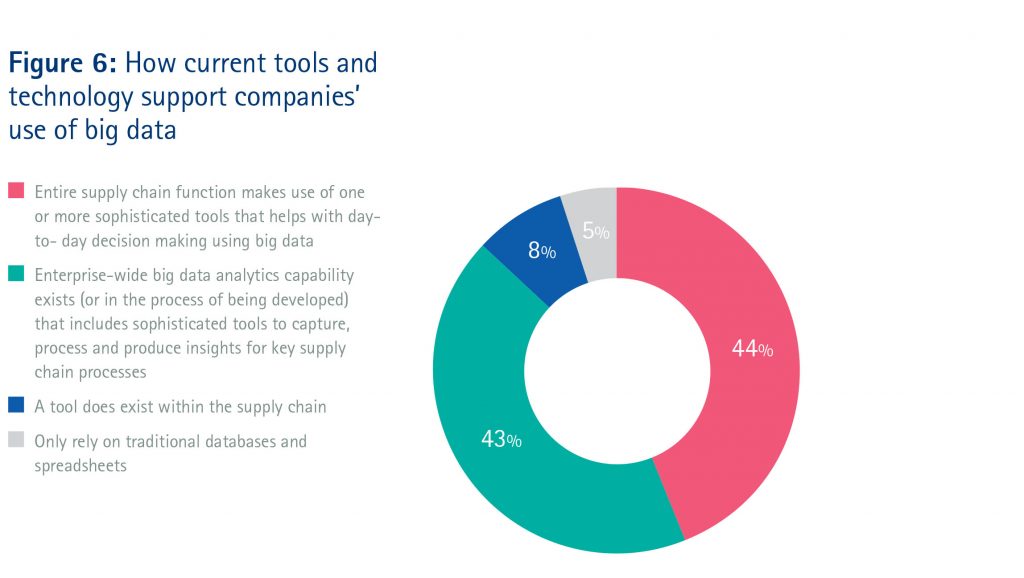 The three keys to a return on investment in Big Data Analytics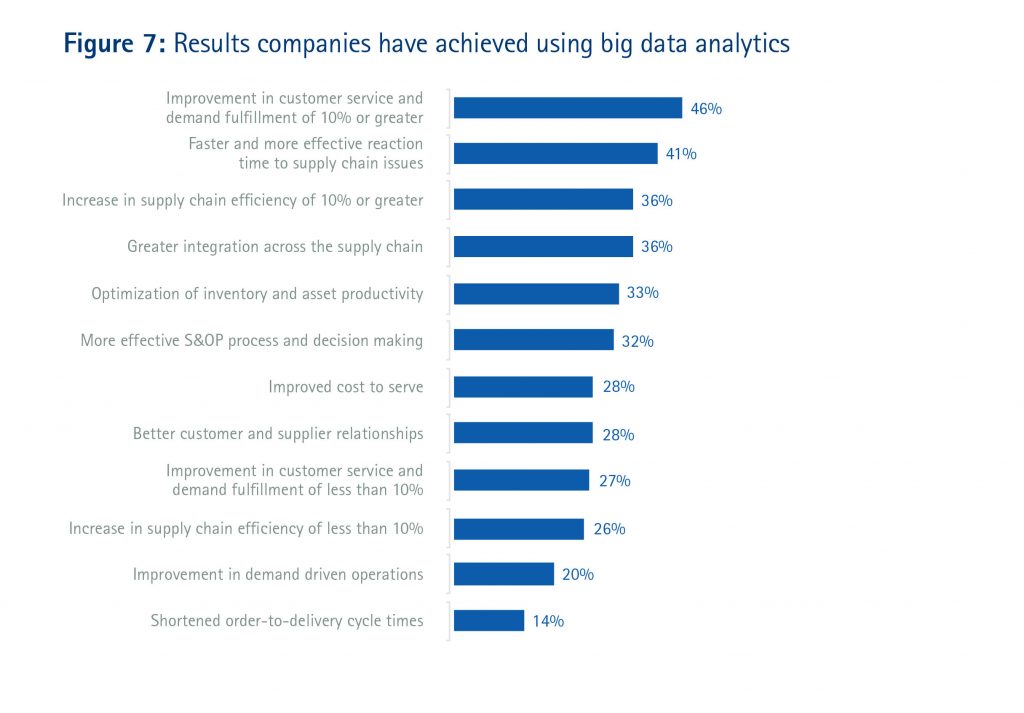 In conducting its research, Accenture claims to have been able to identify three rules to be respected in order to get a return on investment of Big Data Analytics in the supply chain. It is therefore essential to focus on the development of an enterprise-wide analytical strategy. We also need to make sure that Big Data Analytics in the supply chain are aimed at improving corporate decision-making. Finally, it is necessary to recruit specialists with analytical skills and business savvy, capable of extracting truly useful information from Big Data.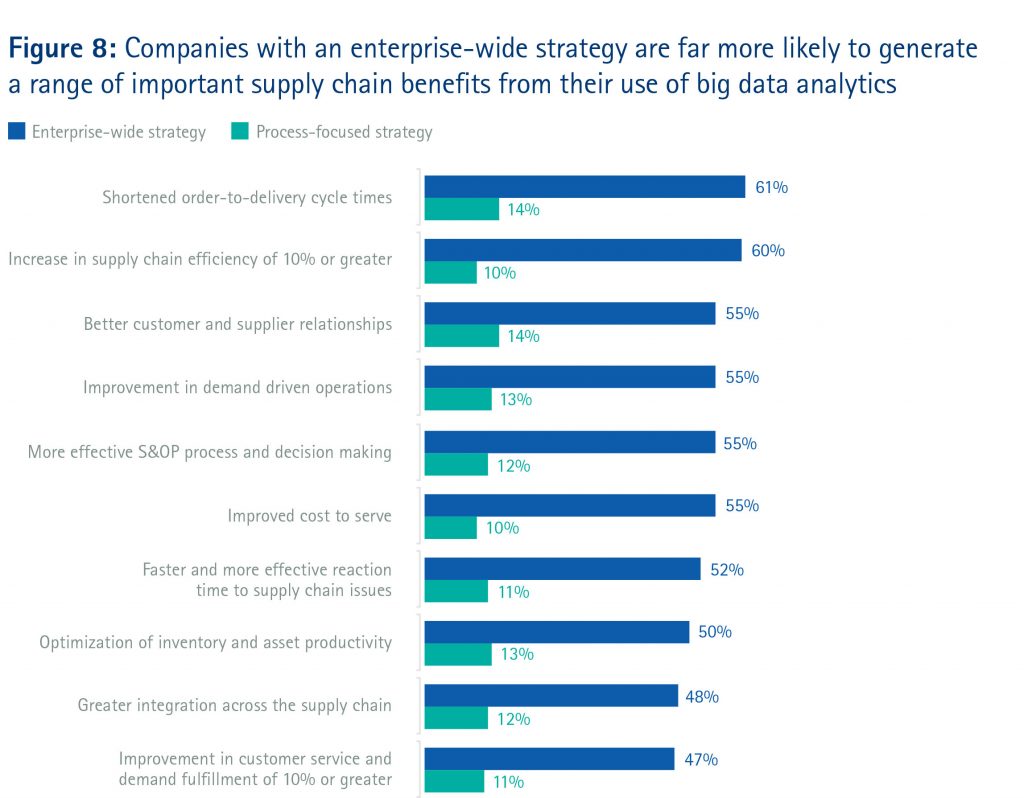 A company-wide analytical strategy is far more effective than an overly specific, single-objective strategy. For example, to reduce delivery times, 61% of companies with a global strategy are successful, compared to 14% of companies that are too focused.. The same applies to the efficiency of sales and operational decisions, with a success rate of 55% versus 12%. A clear strategy with predefined and well thought-out objectives is also much more profitable.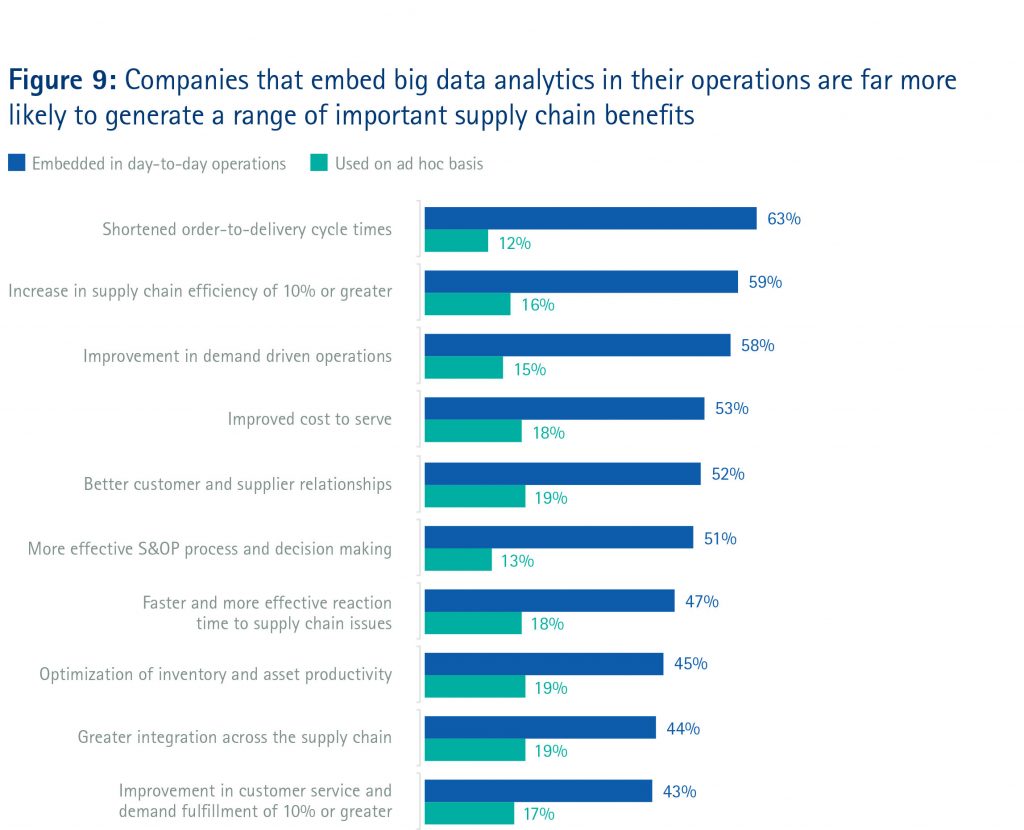 Similarly, statistics show that it makes more sense to use Big Data Analytics on a daily basis than to use it only occasionally to solve problems. The former strategy is once again proving to be more effective for reduce delivery times (63% vs. 12%)The main reasons for this were to improve demand-based operations (58% vs. 15%), to improve sales and operations decisions (51% vs. 13%), to react to problems in the Supply Chain (47% vs. 18%) and to optimize inventories (45% vs. 19%).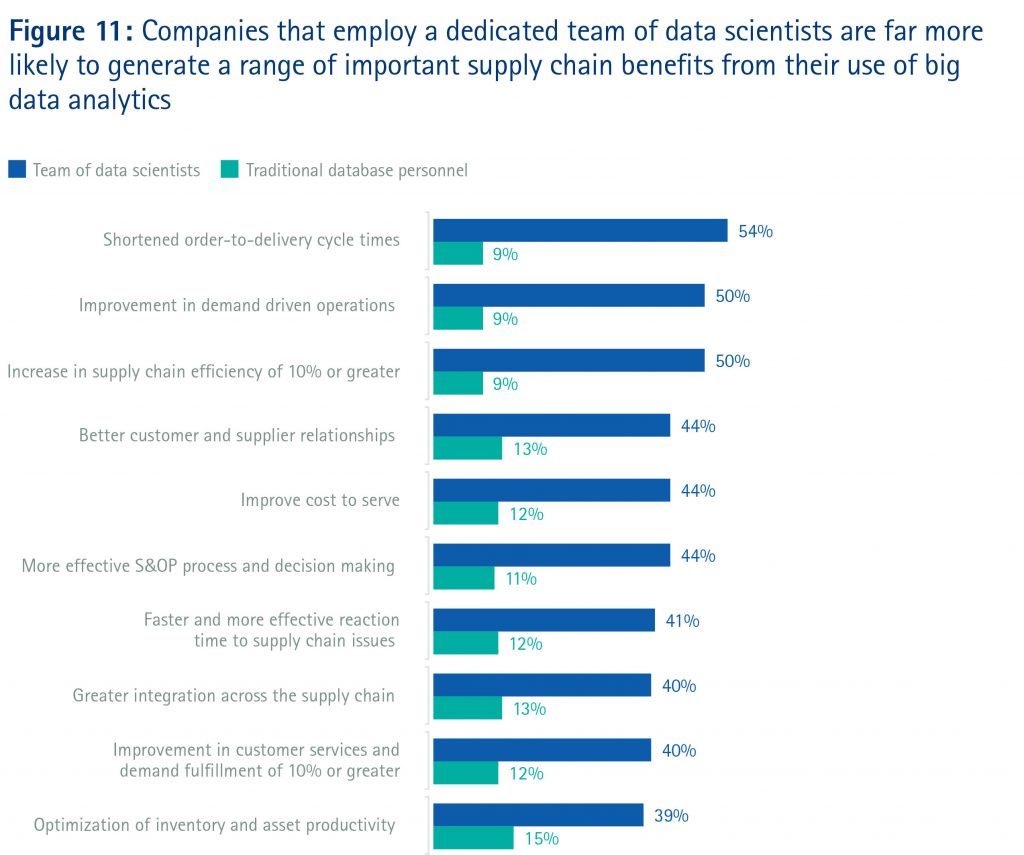 The third rule is to form a team of Data Scientists dedicated to data analysis, or, as a last resort, a person capable of using powerful tools to analyze the data. Accenture's study shows that a team of data scientists is far more beneficial than a team of traditional analysts for reduction in delivery times (50% vs. 9%)The main reasons for this were to improve demand-based operations (50% vs. 9%), to improve customer/delivery relations (44% vs. 13%), and for sales and operations decisions (44% vs. 11%). It is therefore essential to recruit profiles trained in the best universities.
In conclusion, Big Data analysis can have a very beneficial impact on a company's supply chain. However, it is necessary to Deploy a global, well thought-out strategy, integrated into the supply chain and managed by a team of qualified Data Scientists..