Google Anthos is a new Google Cloud platform, dedicated to hybrid and multi-cloud. This platform is mainly based on Kubernetes, the famous open-source container orchestration platform created by the Mountain View giant. Find out everything you need to know about this new solution for businesses.
As part of its Cloud Next 2019 conference, Google has just launched its Anthos platform dedicated to hybrid and multi-cloud. Aimed at businesses, this platform represents Google's entry into the enterprise data center market. It is also one of the first multi-cloud platforms developed by a major Cloud provider.
What are the different components of Google Anthos?
Google Anthos is not just a cloud service. It is a platform bundling several Cloud services for various purposes such as data migration or the management of hybrid or multi-cloud environments.
One of the main components of this platform is none other than the open source container orchestration platform Kubernetes. Indeed, Anthos is built on the foundations of the Google Kubernetes Engine (GKE).. This serves as a command and control center for Anthos, and allows users to manage the distributed infrastructure running on the Cloud or on an on-premise Data Center.
To this Kubernetes engine are added several components. These include Istiowhich allows to connect different components of applications deployed on the Data Center or on the Cloud. In addition, the migration technology Velostrata CloudThe company, acquired by Google in 2018, is also on board. It allows the creation of replicas of virtual or physical machines within GCE instances, or the conversion of virtual machines into Kubernetes Pods.
In order to simplify configuration management between multiple Kubernetes deployments on multiple environments, Google also offers the tool Anthos Config Management. This allows you to manage and apply a configuration to one or more clusters with ease.
There is also the StackdriverThe new Anthos cluster management system, which monitors the status of clusters running on Anthos and the health of applications deployed in each managed cluster. The GCP Cloud Interconect provides high-speed (100Gbps) connectivity between the on-site data center and the cloud infrastructure. Finally, the GCP Markplace from Anthos provides access to a selection of open source applications compatible with Kubernetes.
Google Anthos: prestigious industrial partnerships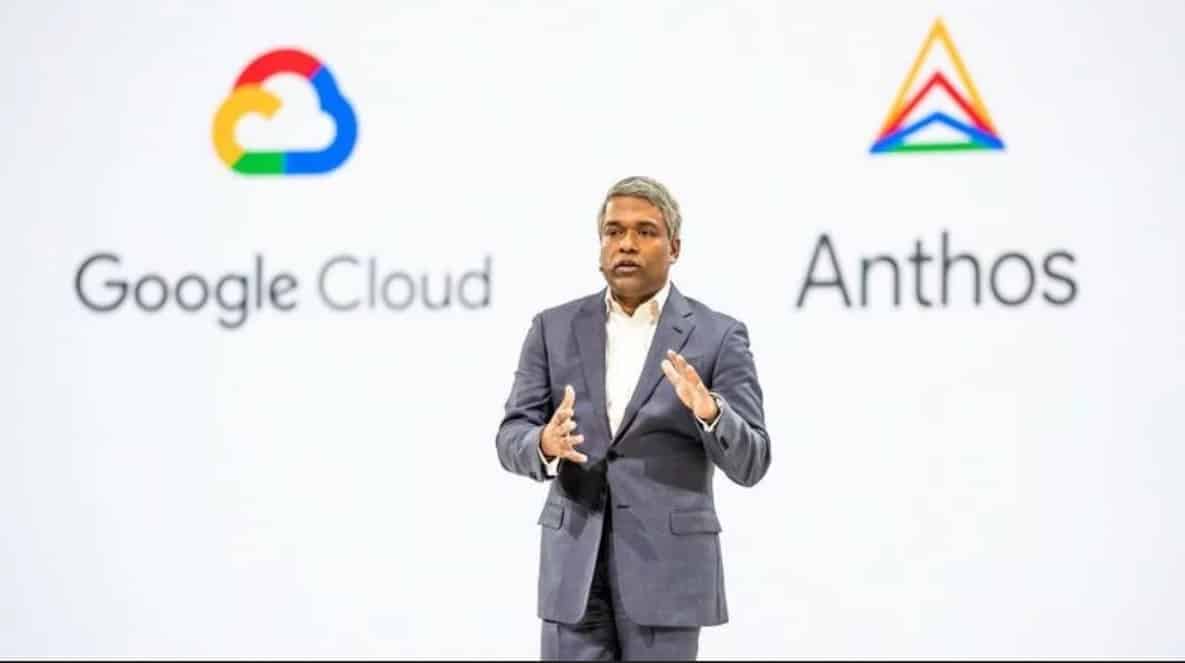 In order to compete with Microsoft and Amazon in the Enterprise Cloud market, Google has spared no expense and has developed a number of multiple prestigious industrial partnerships around his Anthos platform.
When Anthos is launched, more than a dozen software vendors will support the platform. Among them are Citrix, NetApp and MongoDB. Likewise, Cisco will integrate its HyperFlix, ACDI, SD-WAN and Stealthwatch Cloud networking technologies while VMware adds Anthos support for its Pivotal Kubernetes Service.
As the creator of Kubernetes, Google is well positioned to dominate the emerging market for container and microservice technologies. Anthos is designed to compete with hybrid cloud solutions such as those from AWS and Microsoft, and stands out from the crowd. by relying on containers and Kubernetes rather than on mere virtual machines.
This new platform is part of the strategy implemented by Thomas Kurian, the new head of Google Cloud. He intends to enable Google to gain market share in the Cloud. by attracting a corporate clientele. It remains to be seen whether Anthos will actually succeed in convincing this clientele of its interest…