This article was written by Oxana Gouliaéva, expert in marketing strategy for Tech and IT.
Absurdity, media hype or new source of value? Why are fashion, luxury and lifestyle brands multiplying experiences in virtual worlds? Should you create ad hoc collections, buy virtual land or invest in tech startups? What question should you ask if you're thinking of giving a virtual Christmas present? Find out in this article.
In 2018, retailer Carlings created and, in one week, sold the first ever collection of "digital-only" clothing for prices ranging from £10 to £30. In 2019, The Fabricant sold the first "digital couture" dress auctioned on the blockchain for $9,500. That same year, Louis Vuitton became the first luxury brand to offer exclusive designs in League of Legends. Today, NFTs of MetaBirkin bags are selling for hundreds of thousands of dollars. Is fashion in the metaverse the tulipomania of the 21st century or a new source of value?
50 billion by 2030: the metaverse as a growth driver?
On average we spend four hours a day online, some much more. Fashion and luxury brands are betting that soon our digital doubles will populate immersive environments and we'll be willing to pay to look as good digitally as we do in real life. According to Morgan Stanley, by meeting demand from new virtual worlds, brands could generate an additional $50 billion in revenue by 2030.
And while the metaverse will take a few years to develop, NFTs and social gaming are two near-term opportunities that could grow the luxury market by more than 10% within eight years and increase industry profits by about 25%. Analysts expect the entire industry to benefit from the advent of the metaverse, but see the light luxury brands – ready-to-wear, shoes, leather goods – as best positioned.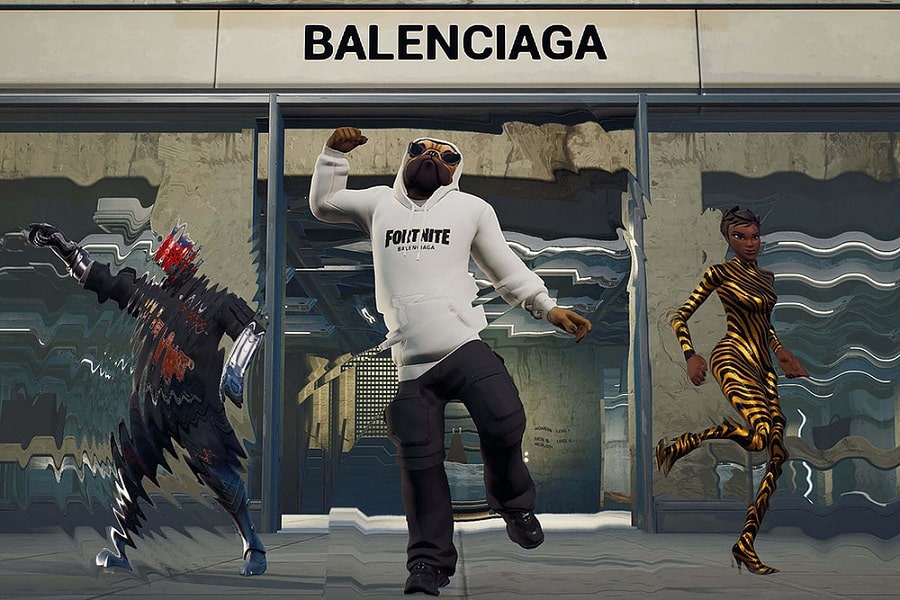 The metaverse: no more boundaries between the virtual and the real
One of the preconceived ideas about digital is the clear separation between the digital world and the physical world. The metaverse superimposes the two worlds to erase this separation. One need only recall the phenomenon of Pokémon Go, which in 2016 provided a bridge between the virtual game and the real world. The game benefited the partner companies that had hosted places of interest in it, attracted additional traffic to their stores and generated additional sales. Virtual and real at the same time.
Another phenomenon to consider is virtual influencers. Lil Miquela – founded five years ago by the company Brud – has 3.1 million followers on Instagram, charges an average of $8,000 for a sponsored post and is estimated to have earned more than $10 million in 2020. Virtual and real at the same time.
Virtual fashion will transform the fashion industry as we know it. As we move more and more into the virtual world, we will start buying and "wearing" sneakers, jeans, jewelry, makeup that will not actually exist. NFTs will manage scarcity, prices, limited digital series. We are on the verge of the biggest revolution the fashion industry has ever seen. Virtual and real at the same time.
The metaverse: a question of generation?
Virtual fashion will also mark a generational shift. Young users are seen by investors and big companies as the main audience of the metaverse. Mostly GenZ, born between 1997 and 2012, but also the previous generation of millennials, who, as the Harris poll cited by Business Insider shows, are even more aware, if not more enthusiastic about the topic:
38% of GenZs and 48% of millennials think the metaverse will be part of their daily lives in the next ten years;
37% of GenZ and 51% of millennials (compared to only 33% of all Americans) think owning unique assets in the metaverse is a justified expense;
Two-thirds of GenZ and millennials (vs. only 27% of those over 40) understand how to interact with the metaverse.
True "digital natives" are already entering the workforce, teens have a foot in the metaverse: their classes are on Zoom and their interactions with friends – on Instagram, in TikTok, Minecraft, Fortnite, Animal Crossing. Adoption would first take the form of cryptocurrency-backed games and then spread to almost every other form of human activity. Some people are already projecting to make Christmas gifts in virtual worlds by paying in crypto and NFT. Why would they want items and clothing that no one can see when they can show off a unique digital collection?
Gamification as a key development strategy in the metaverse
It is no longer enough to produce clothes. To achieve sustainable success, you have to work at an unusual intersection of games, creativity, sports and culture. Luxury brands, which have taken years to build their digital presence and often have been slow to embrace e-commerce, don't want to miss the new shift. Many have already made significant efforts to show their interest in virtual worlds. Let's take a look at the strategies brands are deploying to reach new audiences.
Brand collaboration with gaming platforms: products and experience
Fortnite, Roblox and Zepeto are the most cited platforms. Many brands have created special collections there and associated them with experiences reflecting their DNA and storytelling:
Ralph Lauren has partnered with Roblox and the South Korean platform Zepeto. For example, for Zepeto's 200 million users, the brand recreated – virtually – iconic New York locations, designed chase games, a concert and a digital clothing show – 12 looks and 50 unique items – sold for between 14 and 40 ZEM, internal currency, equivalent to $0.99 to $2.82. Useful for walking around New York and going to the concert.
In May, Gucci welcomed spring into a virtual world by opening its ephemeral Gucci Garden on Roblox, a replica of the installation in Florence. Its bee-embroidered Dionysus bag was priced at 475 Robux, the game's currency, or $6, infinitely less than the $3,400 for a real bag. The resale market, however, saw prices skyrocket: one of the bags eventually sold for 350,000 Robux, or $4115. The collection is also available in the Gucci app for $11.99 for those who want to wear them in photos and videos using augmented reality.
After presenting its Fall 2021 collection inside the video game Afterworld, Balenciaga is inviting itself into the game Fortnite. For the occasion, the brand has given several characters a makeover with outfits that evolve as you progress through the game. The collection is available for purchase in V-Bucks, but also in Balenciaga's physical stores. Beyond the game mechanics, the clothing and the new audience, the goal is to create a common creative language. According to Epic Games CEO Phil Rampulla, the game is seen as "the ultimate expression of self".
Vans focused its "Vans World" interactive experience on skateboarding. Roblox users could practice their favorite sport, create their own board, and try out and buy the brand's merchandise in the virtual world.
New "metavers-native" brands
Just as with the mobile until recently, fashion brands are appearing that offer only 100% dematerialized clothing and accessories. Signs of the times or ephemeral phenomena? Here are a few examples:
Tribute. A "platform for cybernetic, touchless fashion" by its own definition. This "digital only" brand sells limited edition ready-to-wear and customised clothing at prices close to the top end of the real world. Once an item is purchased, the customer sends their photo for a digital fitting and a few days later receives it already "dressed" in their new outfit.
Dress X. This digital marketplace works in a similar way, except that customers start by uploading a photo and submitting it at the time of purchase. The products, inspired by sci-fi heroes and celebrities, are not exactly everyday wear. Designed by designers from around the world, they use no material fabric, water or CO2 for shipping and delivery, and stimulate artistic education.
The Fabricant. "Always digital, never physical". This digital fashion house sees digital fashion as the evolution of video game skins. It defines its mission by creating beautiful clothes that allow customers to explore their identity in innovative ways without wasting precious natural resources. The clothes are modeled in 3D for customers to wear in VR environments, payable in Ethereum.
NFTs: security, payment and scarcity management
If the virtual part of the metaverse is made up of multiple platforms, cryptotechnologies, including NFTs, are central to the development of these exploded metavers, as they allow users to own assets or objects and move them across different platforms securely, without the need for authorization from a central entity.
The first NFT collection from Adidas Originals
Adidas' 30,000 "Into the Metaverse" NFTs were minted within hours of going on sale. The collection was part of a partnership with Bored Ape Yacht Club, Punks Comics, and GMoney, an anonymous crypto enthusiast. Each NFT cost 0.2 ETH (about $765), and the company sold 29,620 NFTs, meaning that in the space of an afternoon it took in over $22 million. Buying an NFT gives owners access to physical products – hoodies, tracksuits and caps, available sometime in 2022 – and upcoming digital experiences.
It's unclear if Adidas plans to offer more NFTs in the future, but the website says "this is just the beginning."
Authentic counterfeits
Just sold for 9.9 ETH ($39,600.00) – moving closer to 150 ETH ($600,000) volume traded in just 48 hours. #MetaBirkins pic.twitter.com/t3JiOGQstB

– MetaBirkins (@MetaBirkins) December 4, 2021
Success is when others copy you. There's nothing more desirable – and harder to come by – in luxury than the Hermes Birkin bag, which can be worth anywhere from $10,000 to $500,000 or more. On December 2, artist Mason Rothschild introduced 100 faux-fur NFT-bags called MetaBirkins. Initially offered at a modest price of 0.1 ETH, the currency of Ethereum, their prices reached 150 ETH in two days, or $600,000, already exceeded again.
A spokesperson for Hermes said that the brand had not given consent and that Rothschild was infringing on Hermes' copyright. The irony is that Rothschild also complains of being copied. In an interview he said that "MetaBirkins knockoffs" have appeared on some platforms, and that he doesn't understand why people buy "fake NFTs" for $40,000 instead of buying originals from him.
Creation of dedicated entities
Some players are taking more strategic and structuring actions. This is the case of Balenciaga, which recently announced the creation of a dedicated department whose mission will be to think about how to control communication and sales in the metaverse. Almost simultaneously, the OTB group – which includes Maison Margiela, Jil Sander, Marni and Diesel – launched the Brave Virtual Xperience initiative, to develop its own metaverse and collaborate with gaming platforms. Its director Renzo Rosso expects to attract young audiences: "I've always believed that technology is the new frontier of the fashion industry. We want to mark our position in the virtual world and anticipate the demands of a new generation of consumers." Let's hope BVX goes beyond just another collaboration with Fortnite or Roblox.
Tech player buyouts
Usually, experiments with digital collections feel more like marketing campaigns than regular business. Until Nike announced the acquisition of RTFKT, a startup founded in January 2020, at the beginning of the COVID era, and specializing in "creating unique sneakers and digital artifacts", often marketed as NFT. With this acquisition Nike aims to deepen its digital transformation and learn to serve athletes and creators by combining sports and immersive games.
In the metaverse, the fashion is for "test & learn". There is only one certainty: no interoperable mainstream metaverse for another ten years, but a multitude of virtual platforms for work and leisure. If, in the meantime, your teenager asks you to buy him or her a branded item of clothing, ask him or her in which metaverse.

Facebook



Twitter



LinkedIn