Enterprise Cloud Computing, or simply the Cloud in the enterprise, has been a huge success. IDG has just published a major study on the state of play of this vast market in 2018.
While the Cloud is increasingly popular with the general public, it is in the corporate world that this technology is really taking off. In order to discover Trends in Enterprise Cloud Computing in 2018IDG interviewed 550 decision-makers from companies in a variety of sectors.
Among the main findings of this study are that 77% of companies have at least one application or part of their IT infrastructure in the cloud. 15% plan to adopt Cloud applications and platforms in the next 12 months.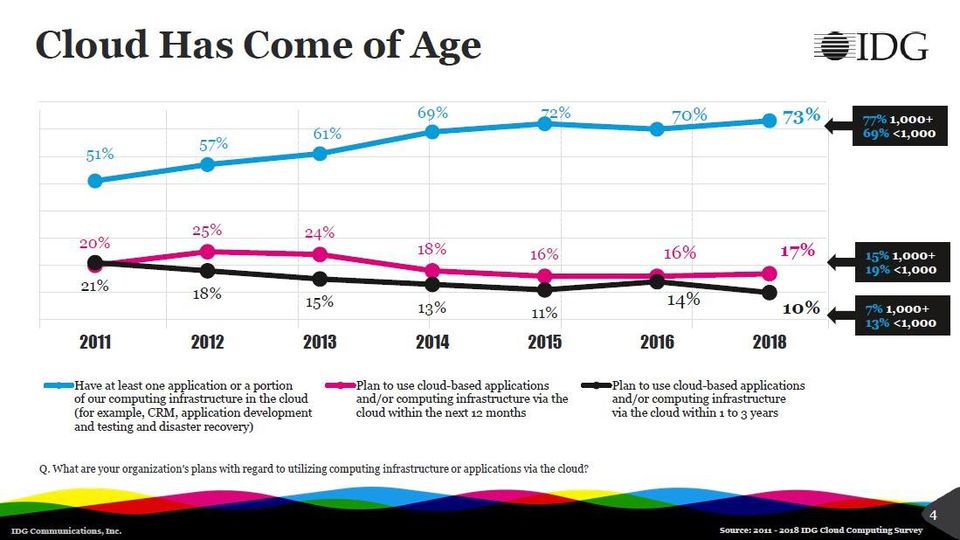 On average, the companies surveyed plan to invest 3.5 million in Cloud applications, platforms and services over the whole of 2018. In total, the Cloud would account for 30% of the 2018 IT budgets. These budget shares would be divided between SaaS (48%), IaaS (30%) and PaaS (21%).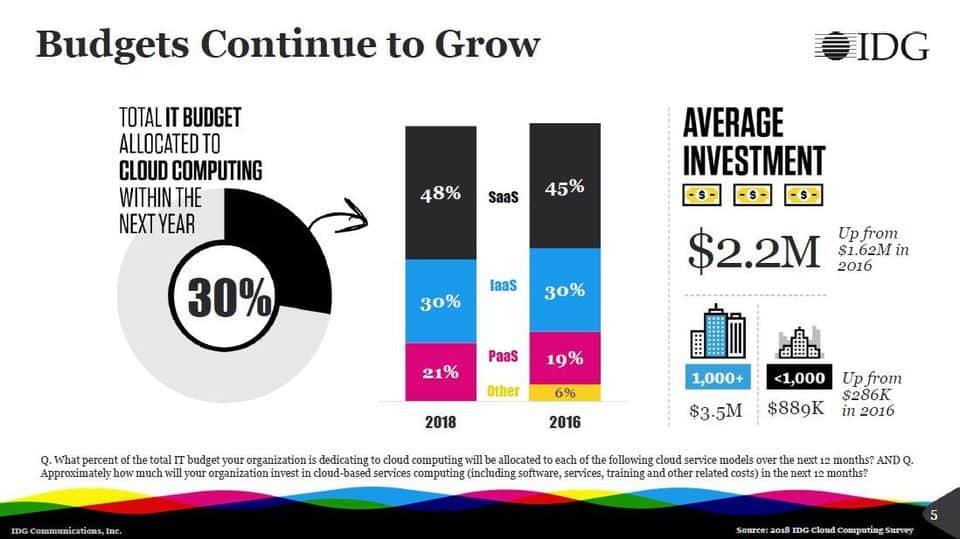 Enterprise Cloud Computing: IDG Unveils All the Trends for 2018
The study also reveals that companies are mainly looking to use Cloud applications and platforms to accelerate the delivery of IT services. That's 76% of them. In the past, the Cloud was seen primarily as a means of reducing costs.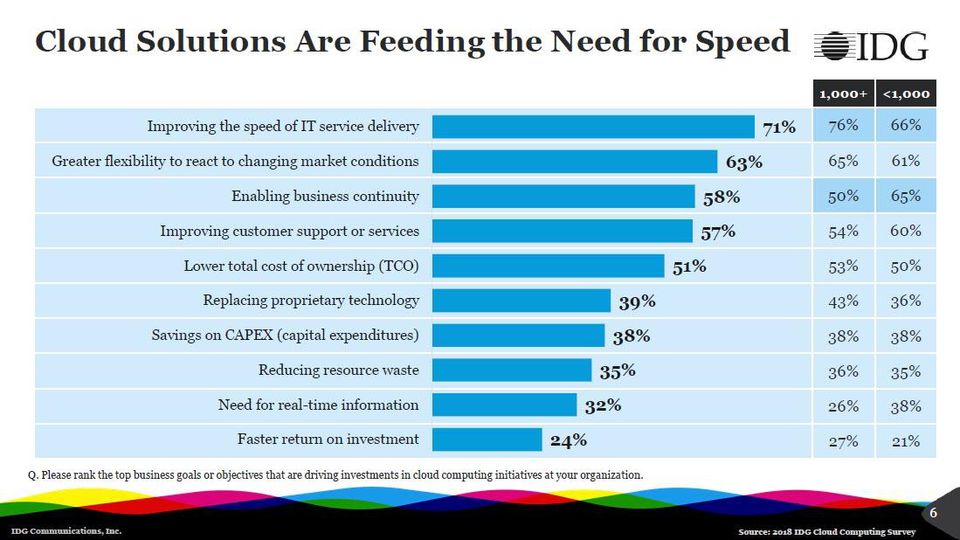 The industries under the greatest pressure to become 100% cloud-based from executives are manufacturing, high-tech and telecommunications. In addition, 95% of companies will rely on the SaaS model for application delivery within 18 months. IaaS will reach 83% and PaaS 73%.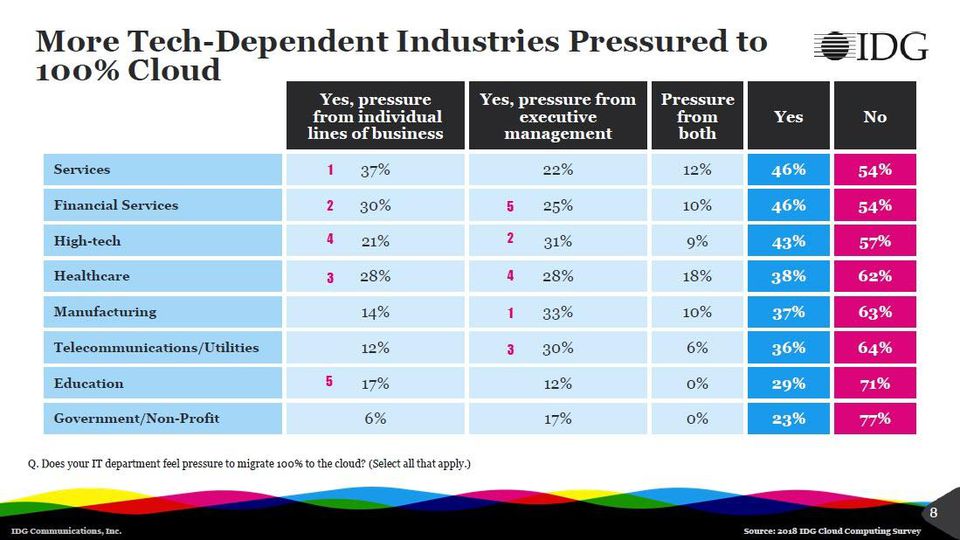 For 54% of the companies surveyed, IT divisions must more collaboration with other departments as a result of Cloud investments, as the cloud is forcing a rethink of the organizational structure of the IT divisions.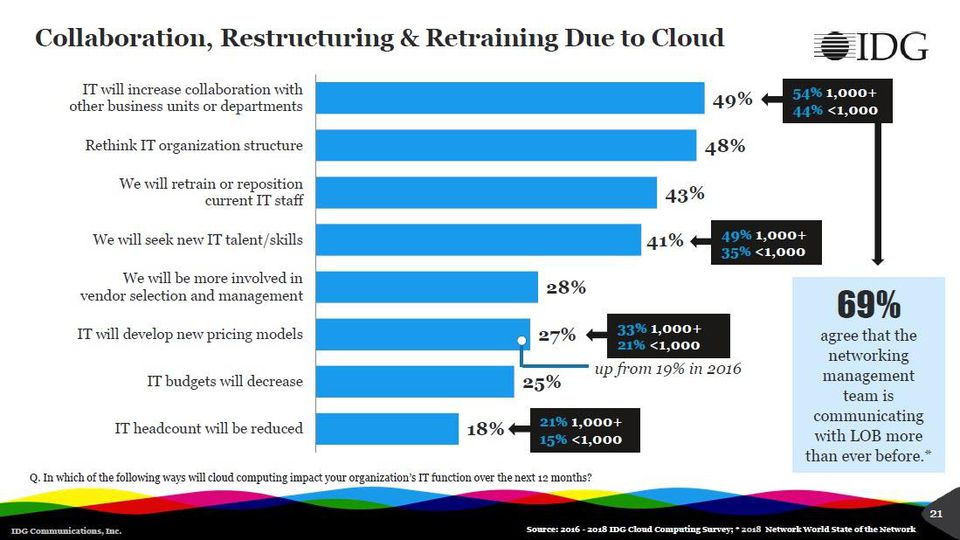 Finally, the two application sectors with the greatest opportunities for migration to the Cloud are data analysis and disaster recovery. For example, 49% of the companies surveyed plan to migrate their disaster recovery to the Cloud within the next 1 to 3 years. Similarly, 45% plan to migrate their Business Intelligence, Data Warehouse and Data Analytics applications to the Cloud within the next 1-3 years.