With the evolution of technology, the workplace is no longer a physical place to be. Companies are now opting for digital work platforms (DWPs). These are accessible from anywhere with only a laptop and an Internet connection.
ENT: what is this digital workplace?
The digital work environment (DWE) is a work platform which is cloud-based. It includes the data, tools and collaboration features useful to employees. It is accessible from anywhere, anytime, and on any device. It is therefore equivalent to moving the work in the company to a secure virtual space.
A digital workplace encompasses all the basic digital tools. These tools, let's remember, are used by employees in their daily work. Note that this could be instant messaging, virtual meeting tools, enterprise social media tools or automated workflows. Collaboration, project management and process management are also part of it.
So we can mention online collaboration tools like Slack, Teams, Google Workspace or Zoom.
What are its advantages?
A digital workplace allows a collaboration between all team members. It also admits the management of projects and tasks with a visibility full visibility. As a result, problems and defects are easier to resolve and service request tickets are quickly filled. With it, the automation of standard and repetitive business processes requiring approvals is now possible. Moreover, reporting for better data-driven decisions is also possible. Furthermore, it is with a digital workplace that the integration of third-party applications has become possible.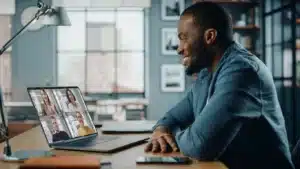 Preconceived notions about a digital work platform
There are some misconceptions about the digital workplace. However, these can be justified.
A digital workplace is an intranet
Unlike a digital workplace, the intranet is a private network accessible only to employees with authorized access. As a result, it is unusable for active internal projects, processes or discussions. Yet, with a digital workplace (DWE), organizations can securely store their business data while managing projects, processes and discussions in real time. It is economic in terms of time, money and even frustration. A digital workplace is therefore not an intranet.
A digital workplace is just a set of applications
Using dozens of apps doesn't mean using dozens of apps. On the contrary, stacking disjointed SaaS applications makes it even more complicated. In addition, since data is spread across different applications, finding information also becomes difficult.
ENT is a simple collaboration tool
In addition to real-time conversations, a digital workplace helps teams to streamline processes, manage cases, track project status and automate repetitive tasks. So it's more than just a collaboration tool. It cannot be purchased to improve the productivity and efficiency of an organization. Indeed, it is an ongoing digital transformation strategy that requires a cultural change within the company.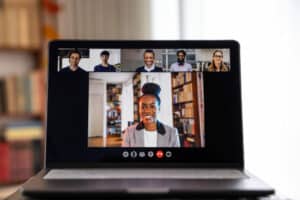 The changes it brings within the organization
Being a very innovative technology, the digital workplace is changing the workings of a business for the better.
Efficient sharing of knowledge and information
A digital workspace easily gives access to all the organization's knowledge in one place. That's thanks in part to its powerful and intelligent search and tagging capabilities. The digital workplace brings knowledge together while securing sensitive information with user authorization and data protection capabilities. This enables the information sharing across the organization, breaking down silos and opening up opportunities and innovations.
Easy access to communication and collaboration
Even though many employees work remotely, collaboration is now easier, faster and more seamless. Communication is improved and confusion is reduced. A digital workplace can, therefore, have different communication channels, but the messaging is unified and consistent. The message can also be personalized to suit the occasion. This unified technology, easy access to tools and documents, and seamless communication tools then facilitate collaboration. Whether it is within a team, between remote employees, between departments or even countries, the technology within the digital workspace fosters collaboration instead of restricting it.
With easy access to communication and collaboration, the agile work is fostered. This initiative enables the entire organization to respond more quickly to change, even for large global companies.
Increased productivity and agile working
With a digital workplace, there is no switching between applications. Instead, it provides a central platform to access all applications, business data and projects in one place. As a result, it significantly limits the need to switch back and forth between applications in the course of completing a single task. In this case, it allows a significant time saving.
Employees have all the necessary tools at their fingertips. This allows them to focus on what they do best. This advantage allows them to become more efficient and productive in the sense that they do not lose time in the completion of each task.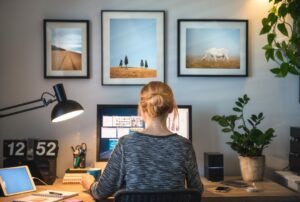 More visibility and control
Although the work environment is more transparenteveryone can control the status of each project or task assigned to it. As a result, e-mail tracking is minimized and the work done increases. Moreover, managers can list all the tasks to be done, assign them to other members, specify deadlines and make sure that everyone is in sync.
In addition to reducing excessive meetings, a digital workplace makes employees more accountable and focused.
Automation
Some jobs take employees a long time to complete. But the digital workplace can automate those senseless and repetitive processes such as document approvals, data entry. In addition to an optimal concentration on the most complex tasks, automation also provides more flexibility and efficiency.Enthusiasm to the members of the organization.
A digital workplace for a better employee experience
Customer satisfaction is mostly based on an employee's motivation. That's why the employee experience is just as important as the customer experience, the employee is still the key element of the company. Only valued employees want to give their best. So, if the company wants to generate high revenues, it is strictly essential to value the employee experience and make their daily tasks as light as possible.
Therefore, the design of digital work platforms is based on the daily challenges that employees face. With them, they can work faster and more efficiently. This leads to an overall improvement of the experiments.
Digital work, a future of work
Despite all the business constraints and uncertain conditions, digital workspaces provide the opportunity to meet new challenges. We will speak here of efficiency, speed, flexibility and collaboration accentuate the visibility of the results of the company.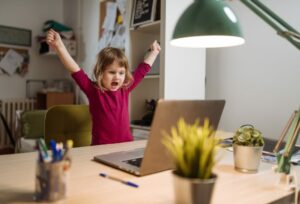 ENT in the education sector
Technological innovations also cover education, and not only in the social environment. Nowadays, a digital workspace (ENT) is made available to schools to improve teaching.
What is it about?
As defined by SDET: "A digital workspace (DWS) refers to an integrated set of digital services chosen and made available to all actors of the educational community of one or more schools or educational establishments within a framework of trust defined by a DWS master plan and its annexes. This ENT constitutes a unified entry point allowing the user to access, according to his profile and his level of authorization, to his services and digital contents. It offers a place for exchange and collaboration between its users, and with other communities related to the school or institution.
An ENT is then presented as a set of integrated or connected and interoperable digital services. It participates in the structuring of the educational digital landscape. Its primary objective is toimprove the quality of service, to adapt and to be extensible to future developments and security.
How does it work?
A digital workspace is accessible via the Internet. It allows students, parents, teachers and even non-teaching staff to access digital services intended for them. This includes the provision of information about the school such as timetables, catering, boarding, and class council dates. Classroom activities and homework assignments are also posted. Grades, absences and lateness of each student are also posted.
At the beginning of the school year, the school will distribute a password and a login.

Facebook



Twitter



LinkedIn

Sources & credits
Source: kissflow – Credit: