Since December 2011, the French OVH offers its own cloud service, HubiC. This service allows to store, synchronize, backup and share all types of documents on the cloud. The main advantage of HubiC is the very low cost of the service. However, is it really necessary to opt for the "made in France" in the cloud?
The HubiC cloud storage service, proposed by the French company OVH, and based on Intel Cloud Technology, allows you to store all kinds of files on the Internet in a secure personal space. Thanks to this system, Users can access their files from any device and free up storage space on their various electronic devices without the need for an external hard drive..
The HubiC online storage service is available as a desktop application for Windows, Mac and Linux, as a mobile application for iOS, Android and Windows Mobile, and as a web application accessible from a web browser.. This cross-platform character makes it possible to synchronize documents on all the user's media and equipment.
The HubiC users can drop their files manually, or let the application do it automatically.. After registering, the user has a hubiC folder whose contents are synchronized on all his computers, tablets and smartphones. It is also possible to access this content from the web application. Thus, when a file is updated on one of the devices, it is directly updated on all devices.
The transfer between the different equipments and the OVH.com servers is secured by the SSL protocol. Thanks to the OVH infrastructure, the speed of the transfers is optimized and maximized by the internet connection.
You have a "hubiC" folder whose contents are synchronized on all your computers. Everything you drag and drop in this folder is automatically dropped on hubiC, and becomes available on your tablets and smartphones, as well as on the web application.. If you change a file on your computer, it will be updated on your other equipment.
All types of files can be backed up on the HubiC cloud: photos, videos, music, documents… no restrictions are imposed in terms of size. A few clicks are enough to extend the archive space. It is Folders can be created, files can be easily deleted, moved or published on the internet.. Records management is made extremely easy.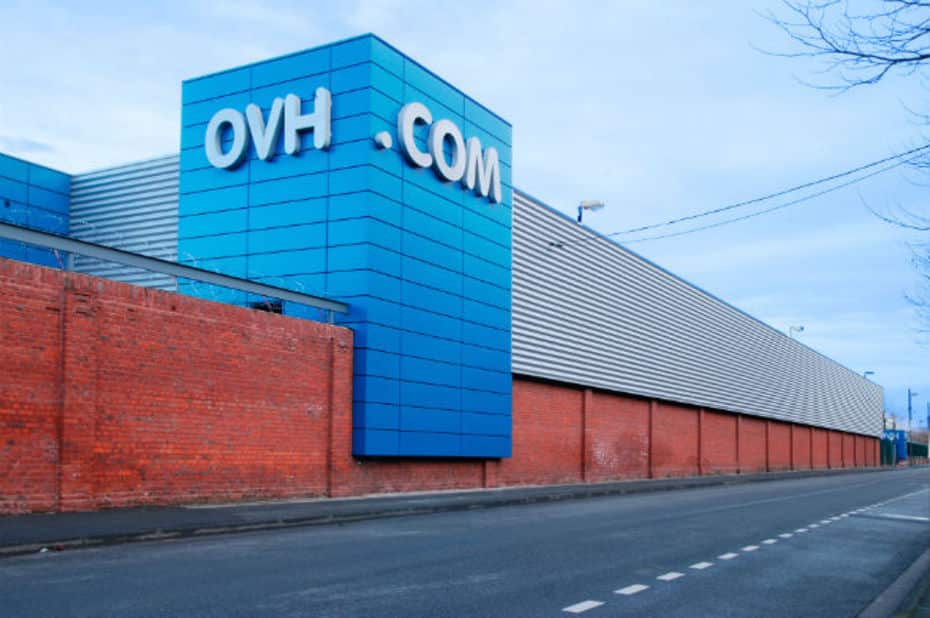 Once stored in the cloud, the files are replicated three times, in three OVH data centers located in various European countries to ensure their preservation. Note that one of these data centers is located in France, in the town of Gravelines. The Redundancy can be used to remedy possible hardware failures such as data failures or data corruption.. Only the user can access the data using his login and password. A backup option also allows you to back up files on the computer, tablet or smartphone without having to synchronize them.
In order to support the cloud service, technicians are available 24 hours a day, every day of the year to maintain the HubiC servers.. This means that the data can be accessed at any time without interruption. It is also possible to consult the user forum, which is run by a very involved and supportive community.
Documents can also be shared very easily. It just create a share link and send it to your friends and family to allow them to access the files from a web browser.. It is thus possible to collaborate on a common project in all simplicity.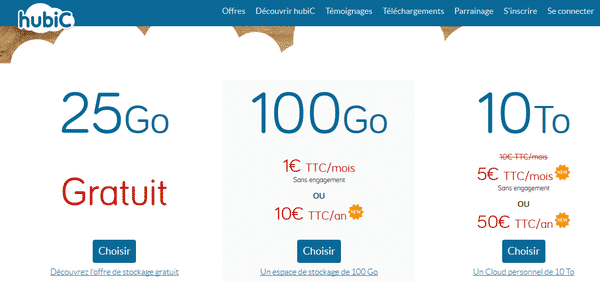 In total, the online storage platform has more than 800,000 users. The The price of this service is 50 euros per year or 5 euros per month for 1TB of cloud storage space, and 10 euros per year or 1 euro per month for 100Gb.. It is possible to get 25 GB for free by creating an account. A referral system also allows you to get more space by recommending the service to others. It is possible to obtain a maximum of 2.5TB of cloud storage space by sponsoring 5 people. Sponsored persons receive 30GB of storage space. Invitations can easily be sent by email, Twitter or Facebook.
Tutorial: how to store your documents on HubiC Cloud?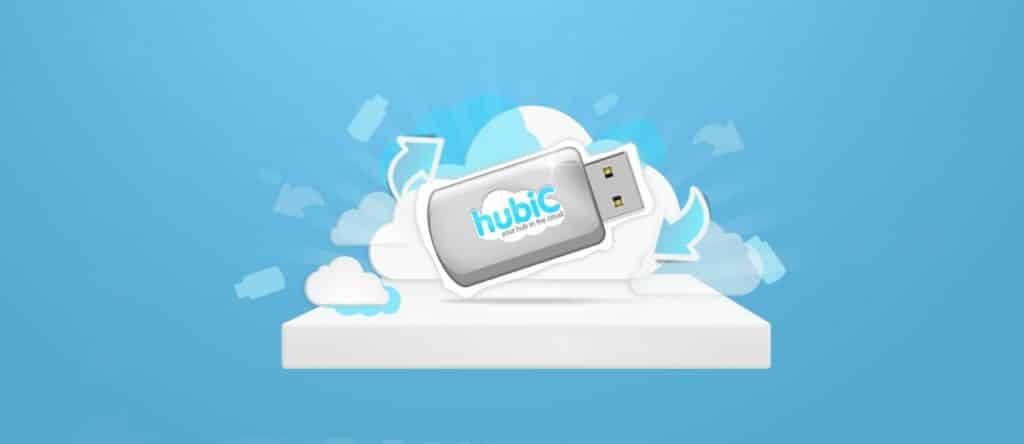 Register to HubiC
To start using the HubiC cloud storage service, you must first create an account on the official website. Click on Create an Account, and complete the registration form. You will receive a confirmation email. Click on the link contained in this email to validate your account and access the service.
Installing HubiC
Now install the eponymous application on your computer. To do so, go back to the official website and download the application. Proceed with the installation, then launch the application from your desktop. Enter the email address and password you used when you created your account and log in.
The software will create a folder "My HubiC" in your Documents directory. The The content of this folder will be systematically synchronized with the HubiC web application every ten minutes.. If you want to change the location of this directory, click Advanced Installation.
Store and synchronize local files
You now have 25GB to store all types of files. The documents created or copied to the My HubiC folder are automatically synchronized with the HubiC web application.. It can also be accessed via a tablet or smartphone.
In double-clicking on the My HubiC icon on your computer desktop, you can create as many folders as you want. By default, three folders are created: documents, images, and videos. You can start transferring your files.
Share a file or folder
For share files, right-click on a document or folder to share, click on HubiC and then on Publish.. Wait a few seconds, then right-click again, and this time click HubiC then Copy the publication link. Now paste this link in an email to send it to the recipient with whom you want to share the document or folder.
Store and synchronize files from the web application
It is also possible to transfer your files directly from the web application. Go to the HubiC website, click on My HubiC, and enter your login and password. You will be able to access all your folders and files directly from the internet. You can add files by dragging them to the directory of your choice. At the top right, different buttons allow you to add or delete a file, create a folder, modify it or sort the display order.
Changing HubiC Settings
When you launch Hubic, an icon in the bottom right corner of the screen in the shape of a blue cloud allows you to change the settings. From this menu of options, you can find out how much storage space is available, start a manual synchronization, pause the synchronization, or access options such as choosing which folders to synchronize on the local computer or changing the synchronization interval time.
APIs and compatible applications
For developers, an API makes it easy to connect an application to HubiC services, or even to create an application based on the functionalities of the service.. This API can be used, among other things, for managing and obtaining information. It is also possible to develop a media player for the content stored on HubiC or to publish files automatically on the web.
HubiC is also compatible with several third party applications. The the Thunderbird module, created by Vincent Giersch, allows you to drop attachments on HubiC, and to send them by integrating a publication link to the e-mail. This process makes it easy to send heavy documents.
The application Swift Explorer, developed by Loic Merckel, allows the user to visualize the content of his online storage space and to drop files / folders easily.. Files dropped in this way do not need to be synchronized. This system makes it possible to archive documents without the need to keep copies on a computer. The application is available on Windows, Mac and Linux.

Developed by Synology, the Synology Disk Station Manager 5.1 application allows you to manage the brand NAS. It is now possible to synchronize a folder on the storage server with HubiC through the Cloud Sync module. This process enhances data security.
The Expandrive service allows you to set up an online storage space such as a network drive.. The content of the HubiC cloud can therefore be managed directly from the file explorer.
Who is OVH, the creator of HubiC?

OVH Group is a French company founded in 1999, specialized in data hosting. This firm offers many services related to Internet infrastructures. In addition to its HubiC cloud storage and synchronisation service, OVH is well known as a web hosting company. In a few years, the company has climbed to first place in the ranking of French and European hosting providers, and to second place in the ranking of global hosting providers. The company is now present in 16 countries on three continents, and has more than 900 prestigious employees.
The group is distinguished by the total control of the chain it exercises over its various products. OVH designs, assembles its servers, maintains its data centers and is directly responsible for customer service. The company is also known for its particular attention to ecology. It has developed a server cooling system based on the heat-transferring properties of water to reduce the power consumption of its data centers.
Water Refrigerated air circulates through heat exchangers located near the most heat-generating components to remove almost 70% of the heat.. The remaining 30% is dissipated by the natural ventilation of buildings directly designed for this purpose.
OVH has also chosen to remove the electric air conditioning in its Data Centers, in order to reduce energy consumption by approximately 50%.. The money saved allows OVH to offer hosting solutions like HubiC at unbeatable rates.
Many users disappointed by HubiC
Be careful, however, it is necessary to check the returns on the platform, just type on its search engine: HubiC avis. According to some users, the cloud solution proposed by OVH is far from perfect. First of all, according to Geekzone.fr, a search function within the web application is sorely lacking. Furthermore, spaces in file or folder names are automatically replaced by underscore dashes, which can be a problem when searching for documents.
Even worse, the transfer speed is actually limited to 1 Mb/s in upload or less, and between 3Ko/s and 20Ko/s in download instead of the 1.5Mo/s announced by the provider. It is also often the case that transfers are interrupted for no apparent reason.
Therefore, backup folders recovered in zip format may not open because they are incomplete, or files may be missing from these folders.. The same goes for synchronized files. This is the type of remark that one discovers after searching for Hubic avis on the Web. But it's not over yet.
Likewise, the blog Paradoxetemporel.fr first published a first very enthusiastic review of this service, before completely reversing its opinion.. According to the author of the blog, the throughput is very variable during synchronization, which can be very crisp. The author denounces a lack of regular updates from OVH.
OVH also openly admits to having made mistakes in developing its infrastructure. However, the requests for reimbursement, made in large numbers on the official forum, remain mostly unanswered. On the forum and social networks, many angry users castigate the service provider.
As a matter of fact, despite the low price of the online storage service, it may make more sense to opt for a more expensive but more efficient service.
Update Hubic: OVH abandons its Consumer Cloud
Hubic, the Cloud storage service for the general public of the French company OVH, has closed its doors. Unable to keep up with the competition, the firm announced that it would no longer be possible to create new accounts and that the development of the service was coming to an end.
Launched in 2011, the Cloud storage service was intended for the general public of French OVH. For many consumers, the data storage in Data Centers located in France is a real advantage.
However, despite this asset, Hubic was never really able to convince. Afflicted by numerous bugs, defects and malfunctions, this Cloud storage service does not hold its own in the face of increasingly dense and fierce competition.
Between specialized publishers such as Dropbox and Box, or the services from tech giants such as Google Drive or Apple iCloudToday, Hubic is a small fish, far too small in an ocean full of whales.
OVH prefers to focus on its professional customers
This May 30, 2018, OVH gives up and announces the discontinuation of its service. It remains active for existing users, but it is no longer possible to create new accounts and no new functionality will be deployed in the future.
If you use Hubic, we you obviously recommend that you turn to another service and transfer all your data there. It is indeed highly likely that OVH will eventually abandon its Cloud completely, even if no date has been announced. However, the French company says it is open to a possible takeover by anyone who has the courage to try to save the hosting platform.
For its part, OVH would like to be a part of this process.e refocusing on its services for professionals : Developers, IT companies and other organizations from all sectors. Indeed, this clientele is the main target of the OVH group, which is experiencing strong growth in France and the United States.