While ADSL is still the connection technology used by the majority of French households, the gradual rollout of optical fiber is changing this situation. In the first quarter of 2019, the Arcep announced 5.3 million fiber subscribers, a figure 516,000 higher than in December 2018. At the same time, however, ADSL had four times as many, despite a decline. How can such a delay be explained? Explanation.
Bringing fibre into the home: a not always easy process
First of all, we'll have to do a fibre eligibility test of his home, offered by operators like Coriolis. It takes in counts the capacity of the telephone line connected to the building to support this type of service, but also the distance from the DSLAM. Thus, the options you will be able to claim (ADSL, television via ADSL or IP telephony) will depend on the results of this test.
If you live in a building, you'll also need to get thetrustee's approval to connect the building to the fiber optic network. In fact, it will often be necessary to wait until the annual general meeting of the co-owners to have a return.
In addition, it will also be necessary to choose between FttH, FTTLA or Fttdp fiber. Thanks to a direct fibre connection, the FttH offers the highest throughput. However, it is not accessible everywhere. The other two offer a slower connection because they have to distribute the speed between several homes.
Negotiations followed and then the signing of an agreement with the access provider chosen. Among other things, the latter will have to have a technician install optical outlets in the tenants' homes.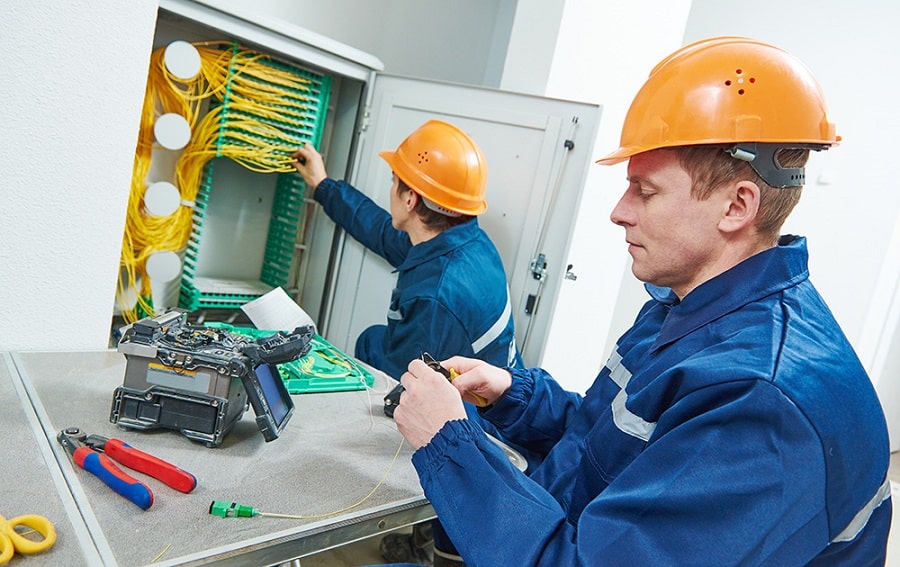 Fibre optic deployment: how it works in practice
Before the internet got to his routerTo connect a housing to the fiber is done in two steps. First, the optical fibre must be brought to a optical connection node (OCN) whether you live in a detached house or a building. Only then can you realize the deployment strictly speaking, from the fibre optic cable to the housing.
In order to accelerate this process, the State has since 2013 launched its Plan France Très Haut Débit. The plan provides for total coverage of the territory in optical fibre and a connection of all French households to the technology.
Fibre optic deployment: the current situation
At the end of the first quarter of 2019, 20.8 million homes were compatible with a very high-speed broadband offer, while 14.5 million others were eligible for a broadband offer. In all, there were 9.5 million very high-speed subscribers (speeds above 30 Mbps).
Despite this, inequalities persist between municipalities. According to the association UFC, while 34.8% of French people have access to a connection of more than 100 Mbps, 47.1% have to live with a speed not exceeding 30 Mbps. Worse, 0.6% of the population does not have access to the internet broadband.