In the fight against the SARS-CoV-2 coronavirus, which appeared in Wuhan at the end of 2019, artificial intelligence and Big Data could be humanity's best assets. Find out how these technologies are being used to stem the epidemic.
The Chinese authorities are currently engaged in a race to stem the spread of the SARS-CoV-2 coronavirus worldwide. While COVID-19 has already infected more than 70,000 people and claimed 1,775 lives worldwide, researchers around the world are doing everything possible to avoid the pandemic.
In this battle against the new coronavirus that appeared in Wuhan, the Big Data and artificial intelligence are proving to be a great help.. These technologies had already enabled the Canadian company BlueDot to predict the outbreak, but they can also help contain it.
In a press release, China's National Health Commission (NHC) recommends that local governments use "Big Data to track and detect cases and predict the development of the epidemic in real time." .
Thus, the authorities are called upon to "strengthen the information link between public safety, transport and other departments". In particular, they are invited to share medical, communication, and transportation data such as trains and airplanes.
The Big Data to track down the travellers from Wuhan
While the city of Wuhan has been under quarantine since January 23rd, 2020, more than 5 million travellers left the city during the Lunar New Year festival. according to the mayor. So one of the urgencies is to find these people before they spread the virus throughout China and beyond.
In order to achieve this, the authorities rely on data. In some areas of Beijing, residents are instructed to scan a QR code… to fill in their personal information: telephone number, mailing address, license plate, recent trips and mode of transport
They were also asked if they had "recently" visited Hubei province, of which Wuhan is the capital. Citizens are also asked to indicate whether they have had contact with anyone in that area; and.
Recently, a man who had travelled to Wuhan had recently self-quarantined in his residence in Nanjing, Jiangsu Province. He didn't tell anyone about his trip, but… local authorities were able to identify him by analyzing travel data from the city…. To his surprise, officers were sent to his home to check his temperature.
Several Chinese companies have also developed applications that allow users to check to see if they've been on the same plane or train as infected people.. These applications are based on data taken from lists published by the official media.
Artificial intelligence to detect fever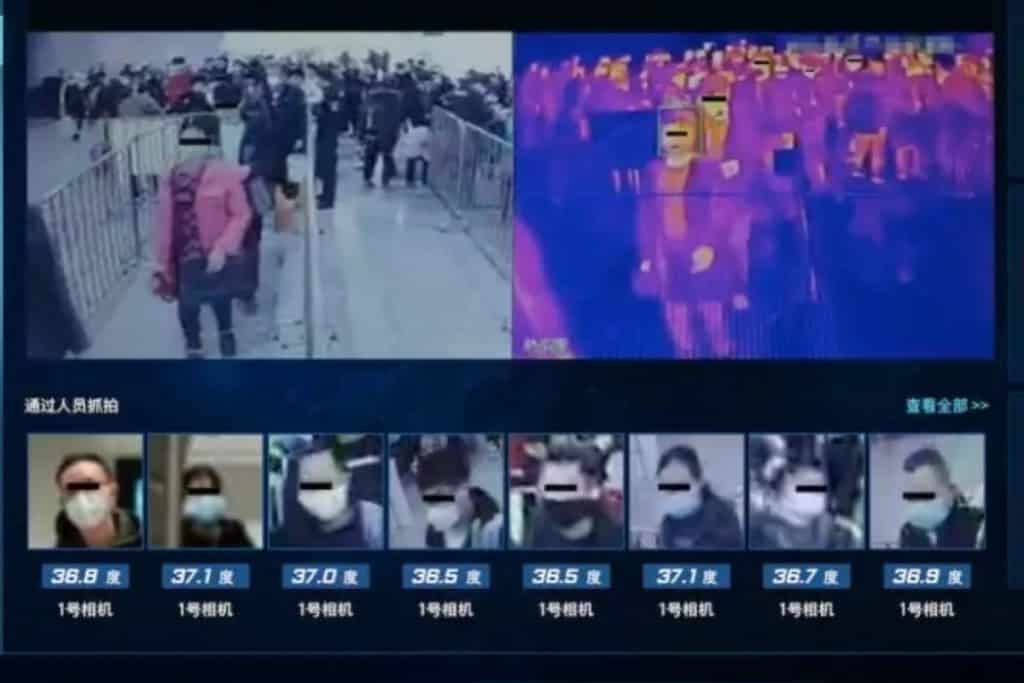 The fever is one of the main symptoms of VIDOC-19. In fact, detecting the fever is a priority for the Chinese authorities in order to identify potential infected people.
In most neighbourhoods, traditional thermometers are used for this purpose. However, public transport hubs are also trying to systems relying on artificial intelligence and infrared cameras.
In Beijing, a system developed by Baidu (the Chinese Google) scans passengers at Qinghe Station using a combination of infrared and facial recognition. If a person's temperature exceeds 37.3 degrees, an alarm is triggered and station staff perform a second test.
According to Baidu, the system can check more than 200 people per minute. This method is therefore much faster than the thermal scanners used in airports.
The Chinese company Megvii, an AI specialist, has also developed a similar system.. This one is used in a Beijing subway station. To create this technology, more than 100 people had to collaborate from home during the Lunar New Year holiday.
China improves facial recognition for face masks
As mentioned before, facial recognition is used by China to detect fever in potentially infected individuals. However, this technology is proving ineffective during the crisis since Chinese citizens wear masks to protect themselves from the virus..
To address the problem, the South China Morning Post reveals that the Chinese government has decided to improve its facial recognition technology. From now on, the system is able to recognize medical masksbut also other obstructions such as beards, scarves, air-purifying masks etc…
To do so, China turned to the work of Stanford University researcher Amarjot Singh. With the help of his team, he created an algorithm designed to recognize faces even when they're covered… with masks, glasses or even hats.
This algorithm examines 14 points on the face and connects them together. to make an identification. A version of this technology is now being deployed in China, helping residences to recognize their residents and refuse visitors even if they are equipped with masks.
Once the outbreak is over, the use of this improved version of the facial recognition system will continue in China. The businesses and residences will benefit from increased security and safety..
Predicting the spread of the virus using data
After the SARS epidemic in the early 2000s, which caused the deaths of 774 people worldwide, the team of John Brownstein, Chief Innovation Officer at Boston Children's Hospital and Professor at Harvard Medical School, developed a new approach to the treatment of SARS. the Healthmap tool.
Thanks to Machine Learning, this tool aggregates information on epidemics from news articles from around the world, social networks, online discussions, etc. and more. In particular, the program seeks publications mentioning specific symptoms of the virus from geographic areas where physicians have reported potential new cases.
Natural language processing is used to analyze texts posted on social networks and distinguish a person commenting on the news from a person complaining about his or her condition. These data are then automatically organized and visualizations are generated. to demonstrate how the disease spreads.
Back in the days of SARS, health experts did not yet have access to such volumes of data; and from the web or social networks to monitor epidemics. It is therefore an asset in the fight against SARS-CoV-2.
However, even for AI, it can be difficult to sort out between reliable data and speculation, rumours, fake news and publications about the symptoms of a simple flu. Machine Learning models must be trained to detect this subtle nuance to be truly effective.
Nevertheless, this approach has already proven to be effective in detecting coronavirus. As early as December 30, 2019, data from Chinese social networks and media have made it possible to detect a cluster of reports of an influenza-like epidemic. L'information has been shared at WHObut it took a little longer to confirm the seriousness of the situation.
So, Healthmap Complements Data Aggregation Techniques used by more traditional organizations such as the US CDC or the WHO. Physicians, researchers and governments rely on these data.
Now Healthmap is even being used by the Early Alerting and Reporting project, aimed at the early detection of biological threats. This is an international cooperative project between public health institutions, including the CDC. Likewise, WHO's Epidemic Intelligence from Open Sources initiative also uses this tool.
In addition to identifying new cases, this technique could help experts decipher the behaviour of the virus more quickly based on traditional medical sources. For example, it is possible to determine the age, gender and geographic location of those most at risk.
Likewise, the Canadian company BlueDot, based in TorontoThe data is collected from multiple online sources. This startup founded in 2014 was able to predict the epidemic several days in advance.
Now she is using airline information to predict where the virus is likely to spread. A valuable resource for airlines and emergency department personnel who may be the first to interact with infected patients.
Identifying the infected with AI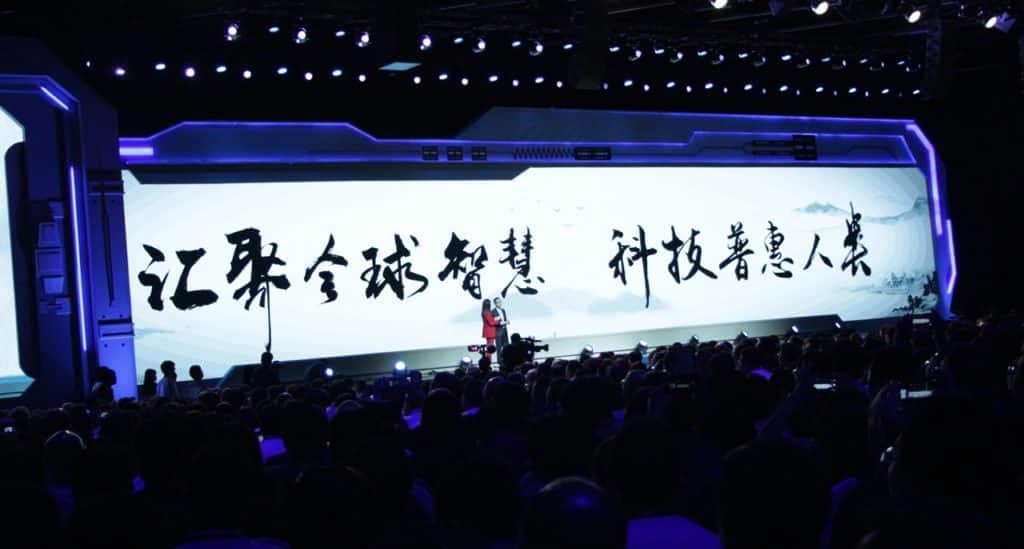 The Damo Academy research institute, founded by the Chinese tech and e-commerce giant Alibaba, has developed an artificial intelligence algorithm capable of diagnosing coronavirus with 96% accuracy from CT scans.
Researchers trained an AI model using samples of data from more than 5000 confirmed cases. Now, this A.I. can distinguish patients infected with CACOV-2-SARS from those with regular viral pneumonia.
The tool was first used at the Qiboshan Hospital in Zhengzhou, Henan Province. It will soon be adopted by more than 100 hospitals in Hubei, Guangdong and Anhui provinces.
This algorithm could help reduce the pressure on hospitals, since it allows diagnosis in only 20 seconds. Usually, a human doctor needs 5 to 15 minutes to analyze the CT scan of a suspect case and deliver his or her diagnosis.
Previously, Damo Academy researchers have also developed an AI-based public health tool. This provides information on the virus, and was deployed on 27 January 2020 by the Zhejiang provincial government. In this way, citizens can obtain information about the epidemic via an official application.
AI to find a cure for COVID-2019
https://www.youtube.com/watch?v=vFo_4j_cZYQ
The Hong Kong-based company Insilico Medicine used AI to create a database of drug compounds. In order to quickly find out how to cure VIDOC-2019, the company has just partially opened its database and allows pharmaceutical companies around the world to use it.
Last week, Insilico posted on its website the molecular structure of hundreds of chemical compounds designed in four days to defeat the coronavirus. Using traditional methods, it would have taken much longer.
To achieve this feat, the company's 85 Data Scientists harnessed the power of the Amazon Cloud and its own Data Centers based in the United States and Taiwan. The company is now seeking feedback from medical chemists and plans to synthesize and test about 100 compounds with its partners.
She also plans to test and synthesize between five and ten compounds on her own. However, for each compound, the operation requires at least $12,000… and that amount can be in the tens of thousands of dollars. For this reason, Insilico is seeking assistance from industry partners and research institutes…
Preventing future epidemics with AI
Thanks to artificial intelligence, future outbreaks of coronavirus could be prevented. Several companies are working to train RNs to discover new drugs.
Among them is the Oxford-based startup Exscientia Ltd. According to its CEO, Andrew Hopkins, new therapies could go from conception to clinical testing in just 18 to 24 months over the next decade through AI.
For example, the startup itself has developed a new compound for the treatment of obsessive-compulsive disorder that is already ready for laboratory testing less than a year after the initial research phase. That's almost 5 times faster than average.
Similarly, the Cambridge-based startup Healx uses the Learning Machine to find new uses for existing drugs. Both companies feed their algorithms with information from sources such as journals, biomedical databases and clinical trials. Based on this data, the algorithms can suggest new treatments for diseases.
According to Neil Thompson, Healx CSO, this technique could very well be deployed against a future outbreak similar to SARS-CoV-2. provided that sufficient data on the new disease are available. Last week, MIT announced that it has discovered a new antibiotic compound that can kill superbugs using AI.
Unfortunately, even if artificial intelligence can discover a drug quickly or find a new use case for an existing drug, it must be clinically tested before it can be prescribed. This may take several years before the remedy was finally commercialized……