According to a study conducted by Synergy Research Group, services are driving the $148 billion cloud market.
While the Las Vegas CES is in full swing, balance sheets and studies are also coming out. The Synergy Group Research firm has just published its latest report on the Cloud market. As a result, the Cloud market is growing at a rate of 25% and will be worth no less than $148 billion in the fourth quarter of 2016. The financial data analyzed in September is based on the results of the six largest cloud services, the infrastructure market, operators and resellers.
This growth in the Cloud market is notably driven by PaaS and IaaS, which together had 53% of CAGR. Next, private cloud hosting benefited from a growth rate of 35% and enterprise SaaS from 34%. The cloud services industry therefore dominates the sector.
2016 also marked a significant difference from previous years. Synergy Research Group notes that spending on IaaS, PaaS or SaaS services has exceeded investment in software and hardware infrastructure.
The cloud service market is now growing three times as fast as the hardware and software infrastructure market. The market leaders during this period were of course AWS, a subsidiary of Amazon, Microsoft, Cisco, HPE, IBM, Salesforce and Dell EMC.
Cloud Market: $65 billion investment in less than a year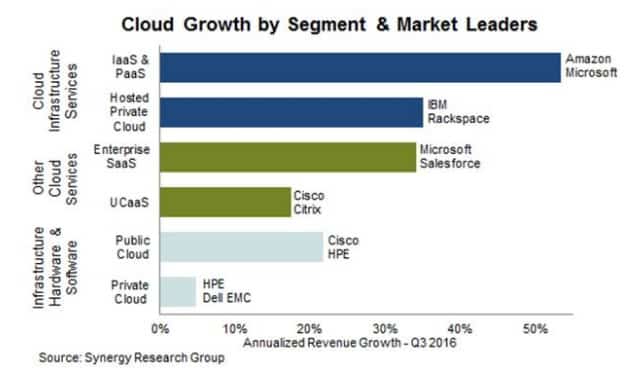 Between the fourth quarter of 2015 and the third quarter of 2016, spending on software and hardware to benefit from cloud infrastructure exceeded $65 billion. Half was invested in the private cloud, but its public form is growing much faster. Service providers that have equipped themselves in the right ways have been able to generate $30 billion in revenue through the various services sold: IaaS, PaaS, and hosting private cloud computing services. SaaS for businesses has enabled them to earn $40 billion while enhancing social networking platforms, emailing, and e-commerce.
Synergy Research Group's Chief Analyst Jeremy Duke explains:
"We've labeled 2015 as the year when the cloud market became mainstream and I would say that 2016 is the year when the cloud began to dominate many segments of the IT market. The main barriers to adoption are now almost a thing of the past, especially when it comes to the public part. Cloud computing technologies are now generating massive revenues for technology providers and service providers, yet this growth is far from over. »