Brave and DuckDuckGo are two web browsers and search engines dedicated to privacy and protection. But how to choose the best of these two rival tools? Answer through our comparison…
The privacy on the web is now a subject of the utmost importance. Internet users have become aware of the importance of protecting their personal data, coveted by companies for marketing and advertising.
It becomes clear that web giants such as Google and Facebook collect much more data than they admit, even if it means using subterfuges to circumvent laws like the RGPD.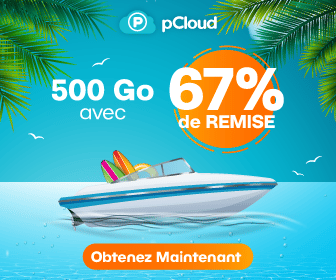 Fortunately, there are more secure alternatives. Among the browsers dedicated to privacy, include Brave and DuckDuckGo.
These two browsers make your privacy their priority. However, if you are on this page, it is because you are wondering which one is better. Answer through this complete comparison.
What is Brave?
Brave is a browser based on Chromiumwith an emphasis on privacy and security without sacrificing performance and functionality.
Its blockchain-based advertising platform represents a real shift in the relationship between the internet and advertising. Its peak performance are also a strong point, as well as its many features.
This browser is available on Windows PC, Mac and Linuxbut also on mobile operating systems iOS and Android.
Default, Brave blocks fingerprinting, ads and trackers. Its business model is based on privacy-friendly ads that benefit both businesses and users.
Moreover, this browser does not use identifiers. L'IP address can therefore not be tracked over time, and no details about the sites you visit are shared.
Brave has several interesting privacy features. First of all, a firewall and a VPN are natively installed for protect and encrypt the user's activity.
This browser does not require you to create an account, as it offers access via one-time use verification code in the form of a password or QR Code.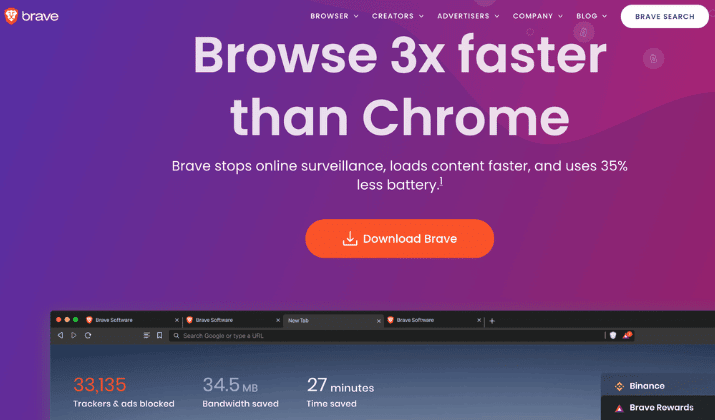 One of the main innovative features of Brave is its reward systemaimed at revolutionizing the way online advertising works. Internet users can opt to view advertisements, and receive a payment in exchange.
The rewards come in the form of Basic Attention Tokens: the cryptocurrency created by Brave, based on Ethereum. It is also possible to make automatic donations to the sites you like to visit, and to decide how many ads you can see.
Local data is used to personalize ads, so a third-party tracker is not needed. This also improves privacy. Note that the reward system is disabled by default.
Another highlight: a library of extensions allowing to extend the functionalities. There are also native extensions like WebTorrent allowing to download torrents without third-party extensions.
Other native extensions include IPFS Companion and Google Hangouts. These extensions allow you to upload content via IPFS to download large files, and receive email notifications. You can also install any extension from the Chrome Web Store on Brave.
Brave also offers a native ad blocker on mobile and PC. So there is no need for a third-party extension, and a synchronization between devices allows access to bookmarks from any device.
Besides ads, Brave also allows you to block content from social networks on the websites. For example, you can disable the Facebook and Google login buttons or LinkedIn and Twitter posts.
A reading mode also allows you to to "distill" a page to remove all content except text. In addition, any web page can be converted to PDF.
Another feature is the PC mode preventing websites from displaying a mobile optimized version. This mode is compatible with all browsers on PC and with Bing, Google, StartPage, DuckDuckGo and Qwant on mobile.
We also find a password manager allowing you to automatically create and store passwords while browsing the web.
Finally, you can enable HTTPS Everywhere to ensure that all your connections to websites are encrypted. This feature is especially useful for hiding highly sensitive or personal information.
What is DuckDuckGo?
DuckDuckGo also offers many features dedicated to privacy. L'Privacy Essentials extension brings together various tools for the search engine and helps to speed up browsing. It is compatible with all major browsers, and acts as both a search engine and an ad blocker.
This extension also blocks popups and banner ads in search results. It also allows encryption of search results, and warns websites not to share your data.
In parallel, DuckDuckGo also allows you to automatically block trackers on the websites you visit. This also prevents advertisers or companies from which these trackers originate from collecting and sharing your data.
For each website you visit, DuckDuckGo assigns a Privacy Grade according to its level of confidentiality. This grade is a letter between A and F and indicates the level of protection.
One of the most popular features of DuckDuckGo is to prevent websites from collecting IP address, cookies or other information about you. Your searches are saved completely anonymously, leaving no possibility of tracing them back to you.
If a website collects data through cookies, the search engine prevents cookies from accessing your data. Your identity and personal data are not exposed.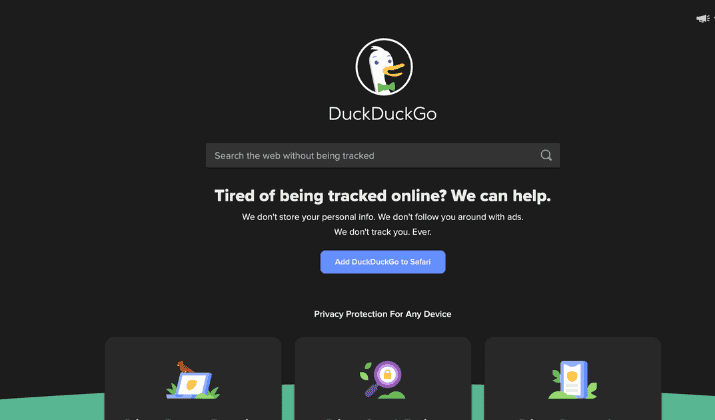 On the mobile application, the Burn Bar feature allows you to delete browsing data and close all tabs at the end of each session. This avoids internal storage of your data, and allows you to control your search history.
A recent feature of DuckDuckGo is the email tracker removal toolstill in beta version. This email protection service works with any existing email service and allows you to remove trackers from the messages you receive.
This tool was designed after DuckDuckGo experts discovered that the majority of emails shared on the web usually contain trackers that can detect when an email is opened and capture personal information such as geographic location or device type.
Many times, the data are also sent to third parties without the consent of the users. The Email Protection feature aims to solve this problem.
Another feature prevents your search results from leaking by confusing your clicks. This way, it becomes more difficult for websites to determine how you landed on their platforms.
A encrypted version of websites that you click on is displayed, preventing the websites from learning more about you. Thus, DuckDuckGo acts as a wall between the user and the site.
Unlike many search engines, DuckDuckGo does not collect data about you or your web activity. So you can browse without a user profile and avoid personalized ads. Search results are not prioritized based on your profile either.
Like Brave, DuckDuckGo also blocks embedded content from social networks on websites. This is because such content can allow the collection of data and IP address by the website and social network. This blocking feature is available on the mobile application and browser extension.
In addition, DuckDuckGo makes it possible to quickly browse the web via Tor without sacrificing anonymity thanks to the Exit Enclave feature. However, it is necessary to download Tor and use DuckDuckGo for maximum privacy.
This search engine also offers a protection against malicious websites through its Content Security Policy. This feature communicates with the browser to discover and block any external site that could launch an attack such as code injection, clickjacking or XSS.
DuckDuckGo vs. Brave: pricing and customer support
In terms of customer service, Brave offers help via a help center, social networks, an online contact form and the Brave Community forum.
On his side, DuckDucGo settles for a media center for media requests. However, it is possible to send requests via email, postal address, contact form, or HackerOne to report a cybersecurity vulnerability.
Regarding the price, Brave is available for free. There is no need to pay to block trackers and ads, and the Brave Rewards and Brave Ads features are completely free and optional.
The search engine DuckDuckGo is also free, but generates ads through its network of affiliations with eBay and Amazon. It also offers ads from the Yahoo-Bing network.
Brave vs DuckDuckGo: the best private browser for Android
On Android smartphones, the default web browser is Google Chrome. However, the mobile versions of Brave and DuckDuckGo are better privacy alternatives.
These two mobile browsers are based on Chromium, like Google Chrome. However, they have several differences in terms of interface and user experience.
The DuckDuckGo interface looks more like Chromeand wins in ease of use. However, it is too minimalist for users looking for a rich user interface.
On its side, Brave offers a more original user interface. A toolbar at the bottom of the screen gives access to menus and options. It can be disabled by adjusting the appearance settings and customization options. This browser offers more control and customization options.
For privacy, DuckDuckGo allows to delete all the history and browsing data with a single click. There is also an option to automatically delete the data as soon as the browser closes or remains inactive for a certain period of time.
In order to continue accessing your favorite websites, you can choose the sites whose data will not be deleted. A feature activated by default helps to get rid of trackers, and indicates a privacy score for each site visited.
Brave also offers many privacy features, allowing you to manage data efficiently. You can choose to automatically delete browsing data when you close the window.
The trackers are blocked by defaultand there are options to customize the level of blocking to your preferences. Advanced options also allow you to disable the Twitter and LinkedIn tabs, the Google and Facebook login buttons, or to use a secure DNS.
Several additional features are available in beta version on DuckDuckGo : the email protection allowing to hide its real address behind an alias, and the protection against the tracking of applications.
The "Brave's "reward system allowing you to view ads to earn tokens as you browse. These tokens can be used to donate to your favorite websites.
Brave is also compatible with IFPS: a peer-to-peer protocol allowing to easily share resources without government intervention. The goal is to avoid any form of censorship. Finally: Brave offers its own search engine Brave Search.
Brave for Android offers more specific options for privacy. On the other hand, this browser does not allow you to delete all data in one click like DuckDuckGo.
If you want synchronize data between your smartphone and your PC, DuckDuckGo is not the right choice since it is only available on Android. Brave is available on PC and allows to synchronize data very easily between devices with a simple QR code.
Brave and Duckduckgo mobile browsers are two good options for privacy. The choice between the two depends on your interface preferences and additional features.
DuckDuckGo accused of not blocking Microsoft trackers
Sometimes you find something so disturbing during an audit, you've gotta check/recheck because you assume that *something* must be broken in the test.

But I'm confident now.

The new @DuckDuckGo browsers for iOS/Android don't block Microsoft data flows, for LinkedIn or Bing.🧵 pic.twitter.com/ol7Ydfo3BJ

— Zach Edwards (@thezedwards) May 23, 2022
In May 2022, the researcher Zach Edwards made a curious discovery. This privacy expert revealed that the new DuckDuckGo browsers for iOS and Android do not block Microsoft's data feeds for the social network LinkedIn and the search engine Bing.
Yet both mobile browsers promise to "automatically block hidden third-party trackers." However, the researcher then added that DuckDuckGo reports this problem on its website in all transparency.
In reality, DuckDuckGo has partnered with Microsoft. That's why ad clicks are directly managed by Microsoft's ad network. In its defense, DuckDuckGo also points out that Microsoft collects significantly less data than other search engines such as Google.
DuckDuckGo CEO and founder Gabriel Weinberg spoke out in return. According to him, Twitter's search results are totally anonymous including ads. The firm has worked with Microsoft to protect ad clicks.
When you load our search results, you are completely anonymous, including ads. For ads, we worked with Microsoft to make ad clicks protected. From our public ads page https://t.co/KHpWJ8LIV5, "Microsoft Advertising does not associate your ad-click behavior with a user profile."

– Gabriel Weinberg (@yegg) May 23, 2022
He also explains that most third-party trackers not related to searches are blocked, but that the terms of the partnership with Microsoft oblige to allow its trackers. Nevertheless, Weinberg says DuckDuckGo is doing everything it can to get out of this obligation and expects to do so soon.
Therefore, the only solution to block any form of tracking is to use a dedicated extension. This is valid regardless of the browser you use.
These browser extensions are easy to find on PC, but the task is more complicated on mobile. The reason is that few mobile browsers support add-ins.
Brave CEO sharply criticizes DuckDuckGo
1/ When DuckDuckGo got caught making exceptions for Microsoft and Bing trackers [ref], one defense they offered was that it wasn't a big deal, because DDG browsers block third-party (3p) cookies. We beg to differ. Discussion in short thread 👇.

[ref] https://t.co/g5IYuAYB42

— BrendanEich (@BrendanEich) June 16, 2022
Following the controversy about Microsoft trackers on DuckDuckGo, the CEO of Brave spoke in turn. According to Brendan Eich, DuckDuckGo does not assume its betrayal.
On Twitter, he states that " when DuckDuckGo was caught to make exceptions for Microsoft and Bing trackers, their defense is that it wasn't a big deal, because DuckDuckGo browsers block third-party cookies ".
Yet, as he points out " the thing is that the DuckDuckGo browsers also include exceptions for how Microsoft trackers get around blocking third-party cookies: by attaching identifiers to URL query parameters to identify users from one site to another ".
Also according to Brave's CEO, " DuckDuckGo knows how trackers do itbecause the DuckDuckGo browser prevents Google, Facebook and others from doing so. However, this protection does not apply to Microsoft trackers ".
In Brandon Eich's eyes, brands like DuckDuckGo and Brave need to put user privacy above all else including partner requests. He promises that " Brave does not achieve privacy of users to satisfy its partners, and is working on a private search ads option ".
DuckDuckGo finally blocks Microsoft trackers
Following Zach Edwards' discovery of Microsoft trackers in May 2022, DuckDuckGo has suffered a barrage of criticism. The firm was accused of hypocrisy, because it blocked other trackers, but had signed a partnership with Microsoft as the main results provider for its search engine.
Following this controversy, DuckDuckGo announced on its blog on August 5, 2022 that its Third-Party Tracker Loading Protection will block more Microsoft tracking scripts.
The only exception will be trackers from bat.bing.comwhich may appear when a user clicks on an ad served by Microsoft from a DuckDuckGo search results page. The data is kept for 7 days by Microsoft, and used to count the number of conversions of clicks into product purchases.
In parallel, DuckDuckGo has updated its Privacy Dashboard feature on its browsers and extensions. The goal is to include logs of which third-party trackers' requests are accepted or denied and for what reasons.
The company has also created a list of blocked trackersnow including all 21 Microsoft-related URLs. This list is made public on a GitHub repository, and the code will soon be opened to generate a list for Tracker Radar.
A new section has also been opened in the help pages, to list which trackers are blocked and for which product. This distinguishes between browser applications for Android, iOS and Mac, and extensions for Chrome, Edge, Firefox, Opera and Safari.
In the future, DuckDuckGo also plans to implement a protocol for tracking the conversion of ads. This protocol will keep data sharing to a minimum, while giving marketers the essential information they need.
Brave vs DuckDuckGo: Conclusion
In conclusion, Brave and DuckDuckGo are both secure and confidential. However, the time has come to decide between them.
DuckDuckGo is a search engine dedicated to users seeking privacy, and does not store search history or personal information such as IP address.
However, this enterprise has been the subject of several controversies regarding its privacy practices. Even today, several grey areas remain concerning its relations with eBay and Amazon or its potentially vulnerable browser extension.
Therefore, Brave can be considered as the best search engine and browser in terms of privacy. It does not send any data to Google, and most data collection services are disabled. The information is completely anonymized.
Also, Brave is compatible with TorIt protects against trackers, blocks third-party cookies and fingerprinting by default. The data management policy is also presented in detail in a fully transparent way.
Add to that the Brave Rewards feature to earn rewards and support your favorite content creators, it's hard to beat Brave… until a new challenger arrives?

Facebook



Twitter



LinkedIn