Discover the predictions and estimates of the specialists concerning the various markets of Big Data, Analytics and Business Intelligence. Predictions that shape the future of the Big Data industry.
Currently, Big Data, Business Intelligence and Analytics investments are driven by three main factors. These three factors are centralizing companies around their customers, focusing on initiatives to enter new markets, and improving operational performance.
The discovery of actionable information hidden in unstructured data offers companies the opportunity to be more competitive and improve in areas of limited visibility. These areas include the relationship between B2B sales and services, health services, and maintenance of complex machinery.
Evolving, The Big Data, BI and Analytics industry will experience strong growth and significant transformation in the coming years.. Here are the main market forecasts and estimates released by various specialists and firms :
BI and analytics market
The global BI and analytics market is expected to reach $16.9 billion in 2016. An increase of 5.2% over 2015. According to Gartner, The BI and analytics market is in the final stage of a multi-year transition to self-service analytics..
Big Data and Business Analytics Market
According to IDC, Big Data and business analytics global revenues would increase from $122 billion in 2015 to more than $187 billion in 2019.. A 50% increase over 5 years. The industries with the largest revenue opportunities are Discrete Manufacturing ($22.8 billion in 2019), Banking ($22.1 billion) and Process Manufacturing ($16.4 billion).
Big Data Market
According to Wikibon, the global Big Data market would grow from $183 billion in 2014 to $92.2 billion in 2026. This represents an annual growth rate of 14.4%.. Wikibon predicts significant growth in all four sub-segments of Big Data software until 2026. Data management would increase by 14%. The technologies of coors such as Hadoop and Spark would grow by 24% per year. Databases will grow by 18% and Big Data applications, tools and analytics will gain 23% revenue growth.
Analytical and BI applications market
According to Apps Run the World, in 2015, The global market for analytical and business intelligence applications grew by 4% to $11.6 billion in licensing, maintenance and subscription revenues.. SAP remains the market leader, with 10% of PdM and $1.2 billion in revenue in Analytics and BI products. Licensing, maintenance and subscription revenues increased by 23%. SAS Institute came in second with a 9% share, followed by IBM at 8%, Oracle at 7% and Microsoft at 5%.
Big Data Cloud Solutions Market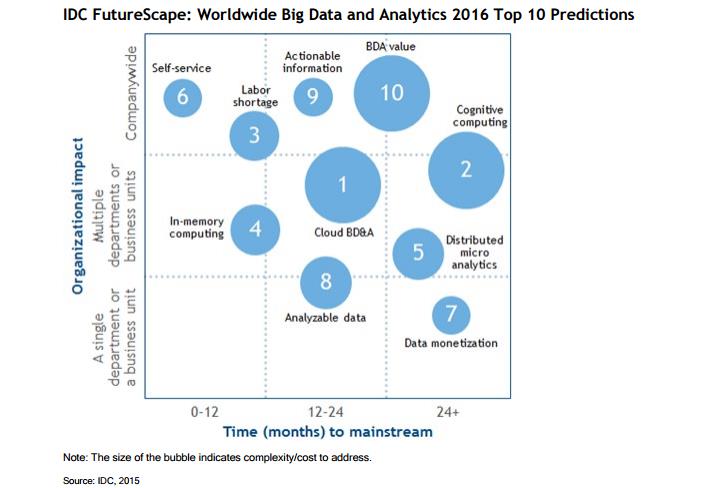 By 2020, ICD predicts that spending on Cloud-based Big Data and Analytics technologies will grow 4.5 times faster than On-Premises solutions.. By 2020, 50% of business analytics software will offer prescriptive analytics based on cognitive computing capabilities.
Data Market
According to 451Research, the data market as a whole is expected to double in size by 2020. It would rise from 69.6 billion in 2015 to 132.3 billion in 2020.
Adoption of Big Data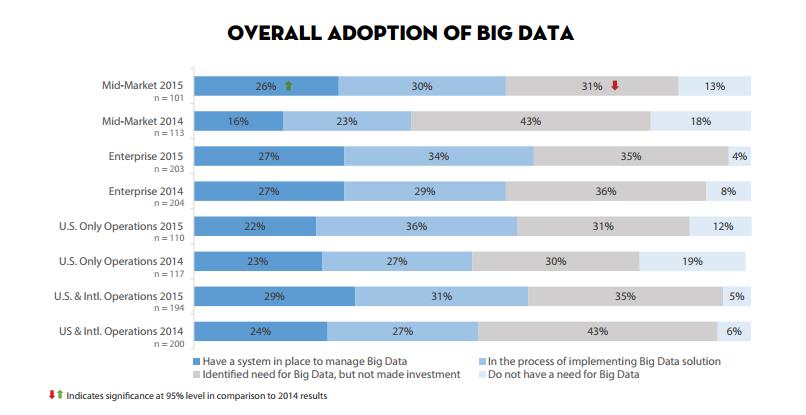 According to the International Institute for Analytics, global adoption of Big Data is driven by U.S. and international operations (29%) and U.S. and international companies (27%). Midmarket firms are experiencing the highest growth rate of Big Data initiatives and programs in their organizations between 2014 and 2015.
Main objectives of the Data initiatives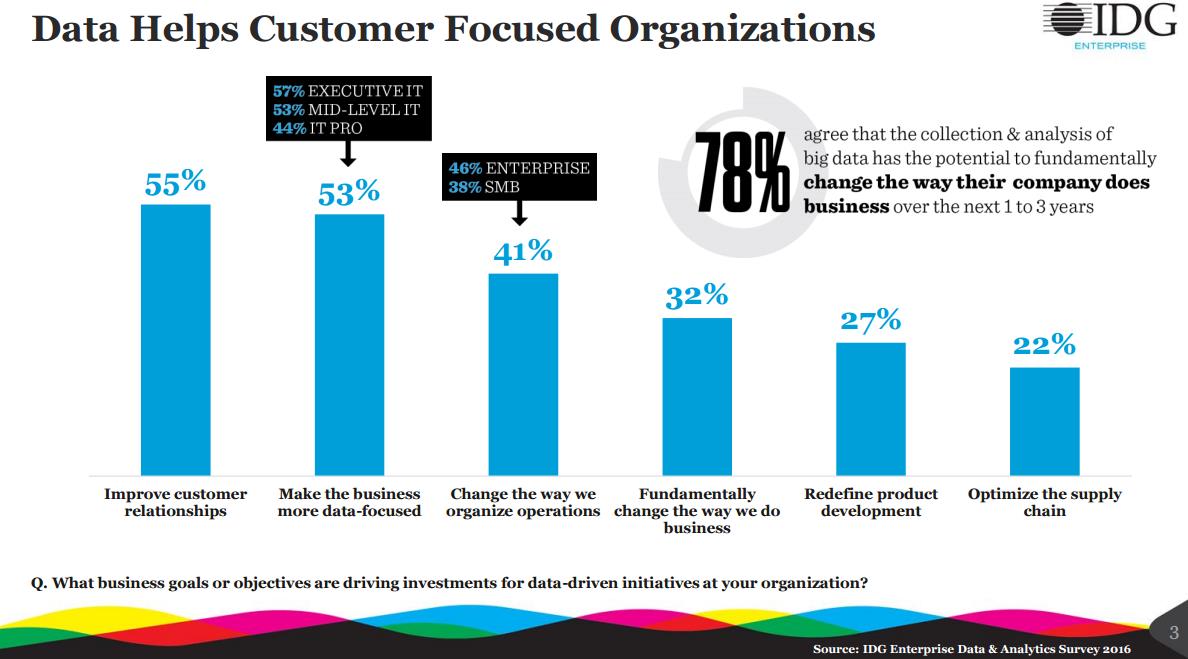 According to IDG, Investments in Data initiatives currently have two main objectives. They are to improve customer relationships (55%), and to focus companies on data (53%).. 78% of companies recognise that Big Data collection and analysis has the potential to fundamentally change their business within 1-3 years.
Big Data Investments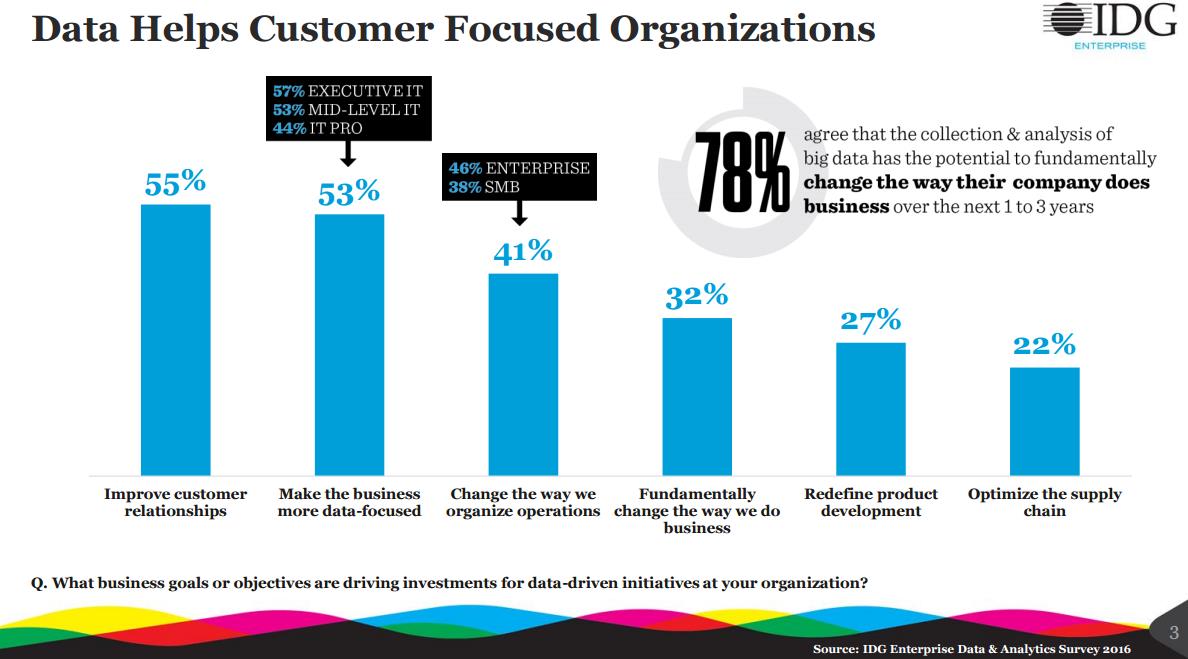 According to Matt Turck, Big Data investments accelerated rapidly at the beginning of this year. DataDog raised $94 million, BloomReach $56 million, Qubole $30 million, and PlaceIQ $25 million.. In total, Big Data startups received $6.64 billion and 2015, 11% of total technology investments.
Business Analytics Marketplace
According to IDC, in 2015, five main leaders shared the Business Analytics market. They areOracle (16.4%), SAP (13.1%), IBM (10.3%), Microsoft (9.1%) and SAS (6.1%). The on-premises portion of the market decreased by 1.4%, while revenues from Public Cloud services increased by 26.5%. Public Cloud now represents 17% of the market.
Global expenditure on cognitive systems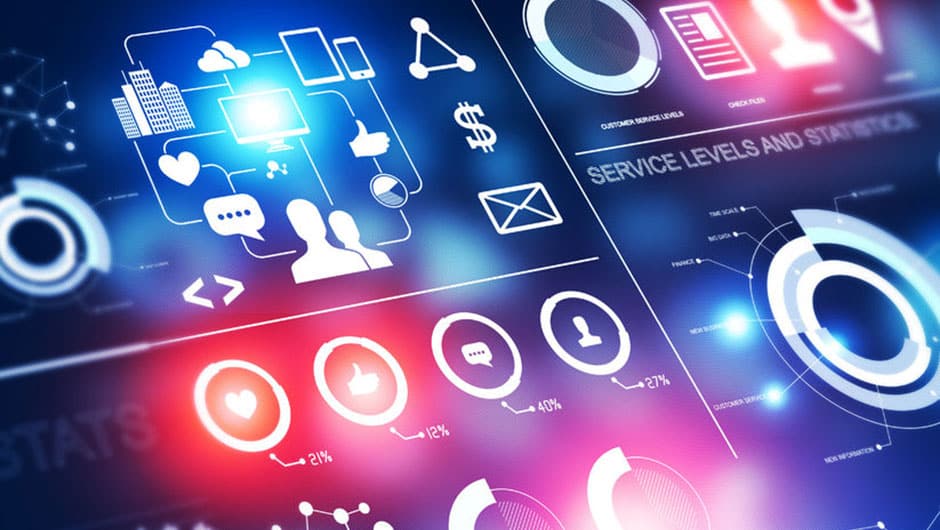 Still according to IDC forecasts, Global spending on cognitive systems will reach $31.3 billion in 2019 with an annual growth rate of 55%.. More than 40% of cognitive systems spending will be on applications and software platforms.
Prescriptive analysis software market
According to Gartner, the market for prescriptive analytics software is expected to grow by 22% per year. It would grow from 415 million in 2014 to $1.1 billion in 2019. 10% of companies currently use prescriptive analysis. This rate is expected to increase to 35% by 2020.
Global market for business intelligence and analytical software
According to Marketresearch, The global market for analytical and business intelligence software would grow from $17.9 billion in 2014 to $26.78 billion in 2019.. This represents an annual growth rate of 8.4%. The market would be mainly driven by banking, financial services, insurance, retail, IT and telecom.
Investments in predictive and prescriptive analytics
By 2020, Gartner predicts that predictive and prescriptive analytics will attract 40% of new investments in business intelligence and analytics. By 2020, only 50% of Chiefs Analytics Officers will have succeeded in linking financial goals to initiatives and investments in analytics and BI.
Hadoop Market and Big Data Analytics
According to Statistics Market Research Consulting, the Hadoop and Big Data market has gained 8.48 billion in 2015. By 2022, it could reach $99.31 billion with an annual growth rate of 42.1% from 2015 to 2022.. Among the factors contributing to this growth are the rapid growth in consumer data collection and taxonomy techniques.