BaaS or Blockchain as Services are Cloud services that allow companies to operate the block chain without having to develop and manage their own infrastructure. Find out everything you need to know about them.
Many companies, as well as individuals, are interested in adopting blockchain technology. Unfortunately, the creation, configuration and operation of a blockchain is a complex and time-consuming task. most get discouraged by this difficulty.
According to a study by Gartner, due to the technical complexity of the block chain, only 1% of corporate CIOs have adopted the blockchain in their companies and only 8% plan to adopt it in the short term. Nearly 77% do not even consider taking a greater interest in it. To facilitate the process, many startups and tech giants are offering BaaS-type cloud services.
BaaS or Blockchain as a Service: definition
The BaaS or Blockchain as a Service is a type of Cloud service that allows users to create, host and use their own applications, smart contracts and Blockchain functions.
The Cloud Service Provider manages the tasks and activities necessary to keep the infrastructure agile and operational. This type of service is based on the concept of SaaS (software as a service) and works in the same way. It is part of a context where business models of "servicing" related to Cloud Computing are becoming increasingly popular, just like Robotics as a Service (RaaS) for example.
BaaS or Blockchain as a Service: how does it work?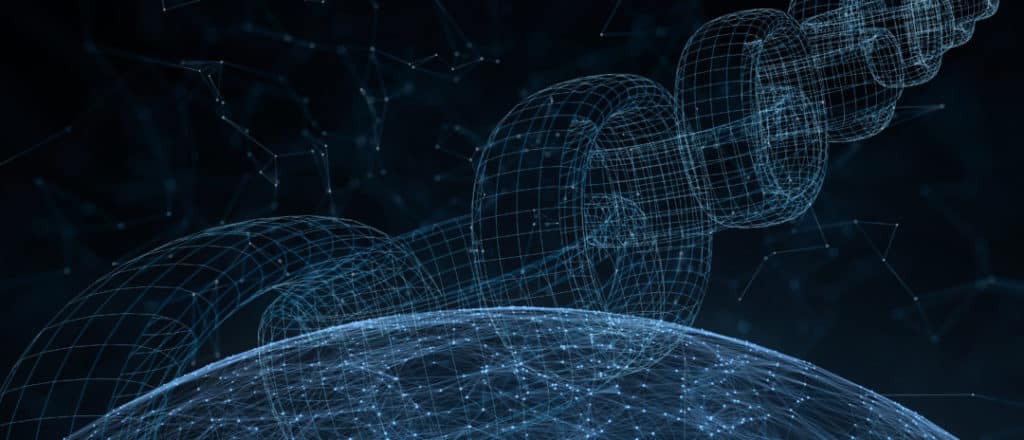 We talk about BaaS (Blockchain as a Service) when a external cloud service provider to set up, configure and manage an infrastructure of Blockchain technology. By paying for a BaaS service, the customer instructs the provider to set up and maintain the connected nodes of the block chain.
The provider supports maintenance of the infrastructure and all elements related to the block chain. Other related activities are also part of the service: bandwidth management, resource allocation, hosting, security features and protection against cyber attacks .
Thus, the BaaS model allows customers to focus solely on the functionality of their block chains rather than having to deal with performance and infrastructure issues at the same time.
How a BaaS service works can be compared to that of a web hosting servicewhere the customer pays a provider such as Amazon Web Services or 1&1 to host their site on their servers rather than having to host it on their own computer and deal with maintenance and infrastructure issues.
In this sense, the BaaS model could enable a wider and deeper penetration of blockchain technology in companies in all industries. Regardless of its size and sector of activity, a company can now outsource all technical support for the block chain and focus on his goals.
BaaS or Blockchain as a Service: Top of the best suppliers
Most major tech companies have started to enter the BaaS market by offering their own services. Here is thehe best options currently available.
Microsoft Azure Blockchain Service
https://www.youtube.com/watch?v=jeSuHdqWFYE
In 2015, Microsoft was one of the first technology giants in the world. to offer BaaS with Azure Blockchain Service. In November of the same year, Microsoft and ConsenSys partnered to create the Ethereum Blockchain as a Service (EBaaS) on Microsoft Azure: a service designed to help users create their blockchain environments on the Azure Cloud.
In 2016, Microsoft collaborated with Blockstack Labs, ConsenSys and other developers to create an identity system based on the blockchain, allowing people, applications, products and services to interoperate between different cloud providers, blockchains and organizations. In 2017, the firm also launched the Enterprise Smart Contracts service providing users with all the necessary tools to create their own Blockchain services.
Azure Blockchain Service allows you to develop, test and deploy secure blockchain applications. Thanks to modular and preconfigured options, application development time is greatly reduced. In addition, customers only pay for the resources they use, such as computing power or data storage. Users can choose the most appropriate ledger to develop their solution: Corda, Ethereum, or Hyperledger Fabric.
IBM Blockchain Platform
In 2017, a Juniper Research study found that 60% of corporate IT managers consider IBM to be the market leader in the Blockchain market. IBM's Blockchain Platform enables enterprises to develop, govern and operate a block chain ecosystem quickly and cost-effectively on a flexible Cloud platform.
It is possible to take advantage of a free trial offer. Afterwards, The Enterprise Membership Plan is offered for $1,000 per month. for each peer deployed. Users benefit from premium support and a secure environment. For example, Walmart uses this service to improve the traceability and transparency of its supply chain.
Amazon Blockchain Templates
Blockchain Templates is the BaaS service from AWS, the Amazon cloud. It facilitates the development of projects based on the blockchain. It is possible to create applications based on two different ledgers: the Ethereum, or the Hyperledger Fabric from the Linux Foundation. The Ethereum is more oriented towards public applications, while the Hyperledger Fabric is more adapted to private Cloud applications.
Launched in April 2018, this service appeared later than those of IBM or Microsoft. However, as a leader in the Cloud market, AWS is in a position to make its competitors tremble.
Alibaba BaaS
In China, too, the tech giants are interested in BaaS. And so.., Alibaba launched its BaaS offer on several markets including Europe. This is a service to help users create secure environments for the implementation of Blockchain on Hyperledger Fabric and Ant Blockchain frameworks.
A many different applications are supported by the department. Examples include automatic deployment, consortium blockchain management, smart contracts, and certificate and user management.
Oracle Blockchain Cloud Service
The Oracle Blockchain Cloud Service part of Oracle's PaaS offering. This service allows companies to exploit the block chain through a managed approach. The service is based on the Hyperledger Fabric ledger from Linux.
More recently, Oracle has also launched its Oracle Blockchain Applications Cloud: a new SaaS application suite designed to improve transparency and traceability in the supply chain. For example, one application allows users to trace products. These applications can be deployed immediately by companies, eliminating the need for them to create them.
Baidu Blockchain Open Platform
In early 2018, Chinese web giant Baidu launched its own BaaS platform. Directly based on a technology developed by himThis service is designed to facilitate transactions and their tracking using distributed ledger technology.
Baidu quotes several potential applications for this service. We can mention digital currencies, insurance management, digital invoicing or bank credit management.
Huawei Blockchain Service
Best known for its telecommunications infrastructure and smartphones, Huawei recently launched a BaaS platform. It aims to help companies develop smart contracts thanks to the chain of blocks.
This solution is based on the Hyperledger Fabric 1.0 ledger from Linux. The technology is intended for use in the supply chain, public services such as identity verification, and financial auditing, among others.