Data processing and analysis teams hold an undeniably important role in a company. Indeed, today's organizations manage an innumerable and unlimited amount of data which, only with an intelligent exploitation, will bring them benefits. Therefore, the Artificial Intelligence Developer or AI Developer is part of this team.
AI developer: the missions
An AI developer within an organization is in charge of designing Artificial Intelligence solutions. It will have to test advanced algorithms to perfectly succeed in a project dedicated to AI. In fact, these AI solutions are essential allies for the company. They are used in particular to translate data useful to the company, whether in predictions or in recommendations. In this case, the role of the AI developer is to provide useful information to the company's executives and managers. It also develops predictive applications AI-based predictive applications. Here, the solutions it deploys integrate directly with the product.
From then on, the AI developer's missions are related to the data life cycle. That said, he executes them step by step according to the latter. First of all, he analyzes the precise needs that it must meet. He selects the data sources to be processed, which differ according to the objectives to be achieved. Then, the AI developer will be led to make the data exploitable through artificial intelligence. For example, this involves the design and training of neural networks. The AI will then operate to extract meaning from them. The third mission of an AI developer is to render the information obtained to the customer. He does this by creating dashboards with data vizualization tools. In addition, an AI developer can also take care of the creation and integration of a product data-driven product into an enterprise application.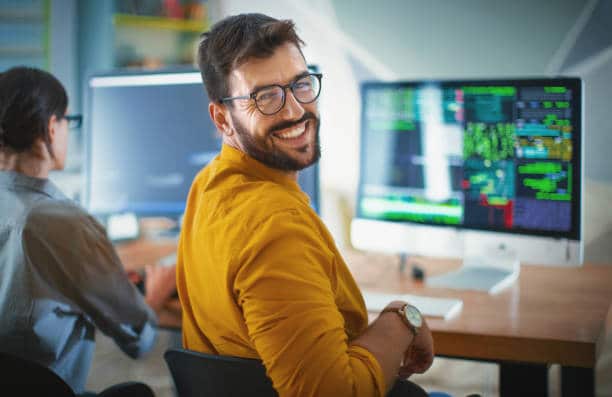 Focus on the profile of an AI developer
First of all, the job of an AI developer is rather product-oriented, unlike that of a Data Scientist. The latter is concerned with conducting experiments on data. And this, without necessarily knowing beforehand what he really wants. An AI developer, on the other hand, relies on data to build a product. As a result, he fulfills a vital need of the company, which is to develop data-driven solutions. He designs and develops digital product prototypes, which makes his role more operational.
Second, a good AI developer must have a very good understanding of the business issues. In fact, it looks like a data engineer, but only the purpose differs. An AI developer must therefore be perfectly aware of the stakes of product development. Also, he has to select well each functionality as well as its representation. Giving the best possible experience to the end user is his main goal. Thus, he is interested in the way the data is used.
Skills and Qualifications
The job of Data AI Developer requires strong computer and programming skills.
Mathematics, and particularly the statistics, should be the first weapons of an AI developer. And besides Artificial Intelligence being an obvious one, he must be comfortable with the software development. According to what is explained above, the main tasks of an AI developer are the operation and development of applications. This means, among other things, that excellent handling of these tools would be his very first required skill. An AI developer, if he wants to succeed in his job, should understand machines better than people. He should be a "super geek of them." He also comes to the conclusion that the AI developer should equip himself with excellent adaptation and analysis skills. Indeed, since his goal is to design efficiently applicable solutions. One of the qualities that an AI developer should have is also good interpersonal skills. He collaborates and communicates with several teams. So, he should be a communication indomitable.
On the other hand, doing the job also requires the mastery of design and optimization of a database. And this, from the acquisition to the maintenance of the platform. As a specialist in data processing, he must know how to make them talk and report on his recommendations.
The field of artificial intelligence is rapidly evolving more and more every day. This is one of the reasons why a technology watch is always necessary. Moreover, the knowledge of the different solutions on the market is also necessary. A good AI developer must therefore be competent in all this.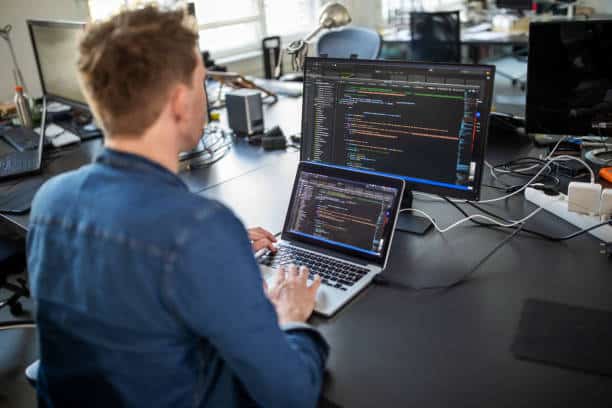 Becoming an AI developer: do you have to be an engineer to be in charge of a Data project in the digital industry?
Training is strict for those who want to get into the position. In general, AI engineers are trained in Bac +5 of Grande Ecole or University. And eventually, this is accompanied by a specialization in Artificial Intelligence.
In addition, all the related professions require advanced knowledge in machine learning. A perfect mastery of languages such as Python is also an essential point to take into account.
In addition, a significant experience in the field is in almost all cases required. Otherwise, there are also schools that prepare for the job. Here is a non-exhaustive list: Ecv, O'Clock, Efficom, Maestris, Cesacom and Esaat.
What about the salary?
The salary of an AI developer depends largely on the industry, experience and skills. That said, it can range from 40 000 € à 100 000 € per year. Indeed, the range is as enormous as the job itself.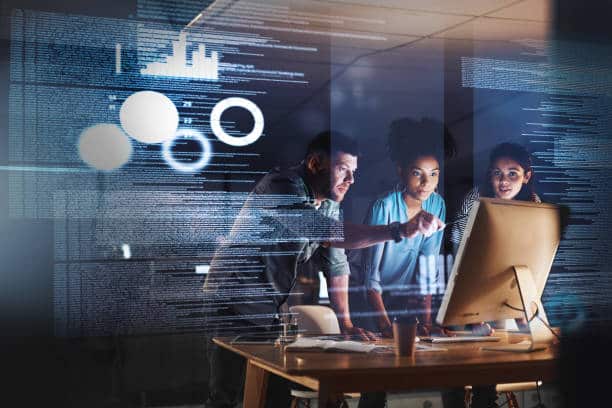 Trends and factors of evolution
An AI developer practices his activities in two environments. Either it is a company that has Artificial Intelligence needs, or it is a company that offers AI development services. Nevertheless, it is logical and undeniable that the technology will not stop evolving. Consequently, the job of AI developer will also continue to evolve and it will certainly break down into several categories. These categories may or may not be related to AI.

Facebook



Twitter



LinkedIn