Tired of intrusive online advertising and ad tracking on the web? Check out our selection of the best ad blockers: ad blocking software and browser extensions.
Obviously, online advertising has advantages. In particular, it allows you to finance free websites, but also to take advantage of targeted advertising based on your personal data.
However, many poorly designed online advertisements are intrusive and annoying as much as possible. Worse still, tracking cookies and other trackers to collect your data for targeted advertising raises privacy risks.
For example, a recent study reveals that 93% of pornographic sites collect and transmit your data to third parties for the purpose of targeting advertising. But you don't necessarily want to information of an intimate nature such as your sexual preferences …go from hand to hand…
Fortunately, there are many ad-blocking software and other web browser extensions available. These tools will allow you to block the most annoying ads, evade the most intrusive marketing systems, or even to Blocking Adware malware that can contaminate your electronic devices. Here is our selection of the best AdBlockers.
AdBlock Plus, the reference for ad blockers
Compatible: Chrome, Firefox, Safari, Opera
AdBlock Plus (ABP) is one of the most popular Ad Blockers. Its browser extension, compatible with Firefox, Chrome, Safari and Opera installs quickly and offers a list of pre-configured filters as well as the ability to filter malware and social network buttons.
Advanced users will be able to choose additional filter listsand the ability to configure custom filters. It's also possible to remove your favorite websites from block lists to help them continue to exist through advertising.
This AdBlocker also offers Filters allowing "non-intrusive advertising". . However, users who do not wish to receive any advertising can disable the options in the settings. On Android, a Firefox-based AdBlock browser allows you to block ads. An AdBlock Plus application is also available for iOS.
AdBlock, (the other) ad blocker reference
Compatible: Chrome, Opera, Safari
First of all, it should be pointed out that AdBlock is in no way related to AdBlock Plus. It is therefore by no means a lighter version of ABP.
This ad blocker is also one of the market references. Its Chrome, Opera and Safari compatible extension uses a series of filter lists to automatically block ad content from known ad servers and agencies.
Users can stick to the default lists, subscribe to optional lists, or even create their own lists. Again, it is possible to whitelist your favourite websites.
Shelblock: an ad blocker for the whole system
Compatible: Windows
So far, we have presented you with ad blockers for web browsers. The Shelblock anti ad blocker software differs from these by its ability to prevent ads from appearing throughout the OSand not just in the browser.
In fact, it is not an extension for Chrome or Firefox, but a Windows compatible software. Once installed, it blocks all banner ads from all applications.
A Premium version allows you to do without interstitial ads that interrupt playback on streaming services (YouTube, Spotify, etc.). additionally protects against malicious sites who are phishing. So we're dealing with a lot more than just a classic ad blocker. At the same time, it's also setting up a system of parental regulation.
It automatically blocks a number of websites that are not suitable for a public game. At the same time, it also filters the results displayed by the search engines and sets up a password, always with the aim of protecting children.
AdBlocker Ultimate, the totally independent ad blocker
Compatible: Chrome, Firefox, Safari, Opera
Less known than ABD and AdBlock, AdBlocker Ultimate remains an excellent choice. This free extension is not affiliated with any advertising company…and therefore filters out absolutely all advertising. This is its strength compared to the competition.
In addition, this extension Automatically blocks known malware, adware and tracking domains. This extension is compatible with Chrome, Firefox, Safari and Opera and is aimed at Internet users who do not wish to receive any advertising.
Ublock Origin, the minimalist ad blocker
Compatible: Chrome, Firefox, Safari
Ublock Origin is a browser ad-blocking extension that focuses on simplicity and efficiency. If you want to enjoy an ad blocker without the hassle of a gas plant, this is an excellent choice.
This extension comes with several filter lists for the most popular ad and malware sources. Additional lists are available, and it is possible to read and create your own filters from host files.
AdLock, an ad blocker in software form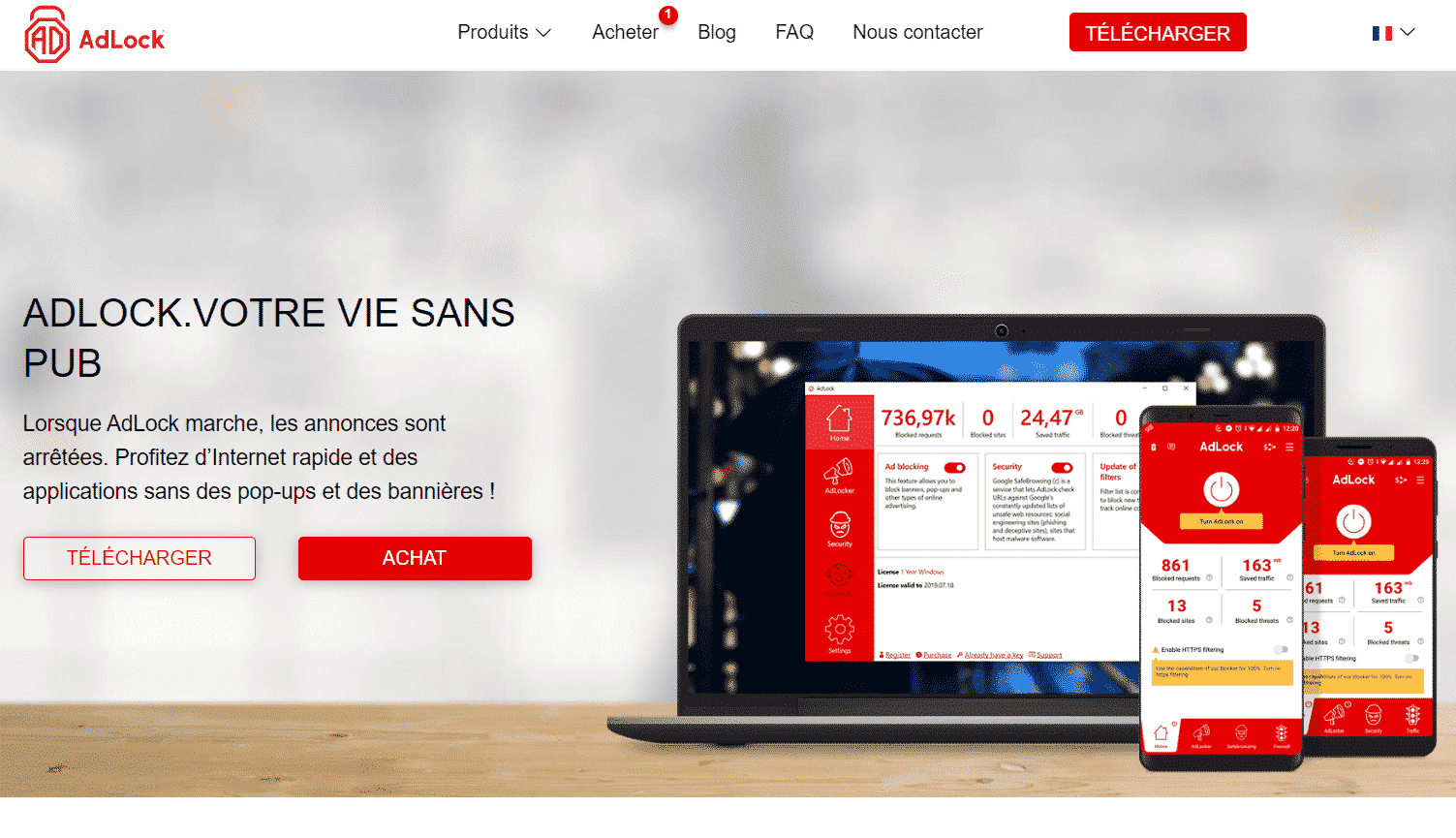 Compatible: Windows, Chrome, Android
If you prefer software rather than a web browser extensionAdLock is one of the solutions available to you. This software acts as an ad blocker for your web browser, but also for ads in software such as Skype or video games.
The application runs in the background, using filters to block ads, popups and videos that automatically launch themselvest. It also speeds up loading times, and automatically blocks dangerous websites with the Safe Browsing feature.
Ad blocking is clearly not in Google's interest, the Android version of AdLock is not available on the Play Store. You will need the sideloader to use it on your smartphone or tablet.
AdAway, the best ad blocker for Android
Compatible : Android
If you are looking for an ad blocker especially for your Android deviceyou can turn to AdAway. This free and open source blocker works at the host file level, which means that requests sent by web pages to an ad provider are automatically redirected to a fake IP address.
This allows save bandwidth, and avoid receiving intrusive advertisementss. You can use host files from different sources or create your own. It is possible to blacklist or whitelist certain addresses or add your own redirections according to your preferences.
Unfortunately, this application is not available on the Google Play Store. You will need the sideloader to install it on your Android device.
Firefox Focus, a web browser with integrated ad blocker
Compatible: Android, iOS
Firefox Focus is a mobile browser derived from Mozilla Firefox. It emphasizes privacy, with adblocking and anti-tracking features.
Besides.., History and cookies are automatically deleted.. Users can block ads, analytics, social network trackers or content based on their preferences using an intuitive switch-based interface. Best of all, browsing speed is slightly faster than Firefox.
Disconnect, the most radical ad blocker
Compatible: Chrome, Firefox, Opera, Safari
Disconnect is a powerful browser extension which not only blocks advertisements, but also tracking and analysis cookies.
The user can choose to disable all, or only the content of his choice. It is possible to set up whitelists and blacklists, and a VPN service is included.
How do advertisers survive in a hostile advertising environment?
Let's face it, if no one likes web ads, they fund a lot of the services we use. But then, how do advertisers reach their target audience? First of all, a good SEA (Search Engine Advertising) agency will now advise its clients to choose a campaign focused on Google's results pages.
In fact, these are sponsored referrals highlighting the desired pages in the search engine results. This solution makes it possible to bypassing the use of the AdSense platformGoogle's advertising agency. This one is not concerned by Chrome's native Ad Blocker, because it respects the criteria established by the web giant (no pop-ups, etc.) However, eAdSense does not escape most Ad Blockers. Thus, advertisers have adapted.
But rest assured, this preserves the user experience since it won't have to go through 20 pop-ups to end up a page full of banner ads. Moreover, it also avoids exposing us to advertisements that have nothing to do with what we are looking for. Indeed, a sponsored page on a given request will at least correspond to the said request. This is in stark contrast to banners that simply remind us of what we were looking for a year ago.